Last year I was contacted by Weglot to see if I'd be interested in downloading their Weglot plugin, and if I'd be also interested in joining their affiliate program. I didn't want to jump on board the affiliate program right away, as I had not even used the plugin yet. I'm always keen to analyse and research new tools, and Weglot provided the perfect opportunity.
My policy is that I will not recommend a service for my business I don't use myself or believe in. It's disingenuous and won't help those looking for honest opinions from me.
So I went back to Weglot and asked them to give me a few months with the plugin on their Pro plan to generate enough data and user experience to determine for myself if I should be recommending the Weglot plugin.
First, some context…
The most commonly spoken language in the world is not english. It's Mandarin with 1.1 billion speakers. English is second with 983 million speakers to Hindi (544 million) and then Spanish (527 million).
With a wordpress website you have global reach so it makes sense to cater to more than one language. Having a monoglot website means you may have barriers to communication with possible clients.
Weglot gave me a few months with their Pro package which has unlimited languages available. And to sum it up so far, I have been very impressed. And in this review I'll show you why.
Weglot Plugin Pricing
Weglot provides a handy 10 day trial period to test out the plugin and then after that you will have the option of 5 pricing plans or it will default to the free plan.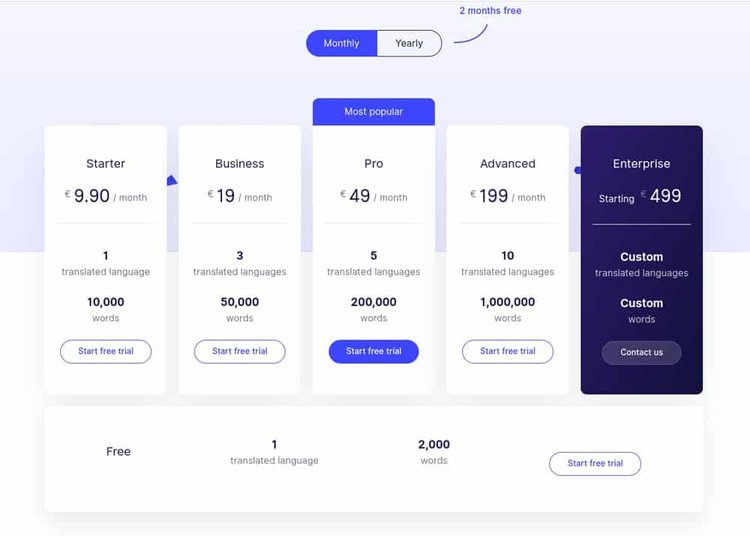 The free plan is for websites with less than 2000 words and you get 1 translated language. Obviously this would be better suited to portfolio websites as opposed to blogs.
The 5 paid plans are based on the number of languages and total words.
Total words is the number of words on your website. If you have a blog or a site with articles this will steadily increase so I would suggest starting with the Business package and moving up when you reach the word limit of 10,000 words, which for me is about 11 articles.
If you have a portfolio website which would not have an increasing total of words I would go with the Starter or Business package if your budget allows.
Is Weglot Worth the Cost?
Weglot have made a good attempt to cater from smaller to large budgets with the amount of services selected accordingly to the price.
The free plan is absolutely perfect for portfolio websites. I would highly recommend it with English and another language. Analyse your Google Analytics to determine which non English language is generating the most traffic.
But if you want more languages then quite rightly you will need to pay. But are the prices value for money? Let me show you…
How Good is Weglot's Translation?
I was fortunate that I was able to call on friends and family who speak languages other than english that Weglot provide translations for.

For the most part, the feedback was excellent. While I hesitate to call it perfect as translations are not always on point, the translation for Tagalog for example (which my family speaks) is good.

Before I show you numbers I should stress, I have a relatively new and small website, but one that is rapidly growing in traffic and size.
From what I can see, French speakers have found success with the Weglot translation, which is reflected in the numbers.
My most viewed article The Canon 1DX Mark III Rumors, in the testing period showed in one 7 day period, that the article attributed 33.8% of its traffic from the French translated web page. In fact, in the period shown in my screenshot above, 86.4% of the traffic to the article is from the aggregate of all translated web pages views combined, with only 13.5% coming from the EN-US/UK views.
My thoughts on this are that a website that is easily accessible in terms of many factors like speed, design and including translation will help in ranking and visitor experience.
Returning Visitors
Growth in traffic is reflected in my returning visitors data. 46 visitors returned after viewing the french translation of my most popular article The Canon 1DX Mark III Rumors.
That was the biggest return in the period in which I had Weglot installed; where the original english translation web page is second to the french translated web page!
Weglot's Impact on Traffic (3 Months)
I installed Weglot at the beginning of August, and from the data I was able to collect, the impact was plain to see and actually quite impressive.
This is by no means a scientific test. There are a number of variables that have to be considered when attributing traffic growth. In the period of testing, there are more articles published, more ads and promotion, and other SEO strategies. These all have to be factored in to overall growth. However looking at the correlation between periods, Weglot's impact cannot be overlooked.
When we are taking the data at face value we can see a significant jump in traffic numbers. Let's just look at English US and UK numbers which show an increase in traffic of 94.4%. So English speaking viewers traffic doubled.
But remember the period of May to June 2019 is the aggregate of all views for that article. The figure (805) for August to October doesn't include the translated pages!
Adding up all the translated pages and including the english page version, results in an aggregate totalling 2551! Comparing this period to the period without the Weglot plugin the pages views for this article went up 516.1%.
Again, these results cannot be taken as being the result of Weglot only. For this article I picked a keyword, at the time, with low competition and growing search volume. Before the big sites decided to cover the Canon EOS 1DX Mark III, this article was trending on page 1 of Google.
Final Thoughts
My experience has been overwhelmingly positive to date, which I have noted from the data in Google Analytics where I go over daily seeing the impact of the Weglot plugin.
Apart from the data which we can glean much from, there is the intangible data which we cannot quantify. User experience, barriers to communication etc. which are important factors in website design.
High quality content is wasted by having a poorly designed or an ill equipped website that cannot convey its content to the visitor clearly and fast.
Weglot is another layer that you can add to your website to improve this. This will then go further to improving your website in Google rankings, SEO and growth.
Links
Check out my 'How to Create a WordPress Website' article and other articles for your business for more tips on improving your wordpress website with other plugins and services.
And don't forget to follow my work on Youtube and Instagram.
How to Install the Weglot Plugin
Now that I've shown you some useful data that should help you to decide if you wish to get the Weglot plugin and you've decided to go ahead, here are the steps you need to follow:
1. Add New Plugin
2. Search and Install Weglot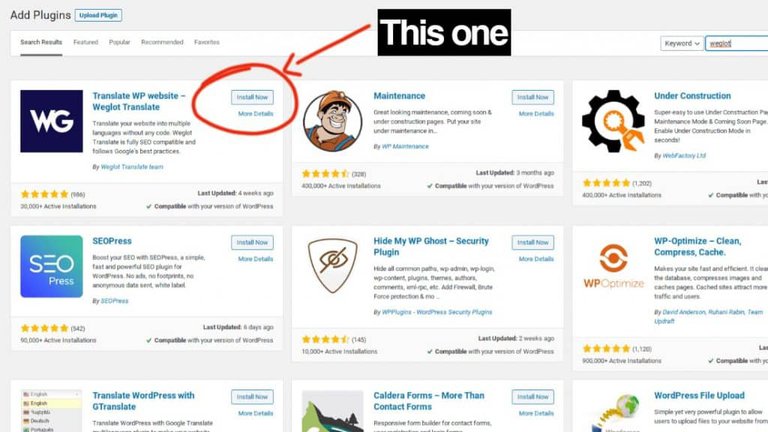 3. Activate Weglot
4. Click on Weglot Tab
5. Add Weglot API Key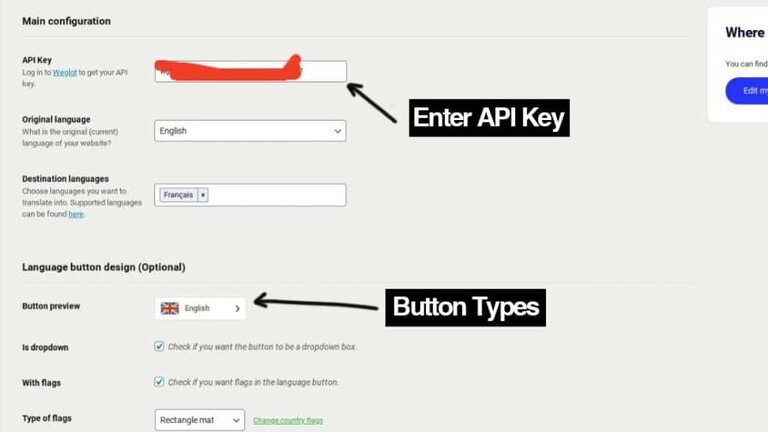 To get your API Key go to your Weglot dashboard and log in or create an account.

Select the original language you created your wordpress website in.
6. Add languages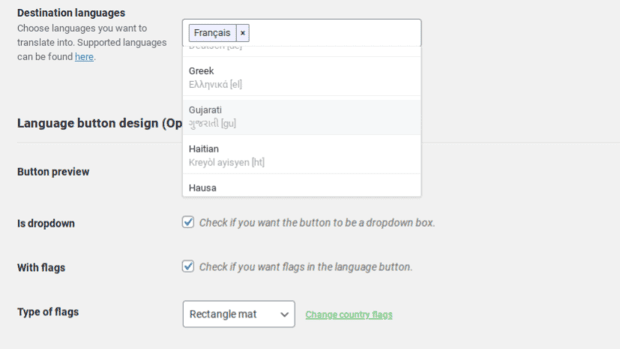 7. Sit back, enjoy for a few weeks and then analyse your traffic data in Google Analytics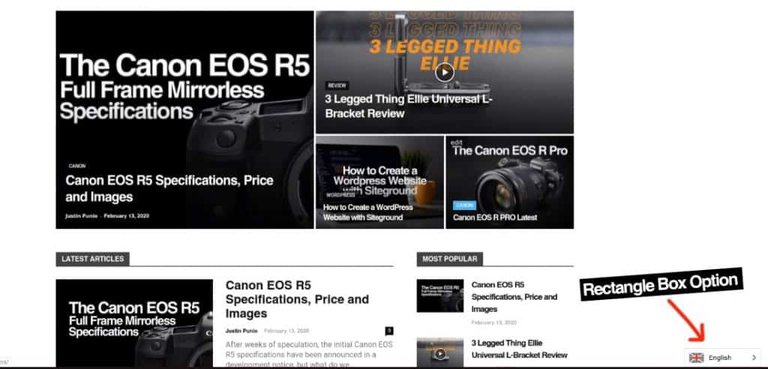 I've set my Weglot settings to have the language as a rectangle box in the lower right corner of my page.
And you're done!
Artist / Photographer / Videographer