We are an Affiliate!
We hope you love the products we recommend! As an Amazon Associate and affiliate of other programs we earn from qualifying purchases, and we may collect a share of sales or other compensation from the links on this page. Thank you if you use our links, we really appreciate it!
I have had an extensive history with Wacom. I started my Wacom ownership with the Wacom Intuos 3 large tablet, which at the time was the best wacom tablet for photo editing and digital drawing.
As an photographer and artist, I along with most digital artists would strive to one day purchase a Cintiq, which I eventually bought.
Sale
Last update on 2023-09-24 / Affiliate links / Images from Amazon Product Advertising API
However my needs as an artist have changed recently, leading me full circle back to the Wacom Intuos Pro Medium.

I got the Wacom Cintiq 24HD nearly eight years ago, which has served me well to this day.
But it has now been replaced by the Wacom Intuos Pro Medium tablet for the more superior set up, which I explain in another blog article.
But of course this may not be to your preference. In this review I'll explain why photo editing on a tablet is the ideal tool.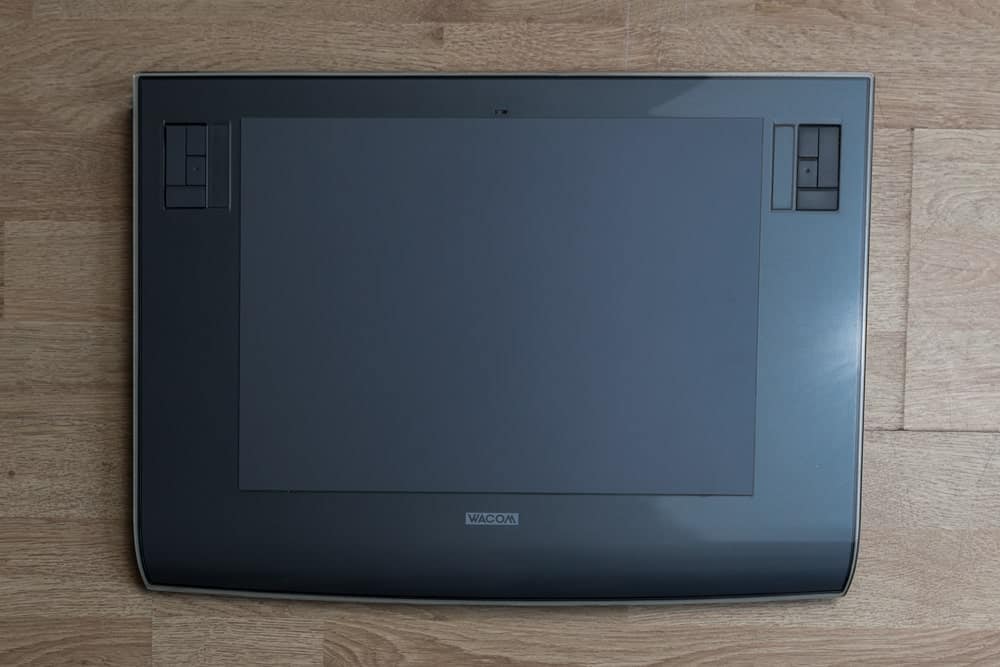 Wacom Intuos Pro Unpacked Impressions
The Wacom Intuos Pro comes in some quality packaging. You get the tablet, pen, pen stand, and USB-C cable.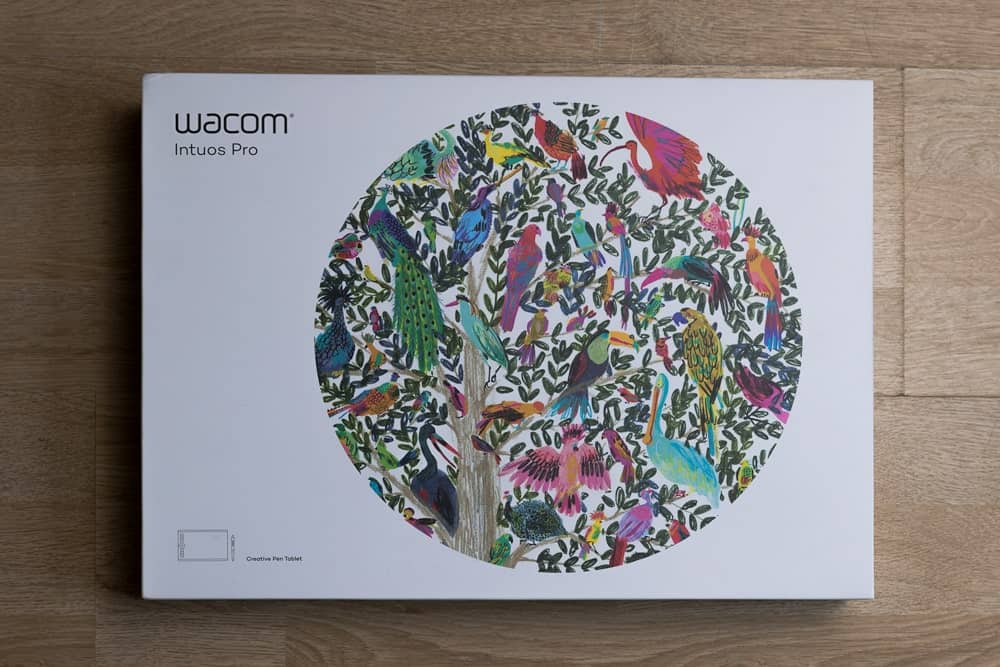 You also get a few paper documents with some instructions and some examples of paper quality, 4 extra pen color rings and a texture sheet sample card.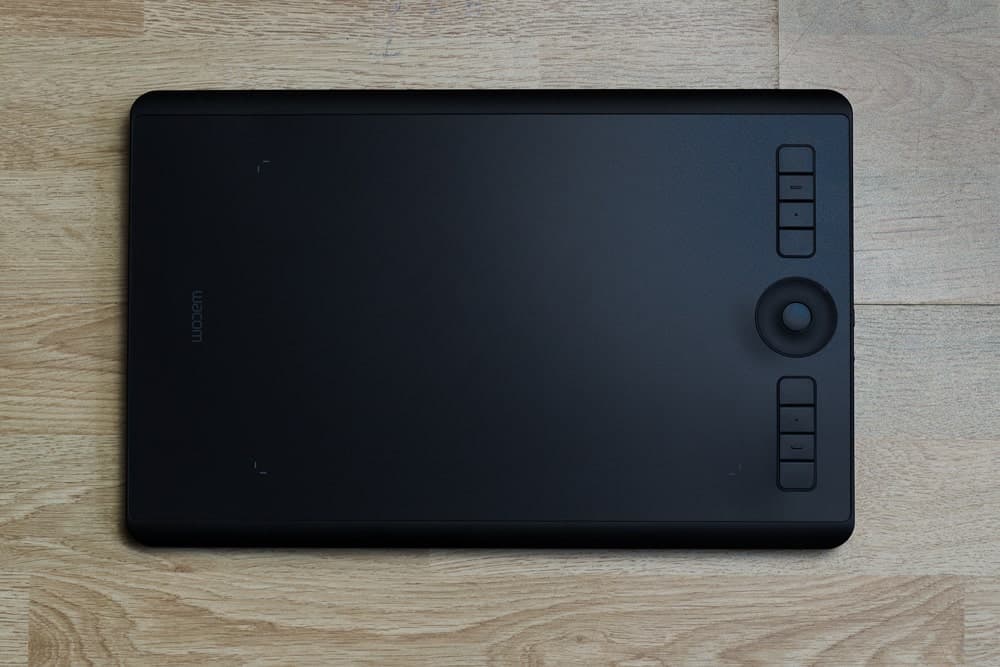 The Wacom Intuos Pro on first touch is impressive. The design is sleek and ergonomic.

On the side you have a switch to turn on/off the Touch feature. Next to it is the power button.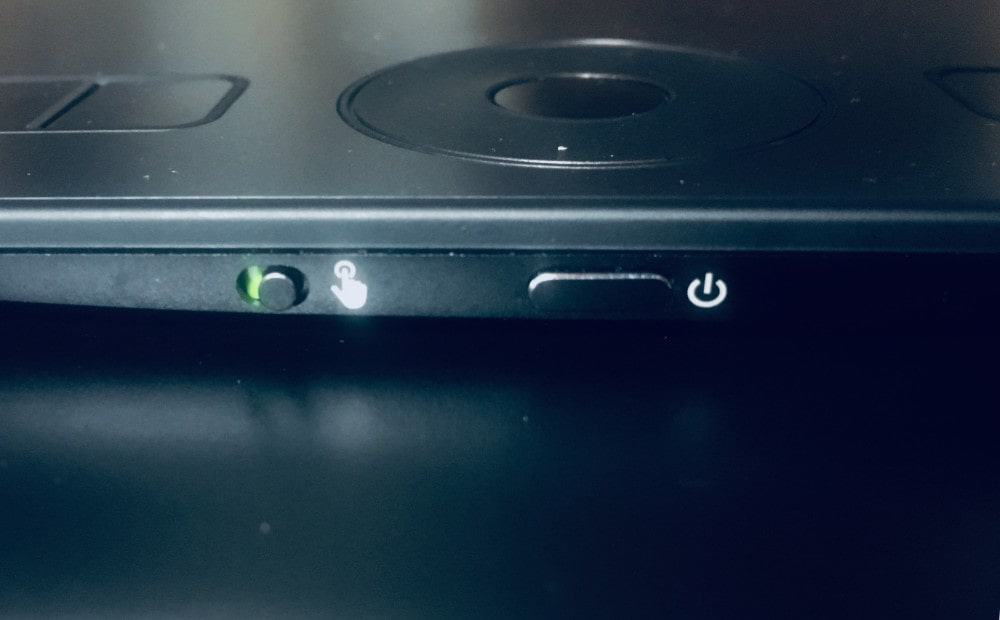 On the opposite side you have the USB-C port. This tablet supports wireless Bluetooth Classic connectivity. Again for perfect on the go mobile editing capabilities.

You have 8 fully customisable Express keys on the tablet with a Radial Touch Ring with another button in the middle.

The Radial Circle can be toggled to change from brush size to zoom functionality or a custom preference.
The Tablet
I feel that the medium is the perfect size for photo editing on a tablet. I like the amount of travel required to get from one end to the other on both a 27' monitor and a 15' laptop, it is just the perfect amount of travel distance.

The tablet also feels light. The Wacom Intuos Pro Medium is 700g. And measuring 224 x 148mm, this is for me the perfect travel and home tablet. I feel that any smaller and you would notice the restrictions.

If you use a backpack designed to carry a 15″ laptop, this tablet will fit most compartments. Whether you can carry both is dependant on your specific bag. My bag, the Peak Design Everyday Backpack fits both a 15″ laptop and the tablet snuggly.
Wacom Pro Pen 2
The Wacom Intuos Pro Medium has 8192 Pen pressure levels, which is the same as the Large version. But is double that of the Wacom Intuos Pro Small. In my eyes that makes the medium the superior version.

When drawing I feel there is a great enough range of pressure levels when pressing soft to hard with the pen.

On the end of the pen is the eraser, (which I never use, just press E on the keyboard), which also has 8192 levels of pressure sensitivity.

The Wacom Pro Pen 2 is held in a pen stand that doubles as housing for the pen nibs, 6 standard nibs and 4 felt nibs.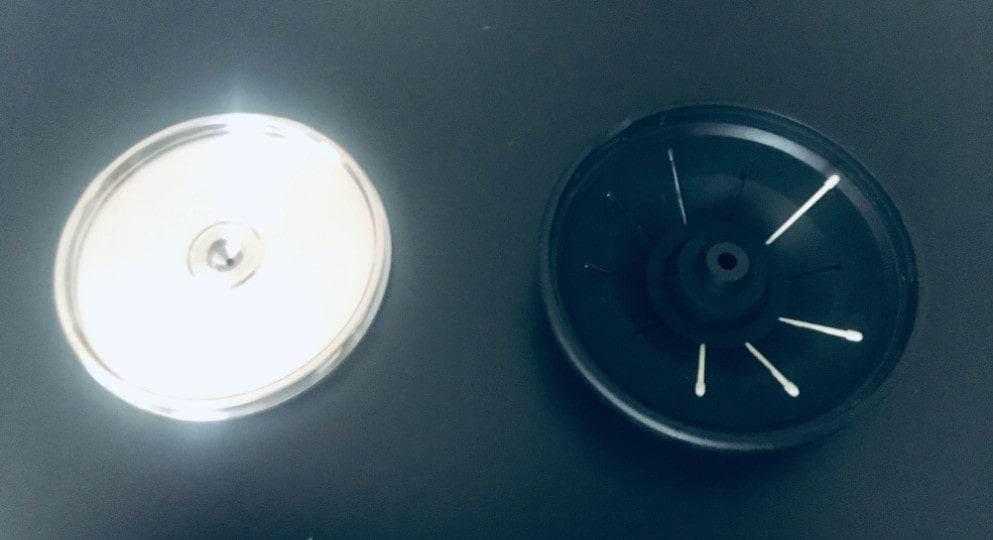 The Wacom Pro Pen 2 doesn't need a battery and has 60 levels of tilt.

The Wacom Pro Pen 2 is a lot different other brands like the Apple Pencil which is slimmer and a rubbier tip.
Wacom Pro Pen Slim (KP301E00DZ), Black
Precision pen performance with a slimmer form factor for Wacom MobileStudio Pro (DTHW1321HK0A, DTHW1621HK0A), Wacom Cintiq Pro (DTK2420K0, DTH2420K0, DTH3220K0) and Wacom Intuos Pro (PTH460K0A, PTH660, PTH860)
8, 192 levels of pressure sensitivity
Last update on 2023-09-24 / Affiliate links / Images from Amazon Product Advertising API

It feels good in the hand, doesn't feel too thick or thin. Some people do feel it is too thick, and for them Wacom have released the Wacom Pen Pro Slim.
Touch Gestures
First seen in the Wacom Cintiq 24HD Touch (which came out, heartbreakingly for me at the time, a few months after I purchased the Wacom Cintiq 24HD), this tablet comes equipped with the same feature.

Using an array of multi touch gestures with one, two or more fingers, you can perform an array of gestures, like scroll, swipe, double click etc.

Used in conjunction with the pen, I have found this works well for my personal workflow for photo editing on a tablet. Eschewing the need for any other additional peripherals like a mouse.

I do get the odd accidental touch gesture, which can be frustrating. Wacom still have to do some extra tweaking to get their palm rejection perfect.

To combat this I use a glove which solves the issue.
Best Wacom Tablet for Photo Editing in Lightroom
The Adobe Creative Suite is my main software of choice for creating and editing. Additionally I also use Autodesk Maya and BlackMagic DaVinci Resolve, which I found had similar results from my use with the Wacom Intuos Pro.

In Lightroom, I feel that photo editing on a tablet does not have a huge advantage over the mouse. Using the adjustment brush or dodging and burning is where the mouse falls behind. But otherwise. I think you could get by with the mouse albeit with less precision.

I still would never go back to a mouse as I am so used to the tablet workflow.

In Photoshop is where the tablet comes into its own. Moving around the image is more fluid with a tablet. Creating masks, touch ups or cloning and the endless other tasks, is more precise with the tablet.

And with 8192 pen pressure levels, the precision of hand drawn tasks like masks or cloning etc are even more pronounced over the mouse.

Outside of photography, when it comes to painting and sketching, the tablet is not even a second thought.
Left Hand Photo Editing on a Tablet
The Wacom Intuos Pro can be turned around to be used by both left and right hand artists.

No need to cross hands to touch the buttons! Photo editing on a tablet that does not have this ability is still doable, but crossing my hands over definitely slowed me down.
In fact I was so worried about it, that I learnt to use my right hand!

To enable this, go the the Wacom preferences and change the setting to left handed user.
Nib Problems
In my first two weeks of usage I had gone through two nibs. That is shockingly quick.

Now I am not a heavy handed artist, and even then, the amount of nib wear did not happen with either the Wacom Intuos 3 or Wacom Cintiq 24HD.

To minimise this issue, I have changed my workflow to use the Touch gestures as much as possible.
Texture Sheets
Fortunately you have a few 'costly' options to resolve the nibs issue. You can either buy more nibs or at some point replace the entire texture sheet with a brand new Standard Texture Sheet or get the Wacom Smooth Texture sheet which will have less friction and therefore the wear will take longer.
Wacom Intuos Pro Final Thoughts
For me personally and my recommendation to the photographer who does their photo editing on a tablet with Lightroom and Photoshop, I feel the tablet is essential, and not even a question.

After that, it comes down to size. And I firmly believe that the medium version is the perfect tool for editing on the go and at the studio.

If you have found value in this review of the tablet and it has convinced you to purchase it, please do use the affiliate links below.
Amazon Links
Wacom Intuos Pro Medium – Amazon US
Wacom Pro Pen Slim – Amazon US
Wacom Standard Texture Sheet Medium – Amazon US
Wacom Smooth Texture Sheet Rough – Amazon US
Wacom Glove – Amazon US
For links to to the gear and editing equipment I used alongside my Wacom tablet check out my gear page.
Artist / Photographer / Videographer