We are an Affiliate!
We hope you love the products we recommend! As an Amazon Associate and affiliate of other programs we earn from qualifying purchases, and we may collect a share of sales or other compensation from the links on this page. Thank you if you use our links, we really appreciate it!
The Veikk VK1200 pronounced 'veek' is another amazing budget pen display for the pen display market where once the only choice was Wacom. This pen display will be a hit with creators for who lightweight portability is important. This is the lightest pen display I have ever used.
Bottom Line:
The VK1200 is an ultra light small compact pen display which has a decent 11.6″ display which has a textured matte finish. The design, color accuracy, build quality, and the overall painting performance is good enough to recommend highly.

The screen is a little too small for my personal tastes, but that is a very subjective point. Painting on the VK1200 is a breeze and the size makes it encouraging to pick it up and go.
Please use the various links to find the best price for the VK1200 wherever you are in the world!
Product Review Disclosure
Veikk have sent the VK1200 to review for this article, but this article is not sponsored by Veikk. Veikk have had no input in this article and do not preview it before it's posted; all conclusions are my own.
What's Included in the Box
As with a similar budget pen display, the Gaomon PD1320, this packaging is equally budget in nature. There's a lot of cheap flimsy plastic and I think cloth felt textured pen covers. But it is still good to protect the pen display and keep everything organised.
The cheaper packaging does translate to the cheaper final cost to you so the loss of a better unpackaging experience is not something I dwell on. I think this is reserved for more premium level products like a Wacom tablet or an Apple product like the MacBook Pro for example.
Interestingly you get an extra pen, which I have never seen with any other pen display maker, but isn't unwelcome! I always love the glove designed for pen displays, they're a few bob on Amazon so is a welcome inclusion.
Importantly you get 2 cables: a full size HDMI to Micro HDMI cable and USB type A cable for power.
VK1200 Features
The VK1200 pen display supports a 11.6 inch display at a resolution of 5080 LPI (The Wacom One has 2540 LPI) and 8192 levels of pressure sensitivity. It packs a punch for sure.
Fully laminated FHD Screen 1920×1080 resolution
Battery free Pen with 8192 levels of pressure sensitivity and ±60° tilt (28 replacement nibs included)
6 customizable shortcut keys
16 million colors with 120% sRGB color gamut
Adjustable stand not included
Left handed support available
First Impressions
I like the size, it felt like something I could take away with me if I wanted and I really liked that my MacBook Pro could power the display. I still don't like how most pen displays need need two huge cables for the display and power.
I still think the VK1200 isn't enough to replace my Wacom Intuos Pro tablet, but that is not a pen display. Does it replace my iPad Pro? No, the iPad still wins out with being wireless and able to connect to my MacBook via bluetooth.
Thirdly does the VK1200 beat Wacom alternatives? Yes, I have found that with most budget pen display makers today are able to offer almost the same pen display experience at a fraction of the cost.
I have had a great experience with this pen display.
Ports and Buttons
On the left side when in the right handed position there are 6 customizable keys that have a familiar feel to them. They're very clicky for want of a better word. They're not sticky and feel like a good size as well as positioned well for my thumb.
On the right side there are two buttons, a power and +- button for use in the OS. There are two recessed ports for the HDMI and USB type C ports. I especially appreciate the recess which means if you accidentally hit the wire forcefully its less likely to bend or break. No ports though would be even better.
For my Apple M2 MacBook Air it only has USB Type C ports unfortunately so you would need to get a HDMI dongle. My MacBook Pro though has a HDMI port as it should, being a creative laptop.
Connecting the VK1200 to Mac OS
The setup experience was about an 8/10. I simply connected the right cables to the right ports and I then went to the Veikk Driver Downloads page online, selected my pen display and download the right driver. I then extracted the file and installed.
You can use this video to help you:
Adobe Photoshop
Probably the most used app that any prospective buyer of the VK1200 will use is Photoshop. So for the 4 months in which I have used this pen display Photoshop has been the main program used. And also the best to show what the pen display is capable of.
The acid test is the pen stroke and how it feels to pain a brush stroke as well as the look of the taper and variety in the stroke when applying pressure.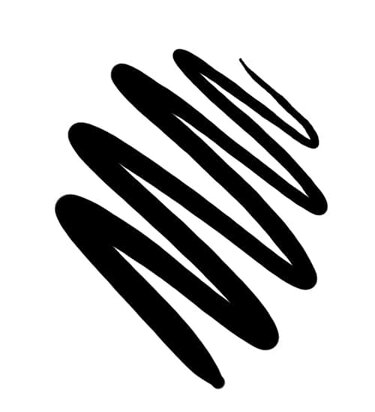 The thing about painting strokes on a glass surface is how good the matte texture is (if any). In this case there isn't as much of a texture to the display as I would like. The Gaomon PD1320 I was testing at the same time as this display has more texture and so a more organic feel.
Having said that, the VK1200 has more texture than my iPad Pro, which feels like drawing on glass. I also get a a bit of a spongey feel with the pen nibs. I feel this could be a subjective feeling whether this is good or not as it may help with the feel, but I personally didn't like it.
Just for comparisons sake if you haven't checked out my Wacom tablet review I quickly just made a stroke test in Photoshop with my Wacom tablet:
I think you can see the confidence in my strokes much more profound here, the the taper looks a lot more natural and smooth. This is a combination of the Wacom Pen and the Wacom's tablet surface. The Veikk VK1200 just can't replicate the same painting experience.
But again I do really think this is user dependant. I am very biased towards tablets over pen displays. I've used both for nearly 20 years so I now know what my needs and preferences are.
Screen Size
It's a small screen at 11.6 inches diagonally. Often with these smaller displays I won't change the resolution as I really don't like smaller scale resolutions. So I will persist with a default res at the expense of less screen real estate like with my PD1320: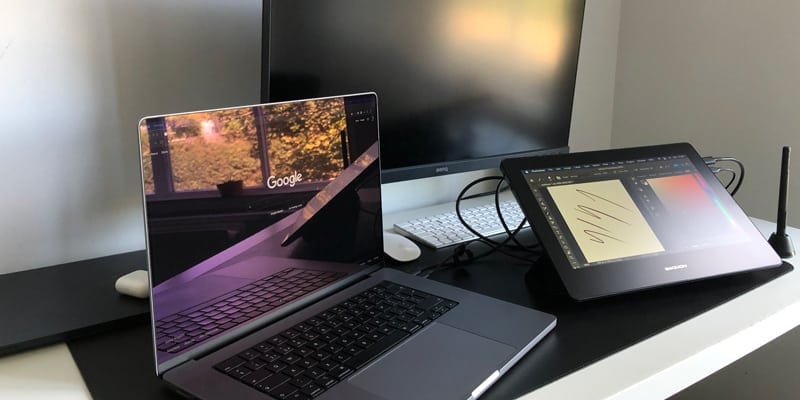 However that is a 13.3 inch screen, so for the Veikk's 11 inch screen I did have to go into the settings to change the screen resolution:

The native resolution is 1920×1080 so if you go to Settings>Displays and you can change the resolution there.
I do feel like the scaled resolution, while not allowing me to feel so cramped, is still too small for me. The icons and buttons just feel too small. I seem to struggle to click on the right button for a brush or new layer etc. So I'm constantly tapping to actually click on something.
Conclusion
When it comes to small pen displays the 11″ screen size is for my personal tastes too small. Which is a little at odds with my praise for the 12.9″ iPad Pro, but that display is a little small and iPad OS is specifically tailored to the iPad experience.
MacOS is not tailored to the 11″ screen size so scaling down the resolution results in a very small text, buttons, tabs etc. It's just a little too small to work efficiently.
As a pen display there is little to fault the Veikk VK1200. It works well adequately in Photoshop, has no bugs to report and is a robust bit of hardware. I haven't dropped it once but it feels good in the hands.
I would certainly recommend this pen display if you know that the 11″ screen will work for you. However I would say for me a 13″ display is the sweet spot for a portable pen display you can take in your bag.
Artist / Photographer / Videographer