I recently decided to completely overhaul my photography business, part of this involved a redesign of my, now defunct, 10 year old Wix Photography website, which to be frank: does not cut it in today's market. With a bit of research I narrowed it down to Squarespace vs WordPress.
My Website History
The old website was just too slow to load, the theme and overall design is not user friendly, and it's not optimised for all formats.
While there are a lot of photography content sites like 500px, Flickr or Instagram to showcase your work; nothing looks more professional than having an actual website with your personal URL.

There are two directions you can take: you can either use a website builder or you can build it yourself with an open source, self-hosted platform, like WordPress.org (not WordPress.com; which is more like a website builder). Though depending on the WordPress theme it can be similar to a ready made website builder anyway.

This article is essentially a Squarespace vs WordPress comparison; but there are a few of the website builders you can choose from:
Squarespace
Format
Wix
PortfolioBox
SiteBuilder
Shopify
GoDaddy
and many many more
Before I waffle on, I should point out that I am not being paid by any of the website builders or WordPress. I've picked two of my favourite website builders and added a third because I was formerly with them.
Website Builders
Website builders provide a ready to go website with high quality template designs. All you need to do is go through the steps and upload your content. They do all the heavy lifting.

Why choose this route? Maybe you don't like coding, prefer ease of use or are limited by time and need it now. For most it will probably be the latter.
The alternative is maybe weeks of development. With the website builder option your website could take a few hours to up to a day dependant on the complexity of your website. I'll discuss the three I would look at.

Squarespace
The pick of the bunch? At the moment goes to Squarespace. If I had chosen this route I would recommend Squarespace. Squarespace have by far some of the best modern high quality designed websites.

If you watch much YouTube you may have noticed Squarespace's drive to sponsor multiple creators. Specifically targeting the creative industry, their partnership with the creators have yielded some incredibly beautiful designed websites.

Some good Squarespace examples are Alen Palander and Sean Tucker. These two examples employ a simple aesthetic and streamlined design.

All you need to do is sign up and start creating, it only takes a minute to get going! You get a 14 day trial, but no payment details are needed until your trial is over. Squarespace let you start creating your site immediately; it can't be any easier.

Squarespace obviously have belief that once you've created your website it will convince you to sign up fully. It's very tempting.

Interface
The interface which is a left side bar control panel is simple and ergonomic to use, and importantly, is uniform across all their themes. Conversely WordPress themes can have very diverse side bar structures and not all them as ergonimic as the next one.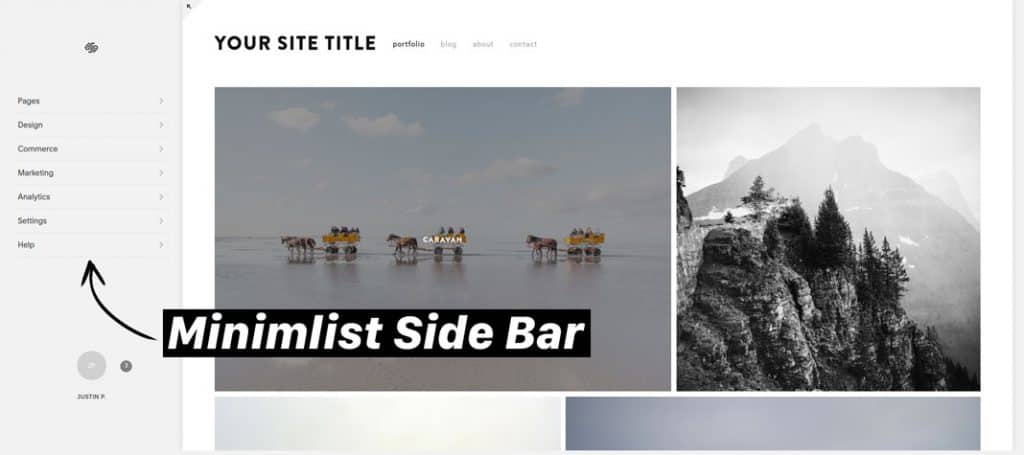 Squarespace is very intuitive, everything I needed to find was right where I expected. Again conversely, in WordPress, settings that you need to change can be frustratingly buried in layers of menu.

Squarespace use a drag and drop user interface to edit elements, but the limit on how much you can change is dependant on template. It uses an on-page editing system. You simple go to page you want to edit and change it there, seeing the changes in real time.

With WordPress, in many cases you have to go into the back end to make edit and then go check the font end to see the results. This can be a bit frustrating going back and forth. Seeing the changes instantly is always going to be preferable.
Design
What sets squarespace apart from their competitors are their template designs. They are undeniably beautiful designs. Everything from the layout to the little things like font pairings to the symbol designs are crafted to look beautiful.

Their templates are modern, minimalistic and look effortless. They also function as well as they look.

No clunky templates in sight. No jittery menus. No odd margin issues or dead space. The designs just work.

There is a good reason many Photographers will eschew coding their own site when something as good as Squarespace exists and makes it so easy to get set up.
Features
Squarespace offer the complete package, a domain name, hosting, email and support. Now you could argue this is akin to having all your eggs in one basket. But if it consistently works then it is a very strong deciding factor.

Though I would suggest at least having your domain URL with another provider. So that it's not tied up with Squarespace should you decide to move one day, it would be less hassle.
Support
Squarespace have a dedicated team to support their platform 24/7 through email, live chat and via Twitter.

They don't offer a phone service which I found odd, but having used support for WordPress I found email and live chat sufficient. As the most important requirement, to get the best support, is having support able to access your website themselves to diagnose issues. Phone support seems redundant.

Squarespace have a wealth of articles and a growing community. While I don't think it matches WordPress, it seems more than enough to keep on top of website maintenance.
Format
An alternative to Squarespace is Format. One difference between Format and Squarespace is that while Squarespace offers website themes for a variety of different genres; Format was designed with Photographers in mind. Hence why any 'Best Photography site builder' list will see Format high in their rankings.
Interface
Using their website builder felt quite similar to Squarespace. The interface followed the same format, a side bar and minimal steps to get to every setting to edit the website.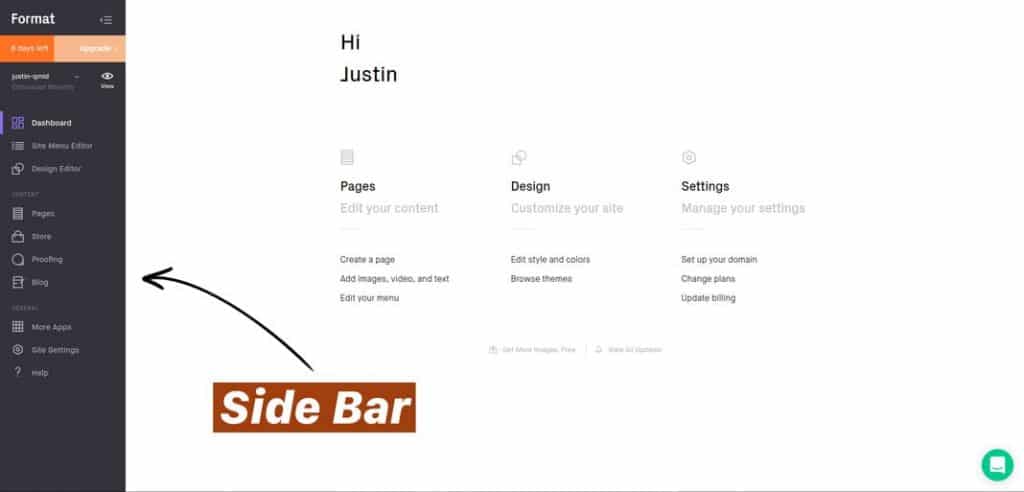 The same level of ergonomics and function as Squarespace is present. I had no issues in getting around the platform.

Design
One of the main differences to Squarespace is really in the theme designs. I think Squarespace comes out on top, but that's subjective.

Having said that, a browse of the Format customers show some great examples of what can be achieved with Format.

Features
Where Format excels over Squarespace for Photographer are in their additional features. Remember Format is made for Photographers and it shows. Some of their additional features cannot be overlooked.

Format offers Proofing, which can be essential for working Photographers, especially Wedding Photographers. If the work for your client is a few photos, you could probably send it by email or dropbox. If you are a wedding Photographer delivering hundreds to a few thousand images to the client, email won't cut it.

Format lets you create a private album for the client to access and download the finished photos. Everything under one hub, your website, is easier for the client and the Photographer.
Format Publisher for Adobe Lightroom is an amazing tool that is exactly what it says on the tin. Publish straight from Lightroom to your website. The amount of steps and time reduced by this tool adds up.

Format is actually on par with Squarespace in terms of designs and interface, and excels in features. It really comes down to a personal preference; I would definitely recommend either.

Support
Format have 24/7 support available online and are ready to assist with your website within minutes.

Wix
Since my last website was created with Wix, in what feels like years ago, I thought it would be a good idea to revisit the website builder, which is still very popular for website creation.

Interface
First impressions are that it's a bit slow to load the website template, but we got there eventually. Second impression was that it's definitely not as intuitive.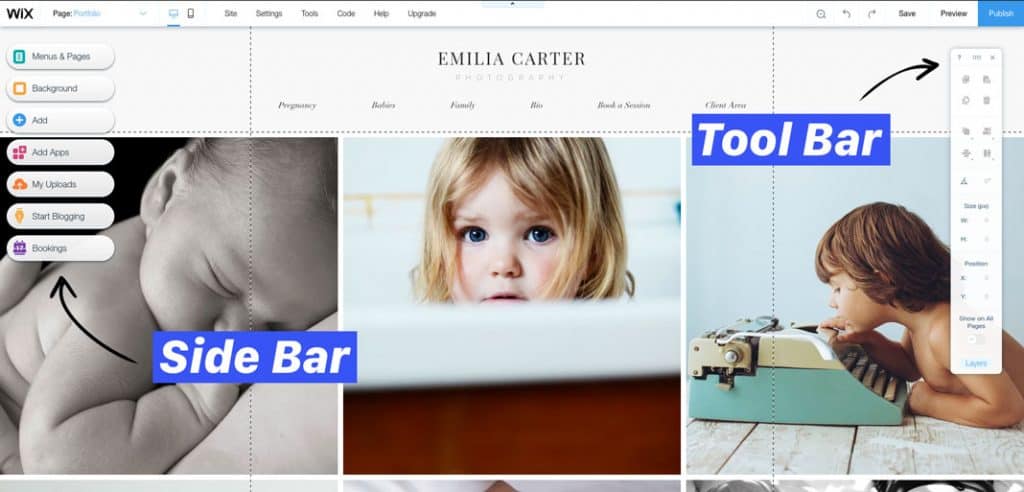 You've got one floating side bar on the left, a floating tool widget on the right which has some general Photoshop tools in it. It doesn't feel user friendly or as intuitive, compared to Squarespace.

It's just not as good as the former two. Some time is needed to adjust to the controls to get the maximum out of it.

Design
There are 40 Photography templates available and they look high quality. Of course it's quite subjective, but I think Wix's templates are not superior to either Squarespace or Format.
Pricing Squarespace vs Format vs Wix (Correct as of May 2023)
Aesthetic design aside, the objective difference comes down to the pricing.
Starting with the cheapest plan, Format provides a £3.20 ($4)/month entry level plan called 'enthusiast'.

Second cheapest is Wix with their entry level plan coming in at £7.50/month and they offer four plans, their most expensive coming in at £21/month

The most expensive entry level plan is Squarespace. They offer two website plans and two online store plans. Their entry level plan is £12/month rising up to a whopping £35/month for the online store with all the bells and whistles.

My choice would still be Squarespace, on their £17/month business plan. The superior design themes coupled with their ergonomic builder is in my opinion the best option for the professional Photographer.
For the amateur hobbyist? Perhaps the entry level plan from Squarespace, but probably a better option would be to choose a entry level plan from Format.

WordPress
I decided I wanted more than a well designed portfolio website. I needed more options, more functionality, and more control over SEO and the content delivery. Squarespace vs WordPress isn't design vs full control, there is more to it than that.
3.2% of the entire internet is powered by WordPress. That's a lot. And there's good reason why people choose WordPress.

Website builders like Squarespace and Format allows Photographers to choose a ready to go website, WordPress gives creators unlimited freedom when building their website, unlimited control over nearly every aspect.

Design
I don't think I could count the number of themes available, combined with the numerous plugins, results in a possible million combinations to create. While with the previously mentioned website builders you could probably name the actual template by viewing the website, with WordPress you can truly make a unique website, distinguishable from the next WordPress website.

Support
Because of the sheer number of web developers choosing WordPress, community support is truly unparalleled. I've found that nearly all of the issues I've had, has been encountered before, solutions found and solved in different ways.

Installing a regularly updated theme and plugins is essential. If either is not updated often or at all, you can run into issues. With Squarespace and Format, when an update happens it is to the entire website. WordPress needs consistent self maintenance to keep it up to date.

Pricing
WordPress is not free. I must debunk that widely asserted myth.
You still have to pay to get your own hosting. In my research I've found that Siteground is the best hosting service for WordPress. With good support and being optimised for WordPress, it's no surprise it's the most popular hosting service.
I would suggest getting the 'Grow Big' plan. You can upgrade once your website increases it traffic.

After hosting is sorted, then yes, it can be low cost. However in my experience, it is the paid for themes that provide the most optimised websites, best support and best user interfaces. I highly recommend investing in a good theme and one good plugin (which I will discuss further down).

Seo
WordPress is designed to be optimized for SEO (Search Engine Optimisation). And this is absolutely essential if you want your content found by Google search engine crawlers and ranked in search.
You can have an incredible beautiful site, but it's not worth the code it's written on if it's not optimized for search and speed.

Plugins like Yoast SEO analyse you page, blog, or article to review what needs changing to make it more appealing to search engine crawlers.

WP Rocket
WP Rocket is a caching plugin, and the first plugin I would recommend you install after the Page Composers. I cannot stress how much it improved my website.

Instead of struggling with complex plug in settings WP Rocket on installation and launch, will reorganise and optimise your website to improve speed, decreasing load times and highlighting areas you need to improve.

My website went from loading in around over 3-9 seconds to loading in 500ms after installing WP Rocket.

WP Rocket is a paid for plug in. I am someone who wanted to keep the running costs as low as possible, I wanted to use as many free plug ins as possible. But this plug in has incredible value for a low price. It will rocket your website's performance to the maximum.

I think it's the only plug in you need to pay for. Click here to check out WP Rocket. I went for the Single Licence, and I have been with WPRocket now for over 3 years.

Once you've bought your licence, you will get a 50% discount on the next year's renewal, available until your licence expires. That's under £15 or $19 for the second year. Personally I think it's a bargain.

And for peace of mind you get a 14 day Money Back Guarantee.

Research shows that a website visitor will leave a website if it takes over 3 seconds to load. That's not very forgiving; visitors need information instantly, if you can't deliver, they will move to the next website that can do that. Ignore website performance at your own peril.

Final Thoughts

So, Squarespace vs WordPress? Obviously there isn't an outright winner for your business website. No one option beats the other. It comes down to you: your time, your requirements and your budget.

Choose a website builder like Squarespace if:
You want an easy to use website builder.
You want beautiful designed templates.
You don't mind being restricted to the template design.
You want your URL, hosting and website all under one hub.
You want to avoid coding.
Choose WordPress if:
You want full control over your website design.
You want more choice of themes.
You want full control over SEO.
You want more control over security levels.
You want the biggest support community.
If you decide to choose the WordPress path as I did, then click this link for my blog post on How to Make a WordPress Website.
And if you have any question not covered in the post above, comment below and I'll get back to you ASAP.

Artist / Photographer / Videographer