Let's skip all the history of Photoshop or what is Photoshop waffle and get to what you actually searched for: how to remove a background in Photoshop. I'm assuming you've tried the Magic Wand and it failed, so moving on, these are the advanced techniques I use to remove an object or background in photoshop:
How to Remove a Subject from the Background in Photoshop
As of the 2022 update for Photoshop there are some incredibly powerful tools to help select an object from its background. The go to option is the Object Selection tool. Either select the tool from the sidebar or click W:
From the side menu you can select Select Subject or Remove Background and Photoshop will make a selection or remove the background.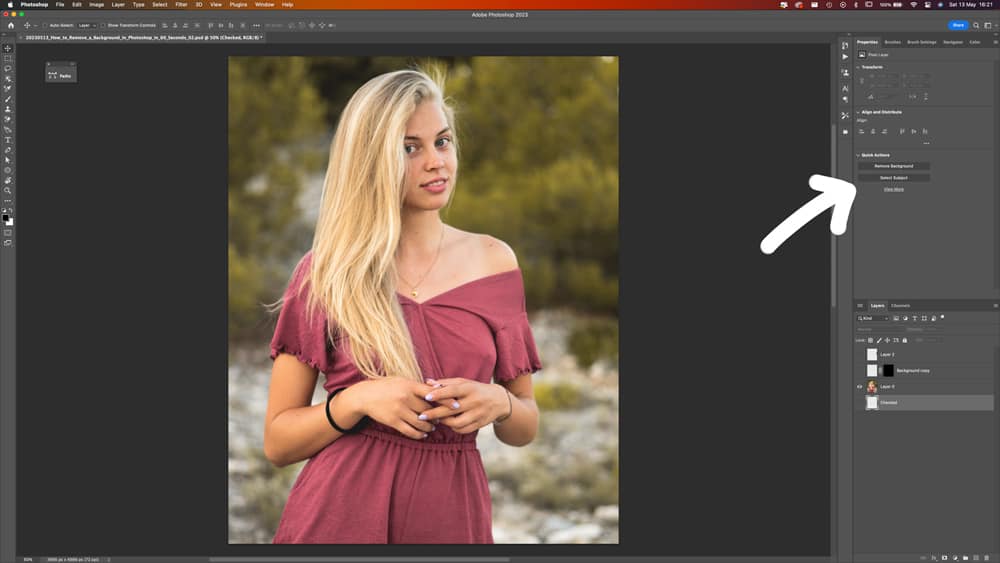 For a finer selection you can now hover over the object you need to isolate and Photoshop will highlight (in pink) the object or object part it can detect: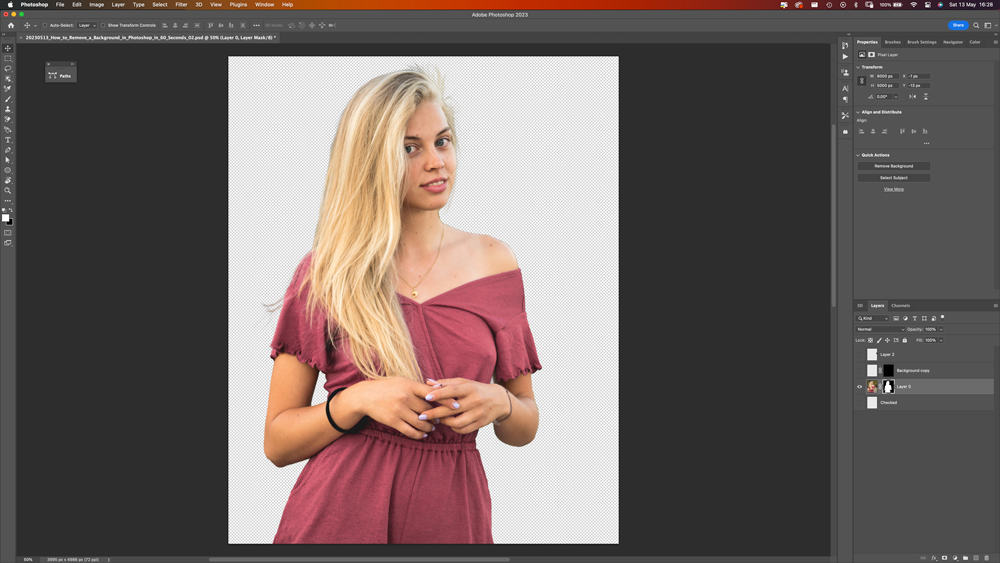 and it's as simple as that.
How to Remove a Object from the Background in Photoshop
Now let's try an object to remove. Now you can use the Select Background again and Photoshop will do its magic.
But if you need to select a particular part of an object it's really quite simple. First press W or manually select the Object Selection Tool: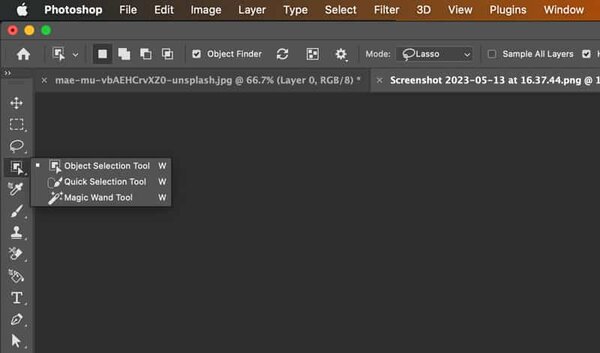 I also click on Lasso in the Mode pull down, which you can find in the top menu bar. This will make it easier to select the part of the object I want to isolate if desired.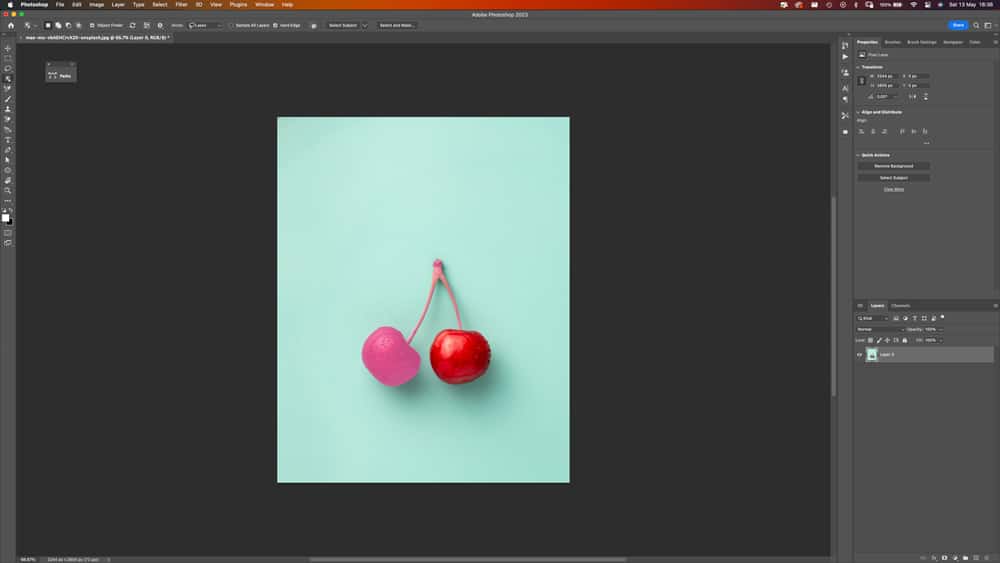 If you now hover over a part of the object Photoshop will highlight the part that will be isolated in pink. You can then click to make the selection.
If you want to modify the selection then click and drag a lasso around the parts of the object you want to include in your selection. Then click to confirm your selection.
You can then either press delete or for a more non-destructive option, click on the mark button in the layer panel to remove the unselected portion: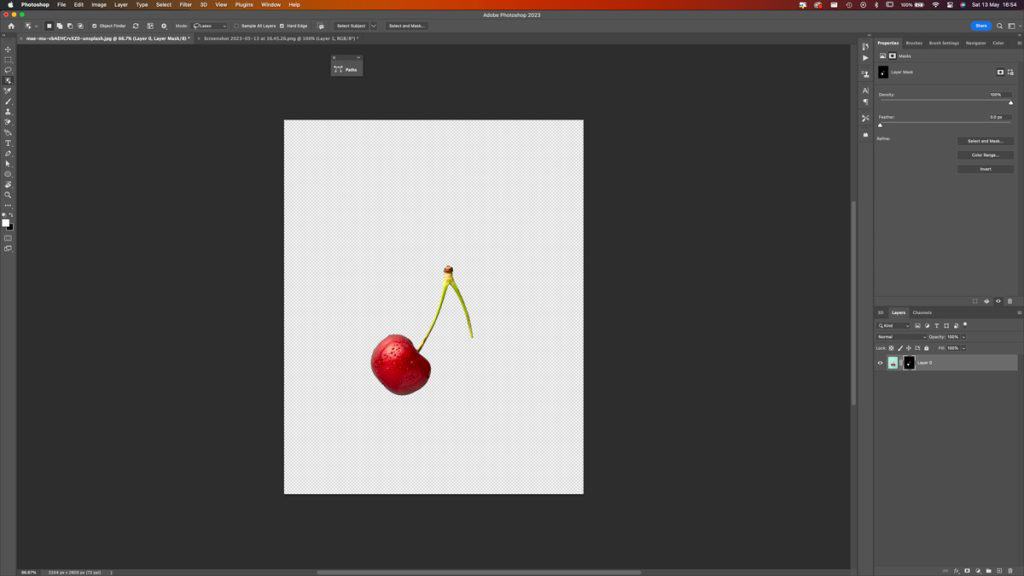 How to Remove a Background in Photoshop – Advanced
It won't always be as simple as selecting an object. Sometimes there's not enough contrast to separate an object from its background. We need to give Photoshop a little bit of help.
Let's take this palm tree on a overcast day: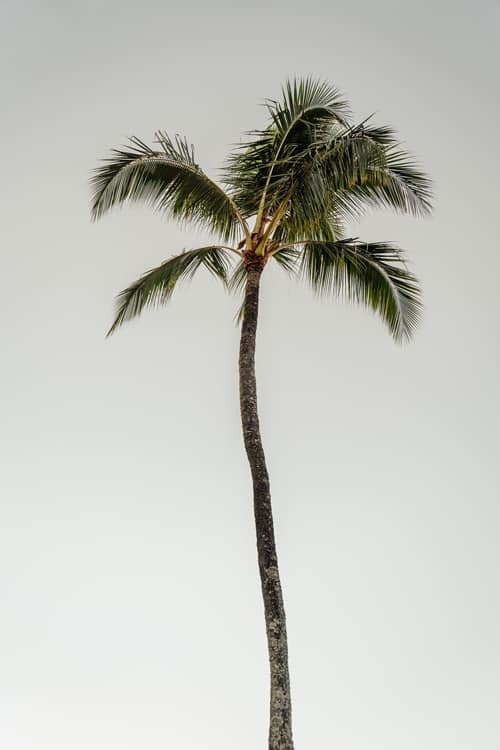 When we use the same Object Selection Tool and Select Object to isolate the palm tree we get this: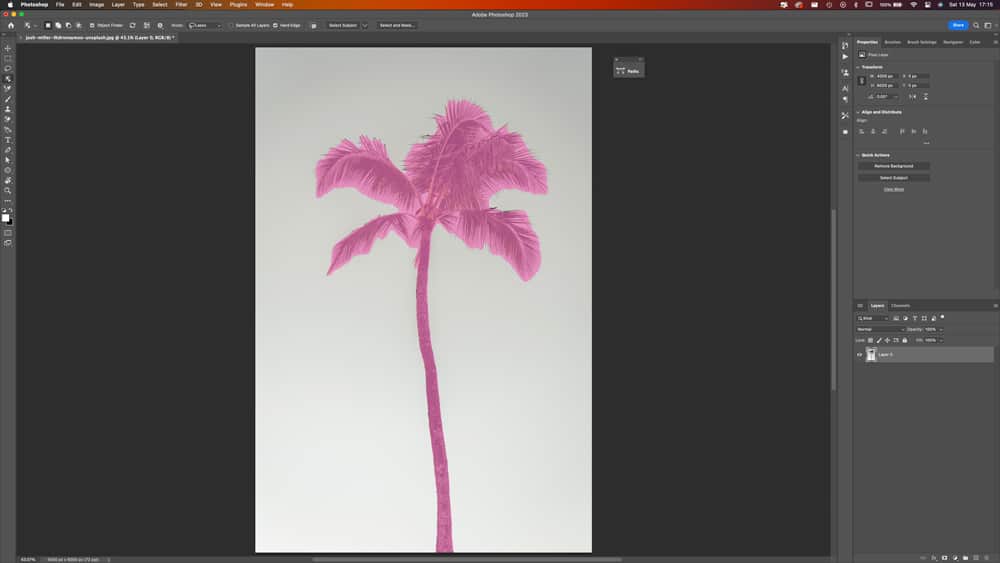 Photoshop can't isolate the fine detail of the leaves; the selection isn't great.
Go ahead and press Select and Mask from the top menu bar:

From the Properties panel on the right you can click on View and select Overlay for now. Photoshop will highlight in red the areas masked.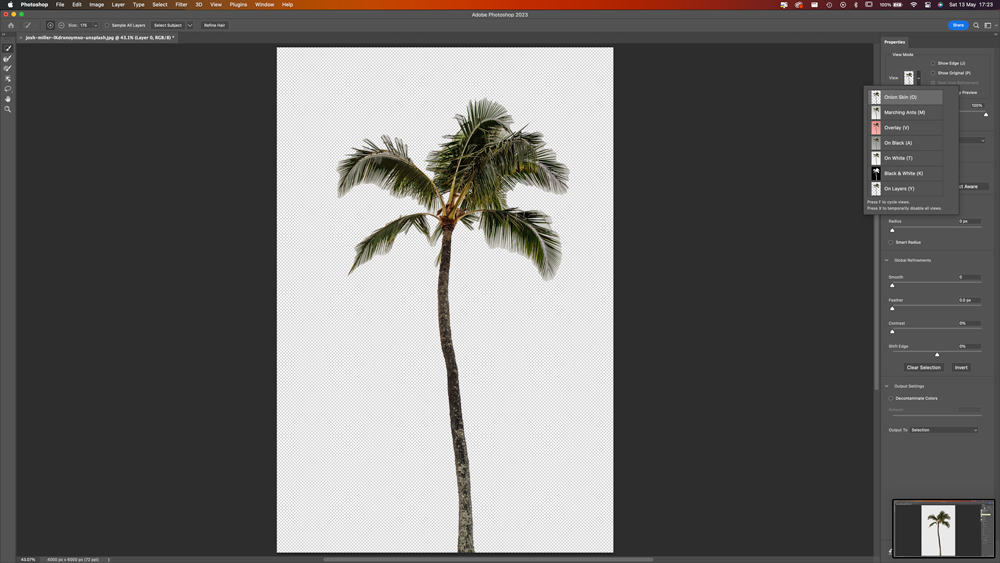 As you can see below the selection is really not great: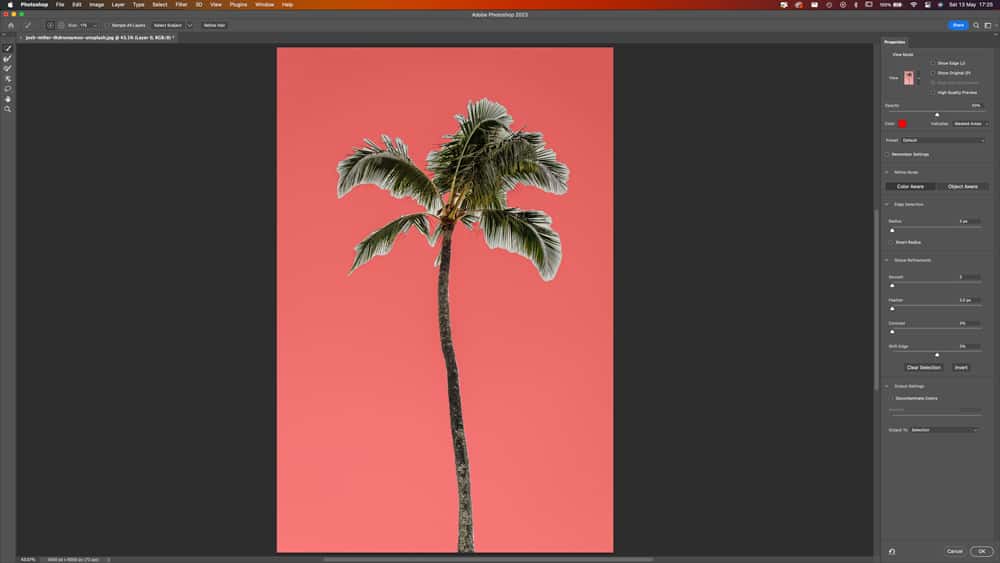 Now click R or click on the Refine Edge Brush on the left panel: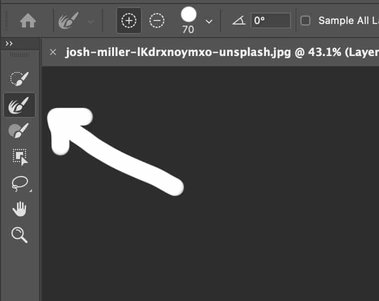 You can change from Overlay mode to Black & White mode to see your selection clearer. Check all edges and refine.
Back to Onion Skin mode and check for any further issues. Then in the Properties panel I have added a little feather and contrast. Play with the numbers to suit your selection.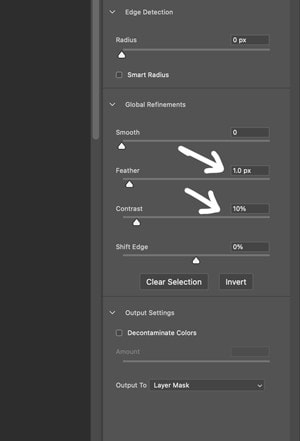 Then click OK.
Then add another background if you want: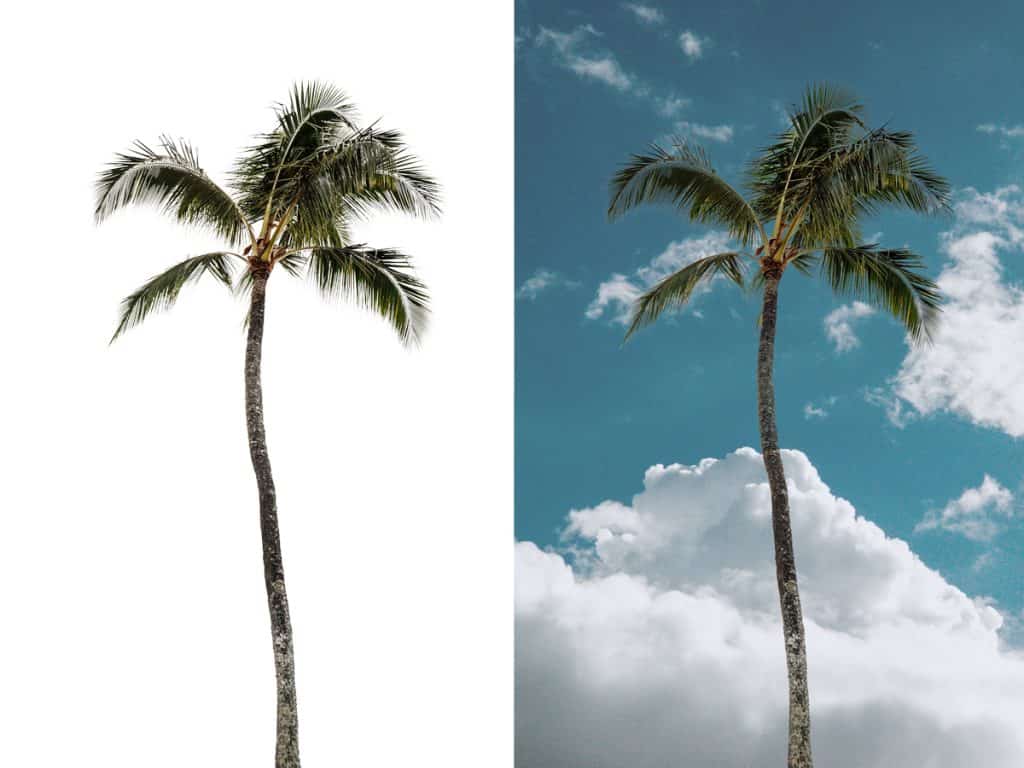 Finally
I hope those methods help you to quickly get the selections you need in Photoshop. Sometimes trawling through YouTube or Google can be irritating when all you want is to know how remove a background on Photoshop, or a basic isolation.
So this is for my benefit as well as yours. Do as I do and bookmark this article for reference if you ever forget or need to refresh your mind.
Also don't forget to check out more Photoshop Techniques on this website. Also check out my Youtube channel for more tutorials.
Artist / Photographer / Videographer