Disclaimer
I was lucky enough to win this theme in a competition on the WP Eagle livestream. All opinions and views are my own.

For as long as I have been creating affiliate marketing websites I have obsessed over website load times. Forever chasing that sub one second load time.
I thought I had found the answer with GeneratePress, which is one of the fastest loading themes available, but I still need a paid for caching plugin, WP Rocket, to get into the green, high 90s on Google Page Speed insights.
We are an Affiliate!
We hope you love the products we recommend! As an Amazon Associate and affiliate of other programs we earn from qualifying purchases, and we may collect a share of sales or other compensation from the links on this page. Thank you if you use our links, we really appreciate it!
So when Alex Cooper of YouTube channel, WP Eagle, announced he was working in collaboration with Phil Lankester (Spidrweb) and Carl Broadbent on a new affiliate focused theme, my interest was piqued. Could this Popcorn theme dethrone GeneratePress as the fastest wordpress theme?
Who is the Popcorn Theme for?
The Popcorn WordPress theme has been developed to be a super fast theme aimed specifically at affiliate marketers. So lots of features have been striped away to make this theme work just for an affiliate website.
So if you want to create a WordPress website that will have reviews, informational articles, listicle articles, comparison tables, product boxes etc. this is what the Popcorn theme is designed to accommodate.
The theme is content focused, which is again aimed at affiliate marketing content. With a built in affiliate disclaimer box and a layout designed to make relevant content easily accessible.
How Fast Is the Popcorn Theme?
Fast. It's very fast.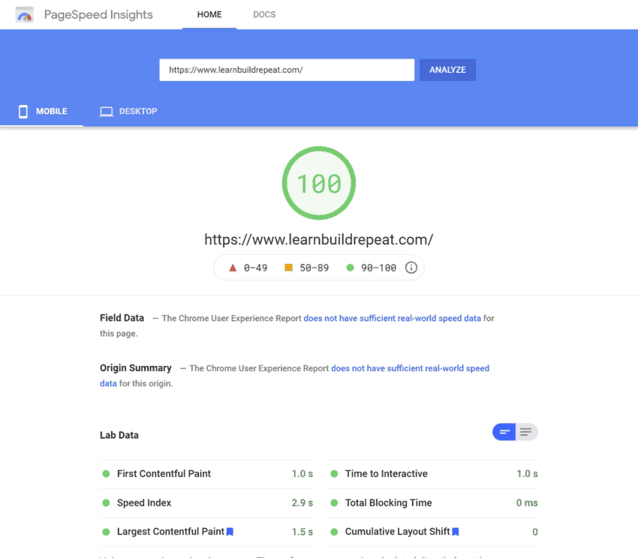 This is on mobile. Mobile speeds are much harder to get good speeds with compared to desktop load times.
GeneratePress is no slouch though, I was able to get 99 speed scores on Google on mobile, so there is little between the two. But that's with WP Rocket.
I actually did a test with my caching plugin WP Rocket switched off and I still achieved a 100 speed score, which is impressive.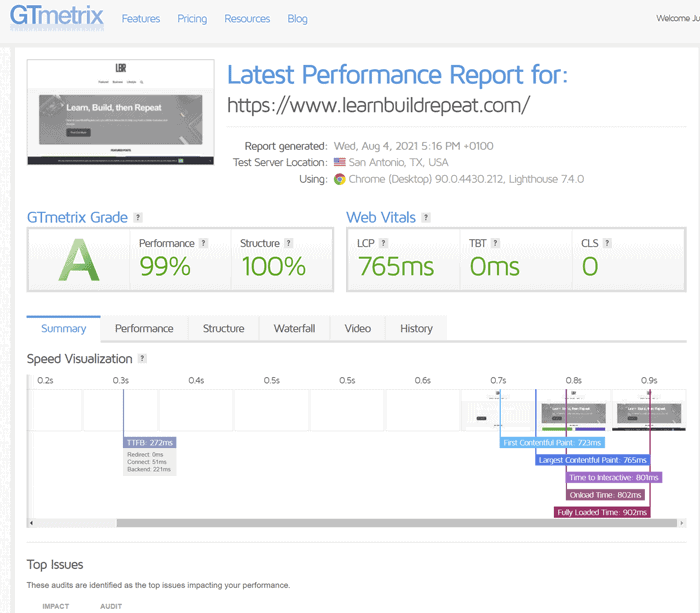 GTMetrix loaded the website in 0.9 seconds, although this is on desktop, which was similar to results when I put the website through Pingdom, which loaded the site in 0.8 seconds.
Bear in mind I am using Siteground, which I would say is a semi decent host for speeds.
So there's really little between GeneratePress and Popcorn, both deliver fast loading times with WP Rocket or another caching plugin.
Without a caching plugin the win goes to Popcorn theme. But I would always recommend a caching plugin.
Is the Popcorn Theme Easy to Use?
As far as setting up the Popcorn theme, it is literally a works straight out of the box theme. You are not changing anything other than picking colors and fonts.R
I didn't have to change any padding, spacing, text heights or layout like with GeneratePress. In fact, using the Popcorn theme has really made me realise how complicated GeneratePress can be, if you really want to maximise that theme.
All changes and adjustments are done in the Customizer, there's no hunting around the back end of WordPress trying to figure out where to go to change one setting. With GeneratePress there's so many places to go to work out how to tweak the layout.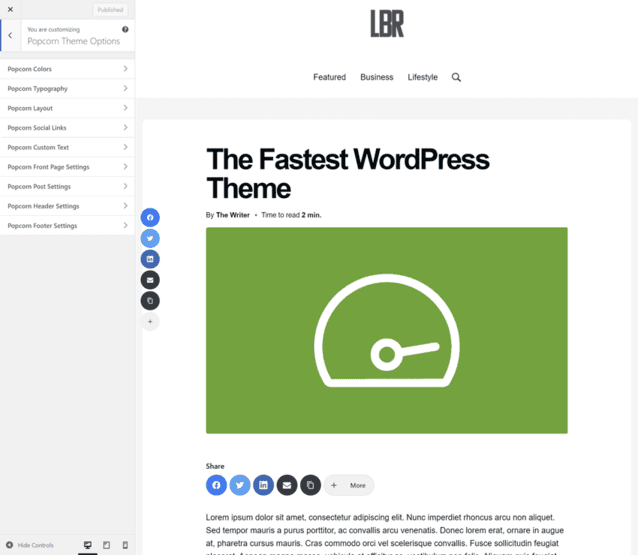 Because every setting is in one place, setting up the Popcorn theme is done super fast. I think I spent about 30 minutes making all the tweaks I wanted, and I could've spent less time.
Now compared to GeneratePress, not only do you go into the Customise back end to make alterations, but there is an Elements section where you create layout sections like a front page header, subtitles, article posts (which requires the plugin WP Show Posts).
You then use hooks to attach the those layout sections where you want. I also had to download a code plugin to customize some layout elements like the post meta data.
It can get complicated after a while, and I probably would not recommend anything that complicated to a novice.
Popcorn on the other hand has most of those website layouts as default.
GeneratePress Vs Popcorn Theme
With GeneratePress you not only have to download the theme, but a few other plugins as I've just stated, which takes the total plugins I am currently running on this website to 16.
Because you only need the one plugin for the Popcorn theme, I am able to keep the total plugins to 11.
That's amazing. The less plugins needed the less bloat and smaller the website and quicker too.
Pricing
As I said, I was fortunate enough to win a copy of the Popcorn theme in a competition, but I can honestly say, the one time cost of this theme is very competitive and I would happily pay the fee.
Especially as it is an unlimited website licence. I'm only aware of GeneratePress as the only other theme to offer this type of licence.
The difference though is that Popcorn theme is a one time fee whereas GeneratePress is a yearly fee, but it's still a bargain compared to most other themes out there.
Check out the latest pricing for GeneratePress here
So cost wise, that's a win for the Popcorn theme, but they both win compared to most of the competition.
Room for Improvement
There is a lot that is good with Popcorn WordPress theme for such a new theme.
It's not all perfect. There are a few small missing items I would like to have included like a subtitle option for example or letter spacing. Small things I was able to solve with some CSS.
One of Popcorn theme's strengths is that it's a striped down theme, but because of that, there's not room for lots of customizing like with GeneratePress. For someone with coding skills there's more scope with GeneratePress.
GeneratePress also has lots of ready-to-go templates if one design doesn't suit you. With Popcorn you get the one design.
And lastly, GeneratePress has a very large and active forum for GP users where you can find solutions to issues. Almost any issue has been covered and solved.
Popcorn is still new, so it will all take time to get this sort of infrastructure in place.
Will I Swap All My Sites to the Popcorn Theme?
So the Popcorn theme is marginally faster, it's much faster and easier to set up, and is cheaper in the long run. That's very convincing.
So will I swap over all my sites?
I've put in a lot of work into this site's design to be the way I want it to be, and to be honest I really like the final look. There are small design things I'm still missing with Popcorn.
I had the same dilemma with the previous theme, OceanWP; a fast theme with a design which I loved. But I eventually swapped to GeneratePress, its was an overwhelmingly better theme choice.
It's interesting to see the parallels playing out again.
I do think the Popcorn theme being faster and cheaper makes it a winner. And if I didn't already have GeneratePress I would almost certainly go for the Popcorn theme. It's a no brainer.
I still do need to do a long term review of the Popcorn theme, so check back later and I'll update you with my long term thoughts.
Finally
To check out the Popcorn theme go here to purchase it. And to see my results with the theme, check out my other website here.
Artist / Photographer / Videographer