We are an Affiliate!
We hope you love the products we recommend! As an Amazon Associate and affiliate of other programs we earn from qualifying purchases, and we may collect a share of sales or other compensation from the links on this page. Thank you if you use our links, we really appreciate it!
After a long history with PC and Windows I've finally moved to working within the Apple ecosystem, and in this article I'll tell you why the M1 Max MacBook Pro for creatives is the best choice.
I want to discuss why I chose the MacBook Pro over a custom PC, or a Dell XPS or other laptop, and why those platforms have pushed me towards Apple, and also why I believe the MacBook is the best laptop for content creators.
Who This Review Is For
The M1 Max MacBook Pro is built for many types of users, but I will not be covering all use cases. And this is also not a review for all creatives, for example I won't cover 3D.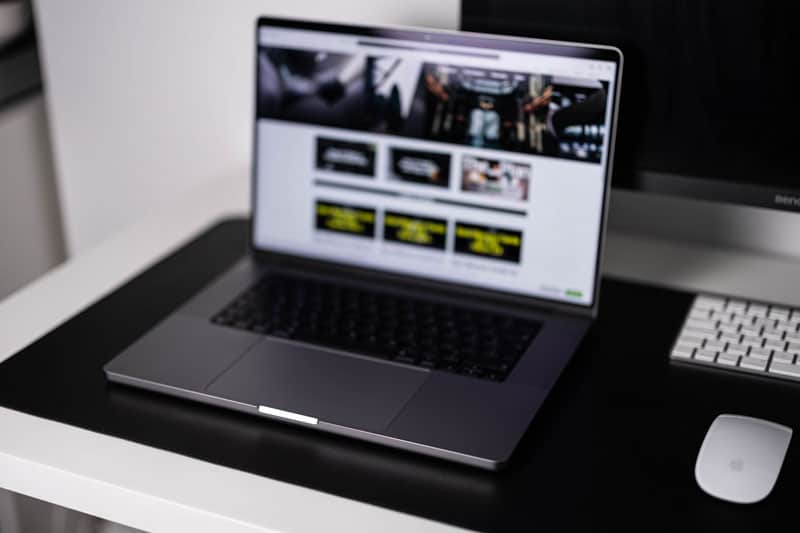 This is for a creative who is focusing on their business in two aspects, website and social media which will be YouTube.
YouTube – Which will be primarily video editing, which will require the most out of the MacBook Pro.
Website – This will involve website developing, writing, and image editing.
What Spec Is My MacBook Pro?
For my MacBook Pro I didn't go all out, I chose the best chip but held back on storage capacity:
M1 Max chip, 10-core, 32-core GPU
64GB RAM
2TB SSD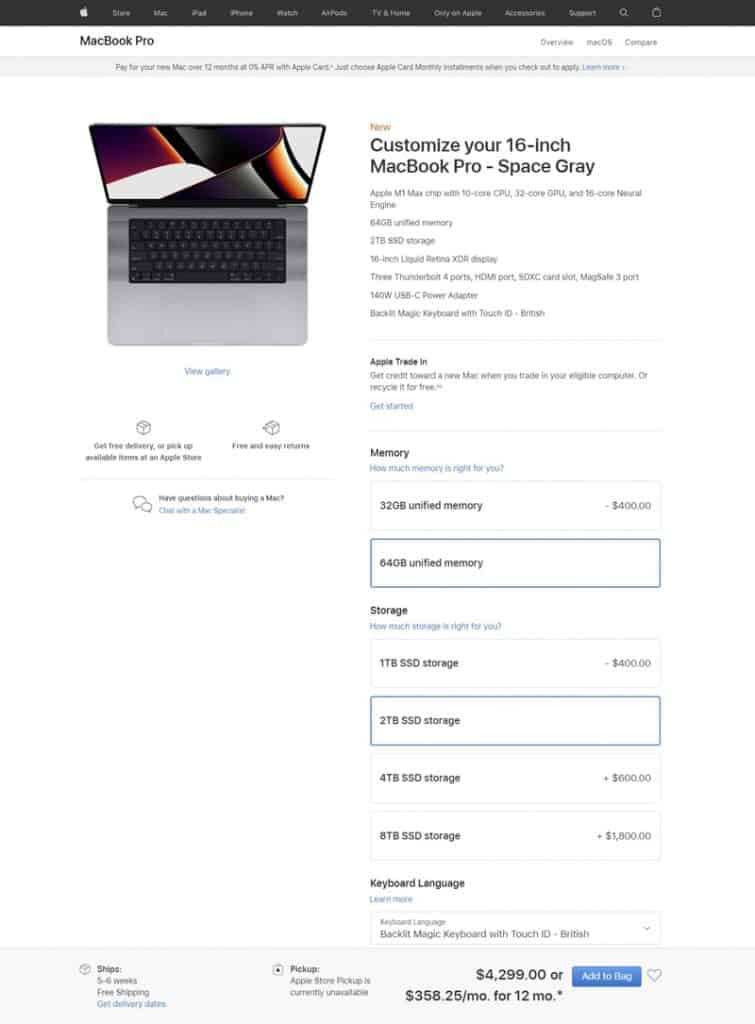 So why did I choose this spec?
Well I sometimes work with 3D applications, but it's mainly intensive VFX apps like Adobe After Effects. These types of apps require fast processors and as much as RAM as possible.
My custom PC had 32GB of RAM and I've used that for After Effects successfully, but for some processes the RAM or processor power was not enough. But the majority of work in After Effects should only need 32GB.
Adobe actually state the minimum requirement for After Effects is 16GB, but the recommended amount is 32GB.
With 16GB there will be a few processes that you are not be able to do, and with 32GB you should be able to do most, but at a slower speed than if you had 64GB.
Time is a precious commodity for me, so 64GB was a no brainer.
How Much Storage Should You Spec?
For storage capacity, everyone's needs will be different. On my old custom PC I was using under 2TB. I worked out that the bulk of that storage were older projects that I could just offload to an external hard drive.
I explain my thinking in the video below:
Anything that I need immediate access to I would want on the Macbook's hard drive. These are tools like templates and LUTs, as well as the current project and maybe a few other projects too.
After following this storage strategy, in the Macbook Finder it's showing that I still have over 1.5GB to use. So 2TB is really more than enough for my needs.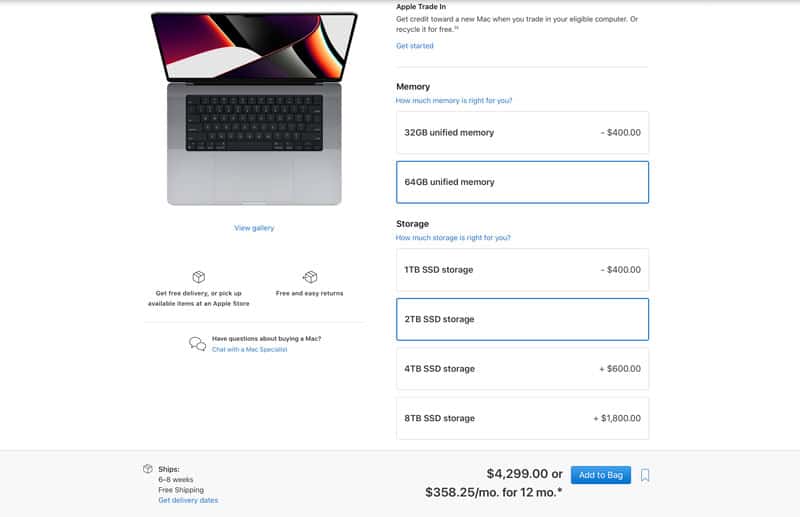 To upgrade to 4TB from 2TB Apple charges an extra $600, for which you could buy two decent Lacie 4TB hard drives.
The rule I would follow is have enough space for the tools and files you need on a daily basis and offload anything that you use less often.
It makes no sense to pay an extra $600 just to store files you might use once every year. For example I have older projects, video tutorials, and films that take up huge amounts of space but rarely get used.
Sale
Last update on 2023-09-24 / Affiliate links / Images from Amazon Product Advertising API
The Apple Ecosystem
One of the pros and cons of having a MacBook Pro is integrating it into the Apple ecosystem and working seemlessly with other Apple products.
I am able to access files using my iPad Pro, iPhone and MacBook Pro and swap between the devices.
I can create a drawing in Procreate on the iPad, and then either save it to the cloud or airdrop it to the MacBook Pro. This process can be done in seconds.
Using my old PC and iPad I would need to save the file to Google drives or email it to myself and then wait for the file to be uploaded. Then wait for it to be processed before it would show up. It's only a few minutes, but compared to a few seconds really adds up.
I can also answer calls, messages, or face time calls.
There's a lot of processes where the middle man is cut out increasing my productivity and efficiency.
M1 Max MacBook Pro Video Editing
I recently bought the Canon EOS R6 camera to replace my Canon 1DX Mark II and I am really enjoying the new form factor with what is essentially a small 1DX Mark III camera.
However unlike the 1DX2, the R6 with it's downsampled 6K footage was too much for my Quad Core, 32GB custom PC.
On Adobe Premiere Pro exporting a five minute 4K video took 12 hours to get to 12%. It just couldn't handle the amount of VFX in the video. I employ a lot of After Affects into my videos, so combined with the more intensive .265 codec, it's a lot.
Using the custom PC was obviously not feasible. I needed more power.
I had a few options, build a new custom PC, or purchase a high power desktop, or get a Dell XPS laptop. But none of these interested me enough. I have definitely had enough of custom PC issues.
Having been an iPhone user since the iPhone 5, I have been impressed with the simplicity, ergonomics and robustness of iPhones.
Then getting the iPad Pro and AirPods and using them with the iPhone showed me the potential with the apple ecosystem.
Up until this current MacBook, the MacBook line has been plagued with issues like butterfly keyboards, redundant features like the Touch Bar, and the lack of ports.
Apple has rectified all that with this new MacBook. There is little to complain about so far except for the price tag.
The stars aligned and with the R6 footage requiring me to upgrade it was fate that the new MacBook with Apple silicon was my number one choice.
Last video I attempted to render on my custom PC never completed, it was 12hrs when I gave up. That was a 12 minute video!
The same render on the M1 Max MacBook Pro took 2hrs.
I lot of reviews on YouTube test videos with a bit of footage and an adjustment layer, these would be rendered out in a few minutes.
In real world use there will be multiple tracks with adjustment layers, After Effects compositions, music, titles, LUTs etc. Adobe Premiere estimated the render would be 2046MB in size.
These real world projects take much longer than just a few minutes. I am happy to report that while the render didn't take a few minutes it was acceptable at over an hour.
I could hear the fans whir up but it actually didn't sound too loud to have an effect.
The MacBook Pro does get a little warm to touch where my palms would be, but not hot or uncomfortable.
M1 Max MacBook Pro – Photo Editing
My custom PC build didn't have too much trouble editing on Adobe Lightroom or Adobe Photoshop. Even importing RAW files didn't take too long.
However the M1 Max MacBook Pro still does have a noticeable difference in import speeds. Now that I am including time lapses in my workflow I have import thousands of photos. The MacBook Pro does it with ease.
Final Thoughts
I hope I've shown why the M1 Max MacBook Pro for creatives is the top choice. I've written this as part of my guide to the best gear for creatives building a business.
The main tool next the camera is a computer and I recommend a laptop, specifically the MacBook Pro. Being mobile and able to work wherever I am means time saved, which means I finish and start new projects quicker.
The MacBook Pro is better than alternative laptops because of the ecosystem. Working in synergy with other Apple peripherals like the iPad Pro and magic mouse etc. makes a noticeable improvement to my productivity.
Links
Check out more MacBook Pro content on my YouTube and my photography on my Instagram.
Artist / Photographer / Videographer