Apple is famous for its ecosystem. Everything you need for your creative work life has been created by the team at Cupertino, and they are at the pinnacle of design and use. From iPhones, to tablets, to computers; except that is, for the mouse. In a complete Mac setup most creatives don't opt for the Magic Mouse, but the Logitech MX Master 3S for Mac.
Why is that?
That's what this article is about. Because I am in the minority of people who like using the Magic Mouse. Most think it's poorly designed and inferior to the MX Master 3S. So my interest was piqued and I went ahead and purchased the MX Master 3S.
With over 6 months experience with MX Master 3S now under my belt, what do I think? Will I go back to the Magic Mouse? Stay tuned.
Last update on 2023-09-24 / Affiliate links / Images from Amazon Product Advertising API
Logitech MX Master 3S Specs
Logitech partners with Apple which is why you can buy Logitech products in the Apple Store and online. This is probably why the MX Master 3 series has become so popular for Mac users. The mouse just works.
The MX Master 3s for Mac is designed to be used specifically for the Mac, and in my 6-8 months using the mouse daily I have not had one single connection issue. Or any issue in fact. It has worked straight out of the box.
Some stats and numbers:
8,000 DPI optical sensor that tracks virtually anywhere – even on glass
MagSpeed Electromagnetic scrolling, 1000 lines a second
Quiet clicks
MagWheel and Thumbwheel
4 extra buttons
Pairs to 3 devices (change device with click of a button)
Middle click (for you Magic Mouse users!)
The MX Master 3S has a few improvements over the previous model:
90% faster
87% more precise
Much quieter clicking
Logitech Vs Apple Magic Mouse
Now as I write this I honestly don't know which to recommend. I think both offer vastly different options and usability that is better dependent on the user. So I'm going to go through my thoughts and at the end we'll talk about which mouse is right for you.
Design
I personally like the Logitech MX Master 3S design. I've seen a lot of people not care for the design, but I think in the off white colorway it looks particularly good next to the Magic Keyboard.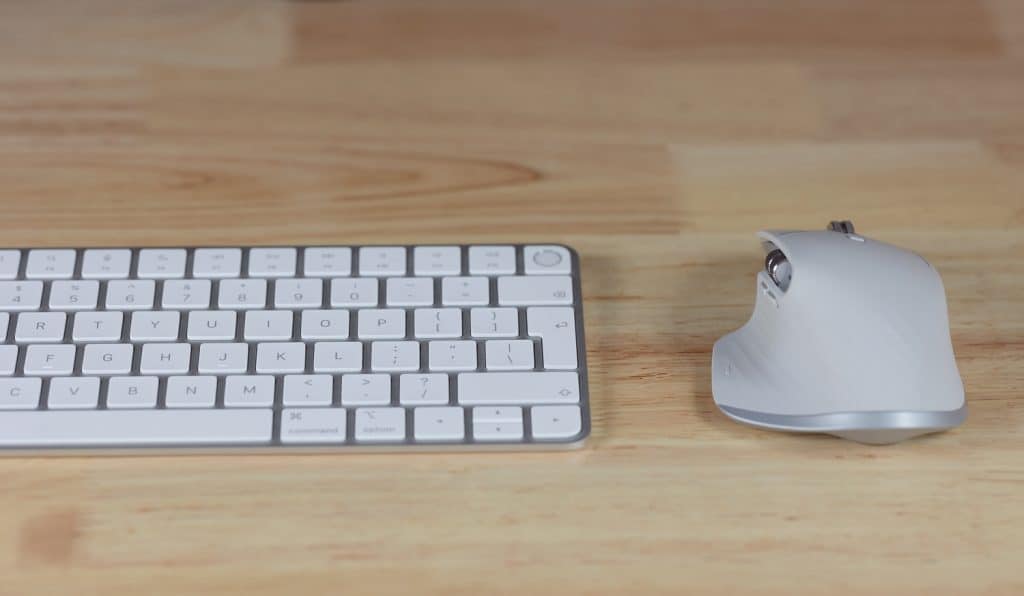 Having come from a year using the Apple Magic Mouse, the MX Master 3S felt like a very nice change. The rubberised textures and subdued mouse clicks were very welcome.
However to this day I still do not like the feel of the MagWheel or thumbwheel. I think its the combination of metal and the grooves that give me a sensory issue, which I do forget after a moment.
Ergonomically the MX Master 3S feels very good in my hand, it glides well on my desk mat and on wood. I would always recommend a desk mat like mine from Gallaway Leather. Logitech say it works even on glass, but I would never use this on a glass surface unless it was necessary.
Another thing I prefer over the Magic Mouse is the softer feel of the rubber texture. The Apple Mouse is all sharp angles and plastics.
I welcomed the return to using the middle mouse click. By pushing down on the MagWheel you middle click, gosh I missed that!
Charging
One design faux pas with the Apple Magic Mouse is the placement of the lighting port to change the mouse. It's under the mouse! So if you want to charge the mouse, you have to flip it over and it will not be usable while you charge. Whoever decided this was a good idea needs talking to!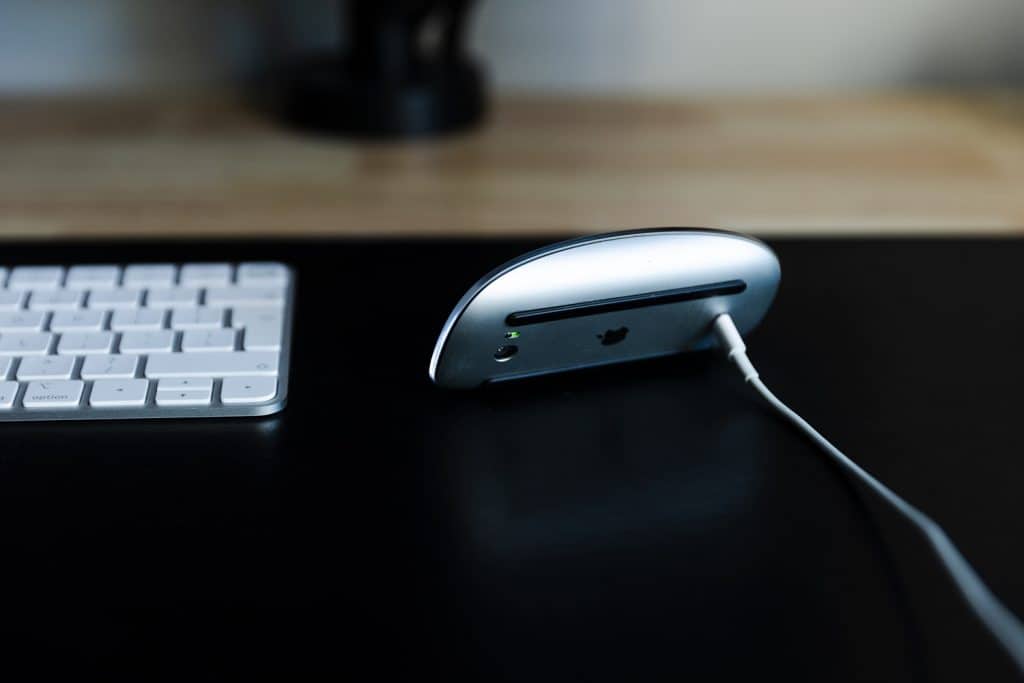 Dramatics aside, this isn't a dealbreaker, let's be honest. 3 minutes of charge will give you a days worth of use. So if your Apple Magic Mouse should ever die on you (mine never has, I just charge it once a month), just pop it on charge and go make yourself a cup of tea and when you've returned you're ready to go again.
Even just a few seconds will give you an hour of use. If it's not an issue for me then it really isn't for everyone who complains about it.
However, it still would be better to have the port on the Magic Mouse similar to where the MX Master 3S has it, at the front.
The customisable buttons are heaven. I've set the one at my thumb to CMD+W, which closes tabs or windows. I never realised how much I performed this action.
I also don't rest my hand on the Magic Mouse, it hovers. Because of the flatter profile you can't really rest it, and then also because of the trackpad…
Apple Magic Mouse Trackpad
This is why I have trouble calling the MX Master 3S as the outright winner. There's one thing the Magic Mouse has that Logitech MX Master 3S for Mac or any other mouse hasn't: the trackpad top.
I still love this feature and I miss it when I used the MX Master 3S.
The Magic Mouse lets you click to select and right click, but the top also serves as a trackpad. Swipe up and down to scroll, swipe left and right to go back and forward. Two finger swipes to change apps etc.
I've got so used to being able to do this I actually find myself going back to the Magic Mouse for this feature. That's even despite forgoing the CMD+W button on the MX Master 3S.
As I'm writing this I can see where the conclusion is going!
And the Winner is?
The Apple Magic Mouse.
Despite all its faults and idiosyncrasies, the Apply Magic Mouse the peripheral I go back to. The Logitech MX Master 3S is superior in nearly every department, but I simply prefer the trackpad design top. It's my preferred way to work.
The thing is what Apple have done with this accessory is the same with all other Apple accessories that is exclusive to the Apple ecosystem is making it impossible to maker a better version than the Apple version.
No 3rd party tech maker can make a better headphones that pair faster or switch perfectly with iPhone than the AirPods. No one can make a better smart watch that pairs the iPhone because they will never get as much access to the data and integration than Apple gives its own watch designers.
And no 3rd party tech maker can make a better mouse than the Apple Magic Mouse. One of the main features of a mouse is scrolling and the Magic Mouse scrolls as smooth as a hot knife through butter. With just a flick of a finger you can flick a page up and down and catch it with a tap. The double tapping and swiping smoothly switches you between tabs and apps.
The Logitech MX Master 3S and all other mouses feel jittery in comparison when scrolling because Logitech don't have access to the data. They have to pick an integer for how many lines they want to scroll that corresponds with how many units scrolled on the wheel button.
There's just no way for any other company to make a mouse that scrolls smoother, connects faster and stronger or
Even the accuracy of clicking on what you want to click on feels more superior. I seem to need to make more adjustments or overshoot where I want to click with the Logitech.
So if both these mice were to be lost tomorrow, and I had to get another mouse, I would purchase the Apple Magic Mouse. But, and it's a big but, that's my preference, yet I can see why so many creatives opt for the MX Master 3S.
I hope this article has given you food for thought. Definitely don't discount the Magic Mouse. The next version will surely move the charging port and maybe round off the edges. And as long as they keep the trackpad top, it will be new King, outright.
Links
Don't forget to check out more reviews on this website. Also check out my Youtube channel for more video reviews.
Artist / Photographer / Videographer