To get the most out of this amazing content creating tool you need to make sure you know the best iPhone 15 Pro camera settings to maximise performance and quality.
This article is a two parter, there are two sections:
The best iPhone 15 Pro camera settings (this article)
The best iPhone 15 Pro optimization settings (in the next article).
The latter I will cover because to use the camera you will need to make sure your iPhone 15 Pro is working at maximum efficiency and capacity.
And if you're not using every ounce of battery and processing power in the most efficient way you'll be frustrating your production time and effort.
Best iPhone 15 Pro Camera Settings for Video
So let's first go into Settings and scroll down and find Camera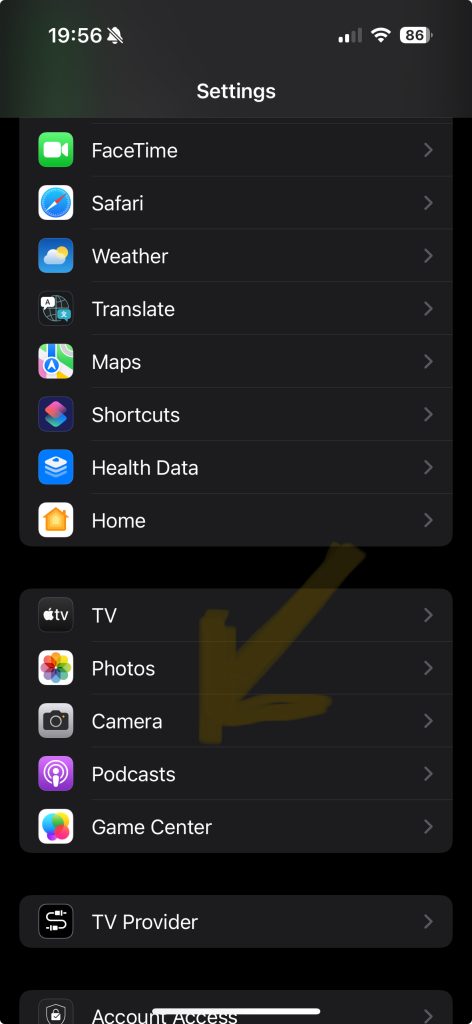 Camera Settings
Now, I would like to go through the photo and video settings, but they're not segregated here so I'm going to go through each option and explain which selection I made and why.
Then we'll dice into optimisation.
Record Video
This is set to 4K 24 fps. I choose 24 fps because I prefer the fps favored by big production films. 4K 60 fps would require pairing the iPhone 15 Pro with an external SSD.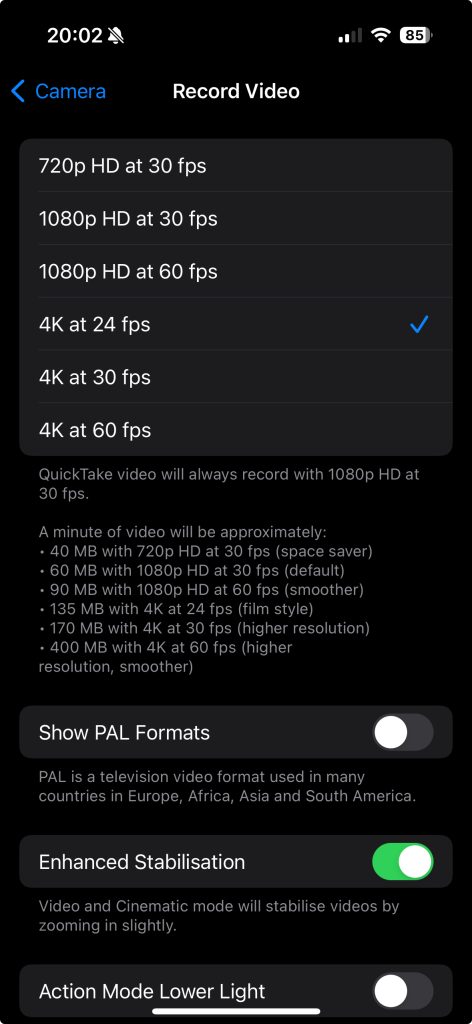 Show PAL formats are for non-US users PAL formats typically film in 30fps. The reason for PAL and NTSC is something to do with regional electricity voltage. Select the wrong one may result in color flickering in certain light. I still choose to always shoot in NTSC. So I do not select it.
Enhanced Stabilisation – Set to ON. No one likes jittery footage.
HDR Video – Set to OFF. I still do not like HDR footage.
Auto FPS – Set to OFF. I try to make the settings as manual as possible.
Lock Camera – Set to OFF. This is if you like to change between lenses during shooting.
Lock White Balance – Set to ON. Again, manual settings are best. The white balance changing all over the place to compensate for exposure will result in a poor quality video and nightmare to edit.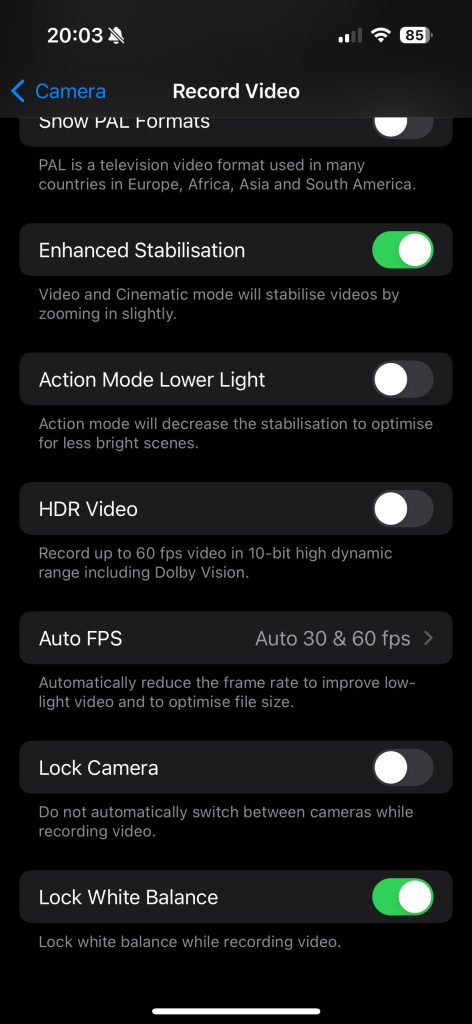 Record Slow-Mo
Back out of Camera and next on the list, select Record Slow-Mo:
1080p at 240 fps – Set to this for the butteriest slow mo possible.
Record Cinematic
Back out of Camera and next on the list, select Record Cinematic:
This is dependent if you use Cinematic mode. Cinematic mode adds in some computational depth of field to video. Sometimes it looks great and other times it's a dead giveaway that this is iPhone footage.
ProRes Log filming is not available in Cinematic mode.
But if I use it I would go with 4K 24 fps.
Formats
Back out of Camera and next on the list, select Formats: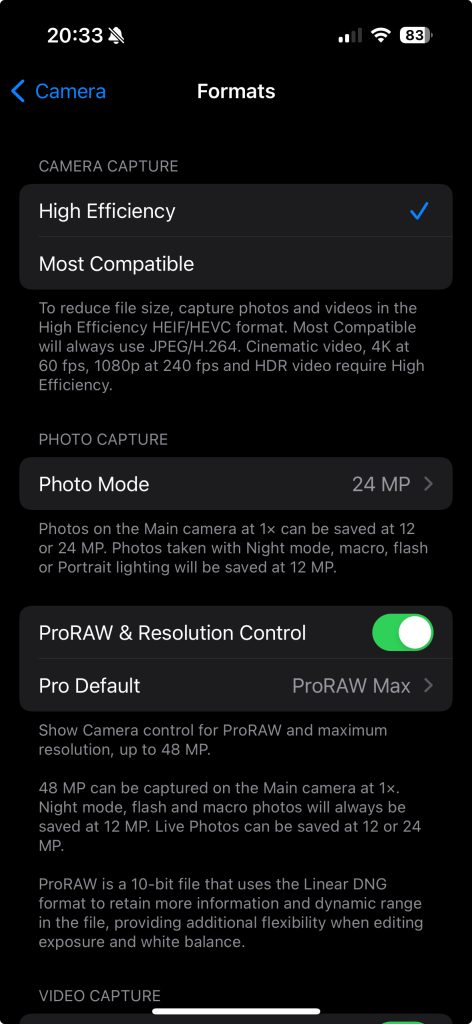 For Camera Capture I select High Effciency. This is the highest quality photo format available. But if you need to save space or make the edit a bit less intensive, then choose Most compatible.
for Photo Mode I select the highest megapixels, 24MP. 12MP is the max resolution of the other two lenses and the iPhone 14 range.
Select ON for ProRAW & Resolution Control. This will allow you to see which format you are shooting in, without having to dive back into the settings to do so.
Pro Default
For the best quality you have to select ProRAW Max.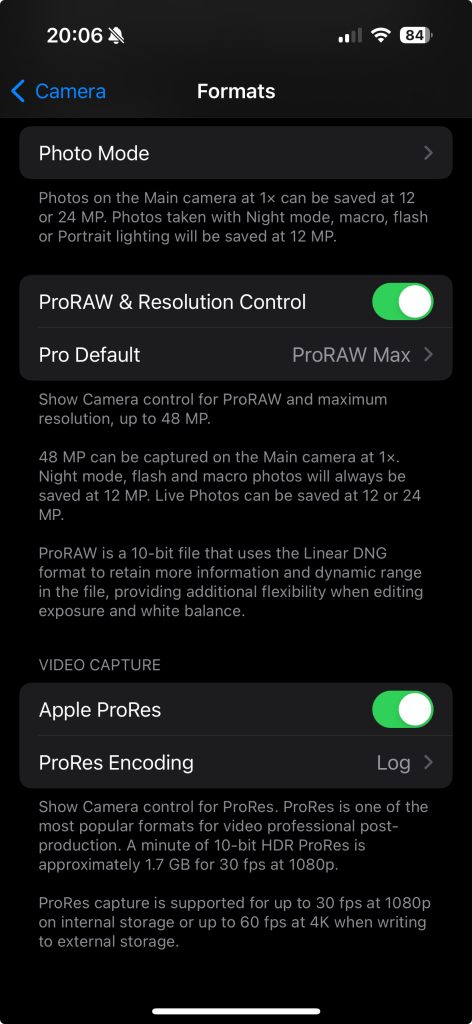 Though bear in mind each file can go up to 75 MB in size!
Video Capture
Apple should make this a separate setting to go into, but for now it's buried all the way down the bottom of the Camera Settings.
Apple ProRes is toggled ON. This will also show ProRes is on/off in the Camera app.
Select ProRes Encoding, in here select Log for Apple Log! Apply ProRes Log is a game changer for this content creating tool. You are now able to create video with more dynamic range and color accuracy.
Preserve Settings
Back out of Formats and select the next on the list, Preserve Settings:
Essentially this is what settings you want to preserve when you open up the camera app again the next time. For me the main setting I don't want to stay on is the Action Mode. I usually want to open the app to photos or video.
Back Out to Camera Settings
I leave Stereo Sound On.
I don't like Burst mode so this if Off
For convenience I leave on Scan QR Codes and Show Detected Text. These always come in handy.
Composition
Grid is On, for lining up a composition
Level is On, for keeping the camera straight
Mirror Front Camera is Off. Unless you like have text and logos appear reversed?
View Outside the Frame is On. Back in the camera app the bottom and top black bars will allow you to see through them. In case you need to change the composition.
Main Camera
Select Main Camera.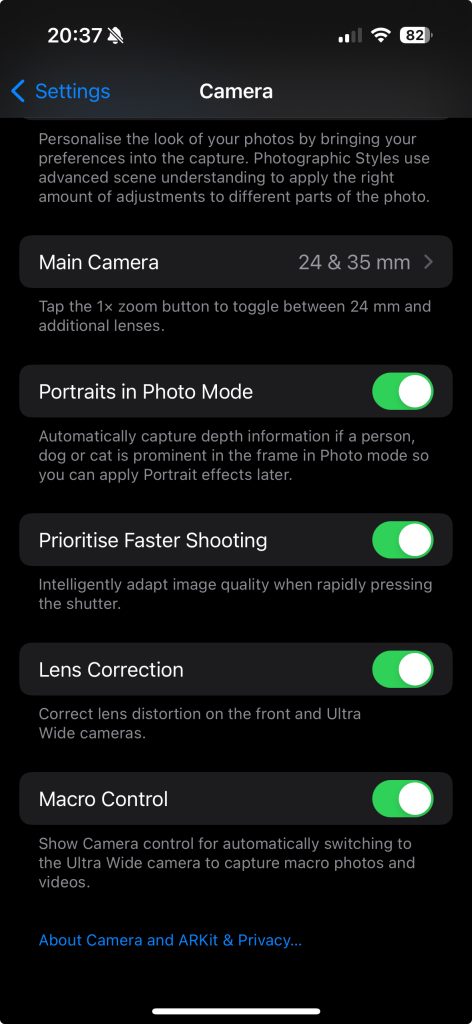 In Main Camera you can select if you want the Main Camera lens to use additional focal lengths, 28mm and 35mm to the main 24mm lens.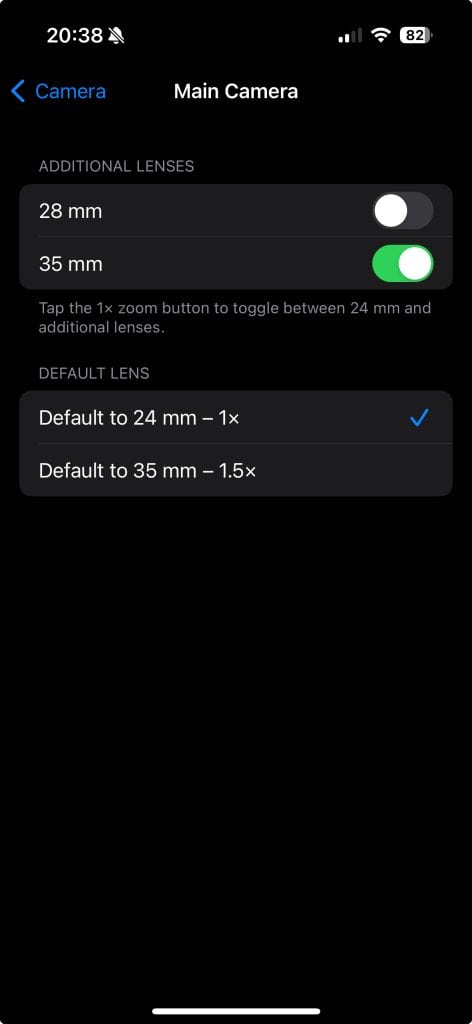 I prefer the 24mm and 35mm option as I rarely find myself using 28mm ever. Then you can choose which lens of the two/three you want as the default lens. Again I stick to the 24mm.
Portraits in Photo Mode is On. This is a new option where the iPhone camera will now save the data so that if you wish to use portrait mode later on you can do so. Portrait mode is where a person/animal is detected and computational photography is used to add in depth of field.
It's still not perfect but is much better than the 14 Pro.
Prioritise Faster Shooting is On. I leave this on as there will be times when I need to get the shot and the iPhone camera will lower the quality to get the photo. This is dependent on your shooting style.
Lens Correction is On. Leave this on. This will help correct issues especially at the wider focal end.
Macro Control is On. Again its always better to have manual control.
Links
These are my best iPhone 15 Pro camera settings for photo and videos. Are yours different? I would love to hear. Let me know on YouTube!
Don't forget to check out more articles and reviews on this website. Also check out my Youtube channel for all my video content.
Artist / Photographer / Videographer