We are an Affiliate!
We hope you love the products we recommend! As an Amazon Associate and affiliate of other programs we earn from qualifying purchases, and we may collect a share of sales or other compensation from the links on this page. Thank you if you use our links, we really appreciate it!
It's the ultimate showdown: iPad Pro vs Wacom tablet! I have been a big advocate of using a tablet over a Cintiq or similar display monitor, but with Sidecar and the new Apple Universal control there might now be too many good reasons to choose the iPad over the tablet.
And in this article I'll explain why.
So to be clear this article is about which of the two, iPad or Wacom tablet, is the best companion to the MacBook Pro.
But to be more comprehensive I'll also quickly cover using the iPad Pro on its own.
Apples VS Oranges
So first the obvious. This is not an apples vs apples comparison if you'll forgive the pun. An iPad is designed in a much different way to a tablet, so comparing them side by side in a spec to spec comparison is useless.
Comparing them in terms of tools for certain use cases is a beneficial comparison though.
So first, who is this article aimed at? This article is not a comparison just for artists, but general creatives. Specifically, creatives who could use either tool for their art and their business.
For the latter, they will be creating art like article images, YouTube thumbnails, promotional material, video editing, and photo editing etc.
As you can see that covers a wide range of needs, much more than just art.
While comparing the two will not be fair for some categories, it's helpful for you to see where each excels and lacks in. So let's see what an apples vs oranges comparison looks like:
Apple 2021 12.9-inch iPad Pro (Wi‑Fi, 512GB) - Silver
Wacom Intuos Pro Medium Creative Pen Tablet,Black PTH660 - (Renewed)
Portability
Fair, may require USB C cable
Durability
Fair, better with protective case
Drawing Surface Texture
Textured sheet (Rough sheet available)
Apple 2021 12.9-inch iPad Pro (Wi‑Fi, 512GB) - Silver
Durability
Fair, better with protective case
Wacom Intuos Pro Medium Creative Pen Tablet,Black PTH660 - (Renewed)
Portability
Fair, may require USB C cable
Drawing Surface Texture
Textured sheet (Rough sheet available)
Last update on 2023-09-24 / Affiliate links / Images from Amazon Product Advertising API
Apple Universal Control
In my MacBook Pro accessories YouTube video I made a statement claiming that Sidecar and using the MacOS Photoshop on the iPad was very buggy. However afterwards while filming the B-Roll I discovered that this is no longer the case.
Or rather, Apple has since made a few improvements.
The Difference Between Apple Universal Control and Sidecar
Universal Control allows you to use input devices, like a mouse, keyboard, or tablet across devices. So you can use your MacBook trackpad or mouse to control apps in iPad OS.
Sidecar allows you to mirror or extend your MacBook Pro's display to the iPad. So you are not using iPad OS anymore. It's essentially a second screen.
For this article I will use MacOS Apps like Photoshop with Sidecar and iPad OS app versions like Photoshop for iPad. We can see if there's much of a difference.
Obviously having these two features available makes the iPad such a compelling device to use in tandem with the MacBook Pro. Especially when they work flawlessly.
But also using the tablet with sidecar is a great option which I will also go into more.
iPad Pro VS Wacom Tablet for Photo Editing
So we're going go over three possible scenarios for you to decide on:
MacOS Apps and Wacom tablet
MacOS Apps and iPad using Sidecar
iPadOS Apps and iPad with the Apple Pencil
MacOS Photoshop and Wacom Tablet
I have both the iPad Pro and MacBook Pro and the acid test is which do I personally choose for photoshop, and it is always the MacBook Pro and Wacom tablet.
MacOS Photoshop is the 'full beans' app, it has everything you need for photo/image editing and painting. Used in conjunction with keyboard shortcuts makes for the fastest workflow.
It's also not just about iPad vs Wacom. It's about MacOS vs iPadOS. The filing system and apps working together make working on the desktop OS still the superior work solution.
For instance I use Adobe Premiere and After Effects working together, and both these apps are not available on the iPad.
For the person this article is aimed at, a creative building a business, you need a solid editing app. There are iPad alternatives, but at some point After Effects becomes an important tool if you intend to keep improving your video quality.
And also as you move from filming on your smartphone to mirrorless camera, the more powerful the apps need to be, and also the hardware.
So the desktop/laptop is still the definitive platform for editing photo and video.
MacOS Lightroom and Wacom Tablet
As I said earlier, little is left out from Lightroom Mobile, so for me editing with a Wacom tablet does not have the same disparity compared to Photoshop on iPad and desktop.
I could easily choose between either iPad or MacBook Pro to edit with Lightroom.
For myself editing on the iPad can be quicker. Except for, again, the keyboard shortcuts, which are more convenient.
But you don't miss them as much as with Photoshop where I have even more custom shortcuts too.
The issue for me is that I do not finish my editing in Lightroom. I usually take the photo into Photoshop for final editing tweaks. So again, the iPadOS deficits means I will choose my MacBook Pro first.
iPad Pro Vs Tablet (MacOS and Sidecar)
This is where it gets interesting!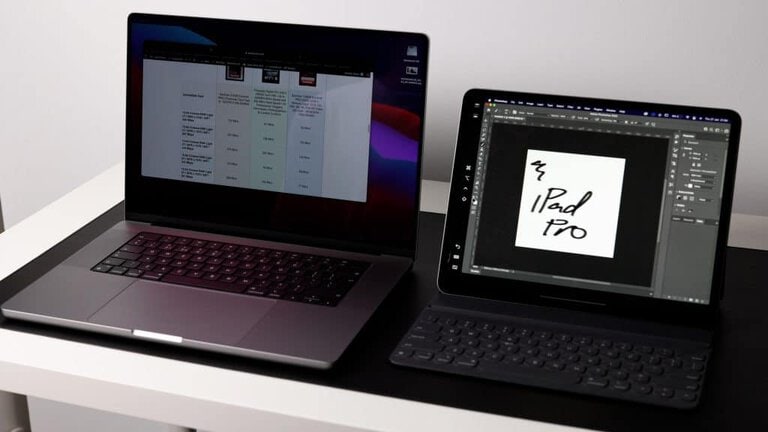 So I've now stated my preference is MacOS over iPadOS apps, but what about when you use MacOS Photoshop on the iPad Pro using Sidecar?
After some extensive use with Sidecar I would compare using the iPad Pro and Sidecar to using a Wacom Cintiq, except with the advantages of the iPad platform.
Advantages like the thinner profile, slimmer Apple Pencil 2, or the IPS LCD screen with 120Hz ProMotion and no wires.
No Lag
I do not notice any lag at all. If there is any it's almost imperceptible, and certainly acceptable for editing.
This is may be due to my MacBook Pro being the latest computer from Apple. Older MacBooks may offer a different experience, but with the the latest software updates this should not be an issue.
iPadOS Photoshop and iPad with the Apple Pencil
As I said, this is an article that is covering using the MacBook Pro with either the iPad Pro or tablet. So let's quickly cover iPad on its own.
I use Photoshop almost daily and my Photoshop files can get quite large as I use a lot of layers and functions. The desktop Photoshop is a beast; what I am able to create is only limited by my imagination.
I can make changes like adding contrast to the midtones, changing specific colors, detailed masking etc. The tools available are extensive, but on the iPadOS Photoshop there are tools that have been left out. I can't find the pen tool for creating paths for example. Or layer channels for making selections.
Adobe is continually adding more tools to the app, but at the moment it still feels like a stripped down version.
One thing I am missing is keyboard shortcuts. I didn't realise how much quicker I am with my hotkeys. I have also many custom shortcuts so that moving around Photoshop is even quicker. I am noticeably slower on the iPad even with it being a touchscreen.
Drawing on the iPad is excellent. There's pen pressure and the same standard controls as the desktop equivalent. The default brushes are familiar and you can download more brushes if needed.
I am of a different opinion when it comes to display tablets as I stated in my Tablet Vs Cintiq article, in that I don't like drawing in glass.
I much prefer the texture of the tablet, it has just a little bit more texture that makes pen travel more natural. You can get third party nibs for your Apple Pencil 2, but it's still not the same for me.
Procreate
Procreate is still the king of drawing/painting apps on the iPad for me. The simpler and more intuitive controls are still much better than iPadOS Photoshop.
Procreate is not an editing tool, it's a painting tool first, whereas Photoshop has always been a editing tool first. So it's an unfair comparison in a way as Adobe are still fleshing out the app. But the ergonomics of the Procreate app work in a way to make up for the lack of keyboard shortcuts.
Procreate also has a great selection of painterly brushes which are lovely to use. And because Procreate has become so popular, the painting community for iPad has had years to develop lots of brush packs, some of which are amazing.
Adobe might be too late to overtake Procreate for painting. But I would never write Adobe off. If they can get the full Photoshop toolset onto the iPad with better functionality to make up for the lack of keyboard shortcuts it would be great for iPad users.
iPadOS Lightroom and iPad Pro with the Apple Pencil
Unlike iPadOS Photoshop, iPadOS Lightroom is a little more fleshed out and much closer to its desktop.
There are actually very few things not available on the iPadOS app, Lightroom Mobile compared to the desktop version, Lightroom Classic.
Whenever I make edits, because of the fast processor on the iPad Pro, changes are instantaneous. There aren't any noticeable lags to report.
Obviously the main subject of talk is using Lightroom with a tablet display where for years I have been using a monitor and tablet/mouse.
It certainly is different. I wouldn't call it better. The tablet and pen still feels more precise to me, perhaps because of the larger screen real estate.
Which is another talking point. The iPad screen is smaller, so we are working with less pixels. Editing photos has always been better with a big calibrated monitor.
But overall it is absolutely a pleasure to work on editing photos on the iPad. I think for simple edits, using the iPad in Lightroom is faster. More complicated edits feels better on the bigger monitor.
MacBook Pro and iPad Vs Cintiq
So with Sidecar the iPad turns into what is essentially a Cintiq, and that is a close apples to apple comparison.
By choosing the iPad Pro over the tablet you get two worlds in one. You get to use the iPad Pro as it is for Lightroom editing, internet browsing, emails etc.
But you can then connect it via Sidecar and it becomes a slimmer Cintiq without the wires.
This is obviously the most expensive setup, dependant on which Cintiq model you choose, but if we choose the 13″ Cintiq One it's a third of the price of the iPad Pro and almost the same price as the Wacom Intuos Pro medium.
Sale
Wacom One HD Creative Pen Display, Drawing Tablet With Screen, 13.3" Graphics Monitor; includes Training & Software, works with Mac, PC & Chromebook, photo/video editing, drawing, design, & education
Wacom One Creative Pen Display: High definition creative pen display designed for creative hobbyists, visual thinkers, and anyone needing a second screen or bigger digital canvas for work or play
Works With All Software: Wacom One display can be used in any software program to explore new facets of digital creativity; draw, paint, edit photos/videos, create designs, and mark up documents
Last update on 2023-09-24 / Affiliate links / Images from Amazon Product Advertising API
The Wacom One obviously isn't the pro line so it does miss some bells and whistles.
Which Should You Choose?
I am fortunate that I can choose between the two, but I do have a recommendation and I'm still sticking to my original opinion.
The Wacom Intuos Pro and MacBook Pro is the more effective combination.
The iPad Pro on its own never stood a chance against MacOS and the full functionality of the Adobe suite. So I would never consider the iPad Pro on its own as a complete creative tool.
And as I stated at the start this is about which of the two, iPad or Wacom Intuos, is the better tool to use with a MacBook Pro.
Where it became complicated was Sidecar. Using the iPad Pro like a Cintiq is a compelling option as well as also having the option of using the iPad on its own for internet browsing and Procreate.
But that's around a $1000 extra to get that setup and when the Wacom tablet is a superior drawing device it doesn't seem financially sensible.
Links
Check out more video content on my YouTube and my photography on my Instagram.
Artist / Photographer / Videographer