Have you ever looked at some Instagram profiles and see 9 square images used to make an Instagram giant square grid and wonder how did they did this?
There are so many different names to call this method as well as an Instagram giant square, like mosaic, Instagrid, split etc.
There are also lots of different ways like with an app to create this giant square. Fortunately I have done all the research for the best apps that take a few seconds to do this and upload to Instagram.
Why You Should Use a Grid
Using 9 square images in a grid can look great if you use it in the right way for the right style.
When a viewer is scrolling down your profile and sees a much bigger picture, but divided into 9 images, occupying more screen real estate, this can have a bigger impact than a smaller image.
Choosing the right image is then key, you want one that will grab the viewer's attention which is something everyone is fighting for on social media.
This is a great way to feature an image you want to promote more prominently. Someone who is scrolling quickly will not be able to miss a giant square grid.
For me though, this may be great for featuring pictures, but for it to have an effect the viewer needs to be on your profile.
So what if they're not on your profile?
Problems with the Instagram Giant Square
The problem with the Instagram giant square mural or mosaic is that it looks great as a whole. What I mean by this is you need to see the 'bigger picture', if you'll forgive the pun.
Now when someone is scrolling their feed, they won't see all nine images in one grid, they'll see one image.
Also, because Instagram doesn't show your feed by date anymore, they may be shown the nine images at different times of day or week even.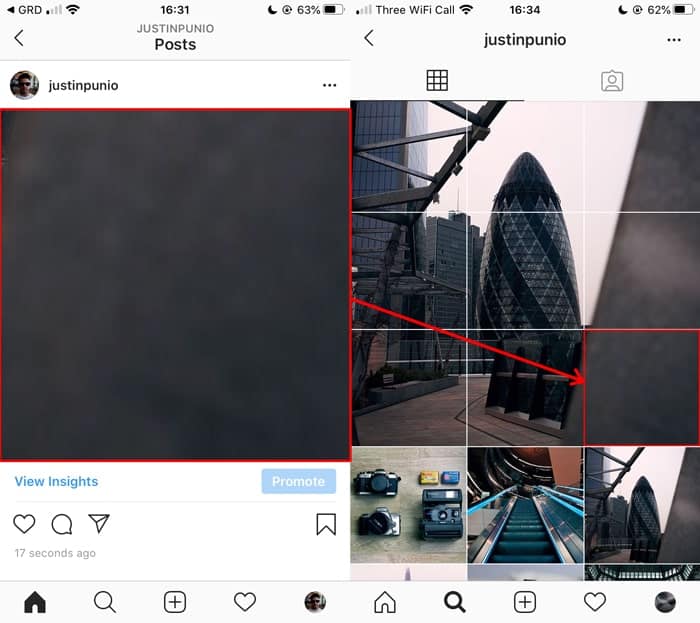 So on the left is how one image looks on someone's feed, and on the right is how that one image may be shown on your Instagram profile.
Now you can see the issue. It doesn't look good.
If the viewer is scrolling through the feed for who they follow they may give you the chance and click through. But someone scrolling in the search feed may just pass you by.
This reduces your CTR (click through rate), you may get lots of viewers being shown your image, but fewer clicking through. Instagram's algorithm will then decide it's not a good image and show it less and less.
If you need every upload to bring you new followers, the Instagram giant square is not recommended, or at the least, don't do it too often.
So now I have given you the reasons for and to not have a giant square on Instagram let's check out some apps that show you how to split pictures on Instagram like a grid!
1. Grid Post App (Free)
I used to use the second recommended app for ages and then I found this one, which is great as you get a few more options, like text, overlay logos and stickers.
You have to sit through some ads between each step, but this is fine as it keeps the app from going behind a paywall.
This is definitely the best giant square app for Instagram.
Step 1 – Download App
Search for Instagram grid or to be more specific, Grid Post and download.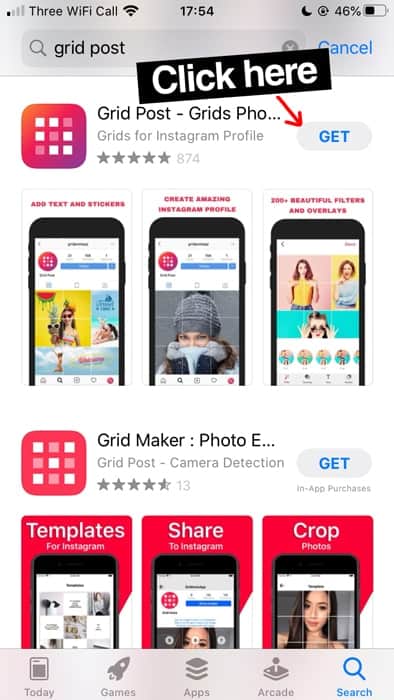 Step 2 – Upload Image From Camera Roll
Select Photo Grids from the startup menu and then add your image from camera roll, then click next. The Panorama Crop is the popular Instagram 3 pictures in a row feature.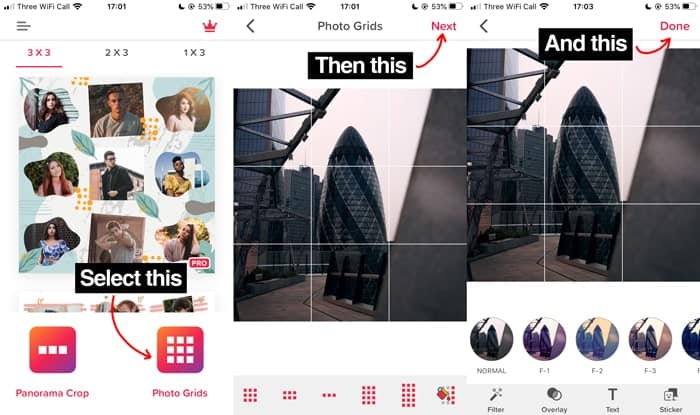 Click done after you've finished your edits. Better to do it all here instead of individually in Instagram. That way you don't get one image looking different the rest by accident.
Step 3 – Upload to Instagram
Select text to add some writing that you can move, scale and rotate. You can also select Overlay to upload a logo from your files or Sticker to use one of the Grid Post stickers.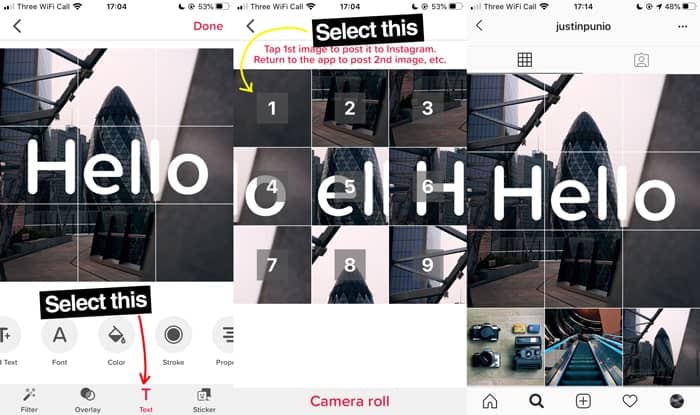 Then click done and you can now select the first image and Grid Post will take you to Instagram to upload the selected image.
Return to Grid Post to repeat the step, uploading 12 posts and you will be done!
2. GRD App (Free)
This is my second recommended app. Really simple to use and again you don't have to pay to remove any awful watermarked logos.
Step 1 – Download App
Search for Instagram grid or to be more precise, Photo Grids for Instagram and download.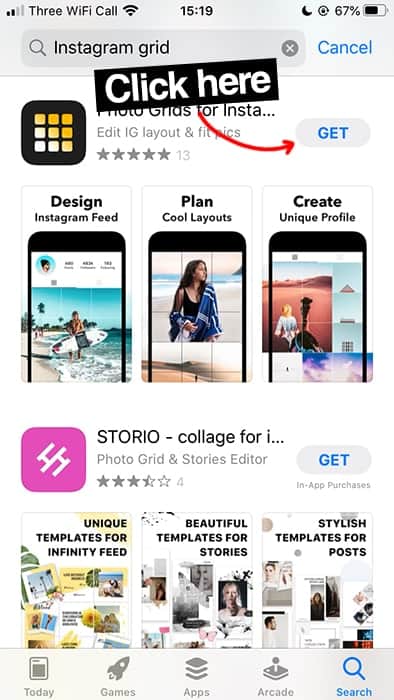 Step 2 – Choose from Camera Roll
If you've taken your image from your phone, once in your app scroll to the image you want to select.
If you've taken a photo on a camera or its on your computer, after optimizing, either save it to your Google drive or Airdrop it if possible to your camera roll.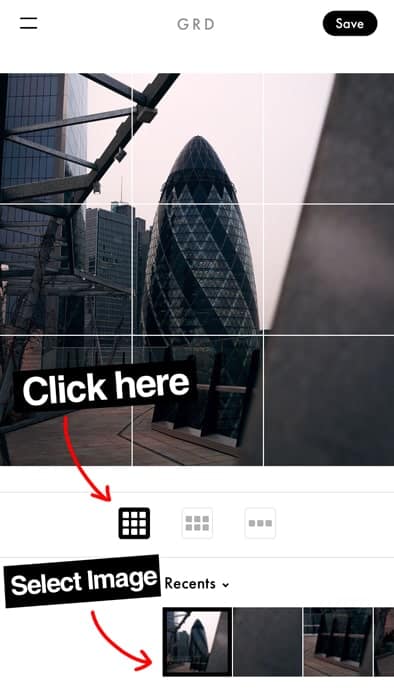 By clicking on save in the upper corner, the images will be saved to your camera roll if you want to upload to Instagram later.
Step 3 – Save to Camera Roll and Upload
You'll be automatically moved to the next step where the GRD app will ask you to select the first image to upload to Instagram.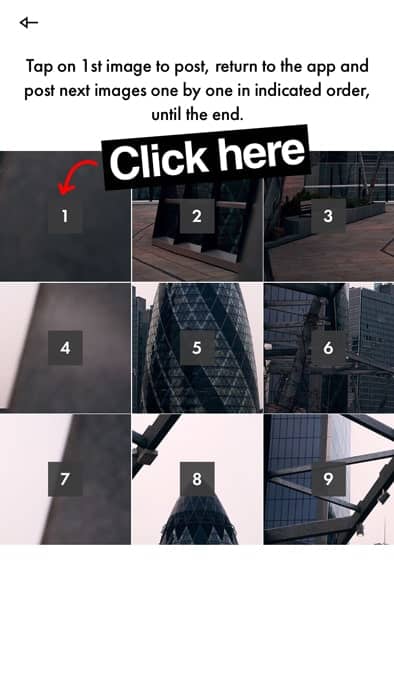 Once you select it, the Instagram app will automatically open and you will have the option to save the first image to your story or feed. Select feed.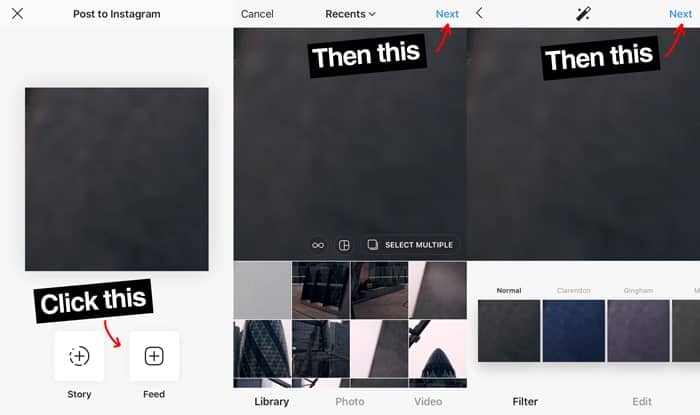 Click next until you reach share and upload your first of twelve images to Instagram square grid.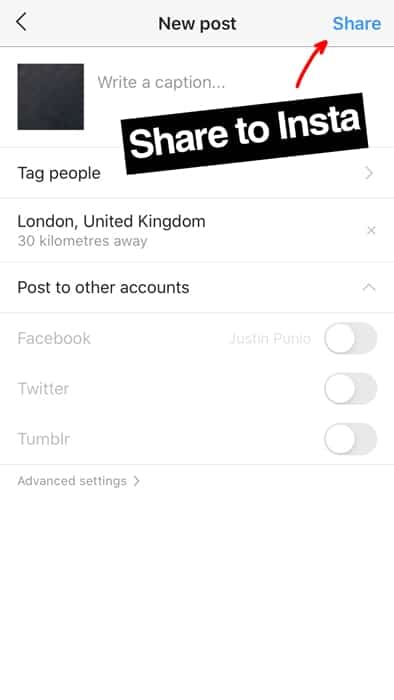 Return to the GRD app and select the second image and repeat this step until all 12 posts are uploaded.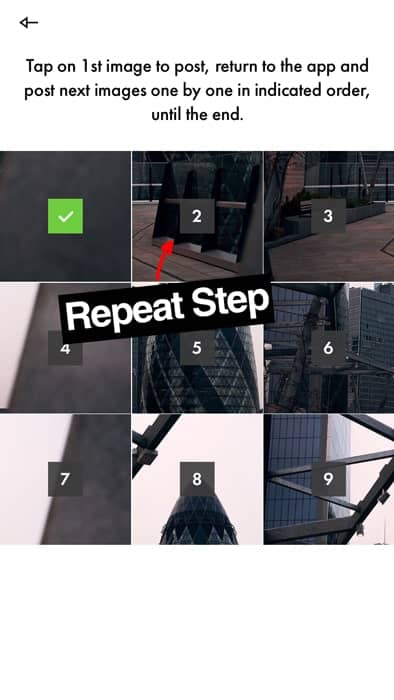 And you're done!
3. PhotoSplit App (Free and Paid)
This is similar to the GRD app in that it's simple to use and free. But again, to unlock further options out need to pay to upgrade.
The free version is exactly the same as the GRD app, but worth a mention in case GRD is not available to you in the App store.
Go Further and add White Borders and Optimizing
If you want to add some more uniqueness to your Instagram square grid, you could add a white border to the image.
White borders really separate an image, giving it a bit of pop.
This is why photographers and painters have always used this technique.
It helps focus the attention to the image.
And if you're using Lightroom or Photoshop, make sure you are getting the best Lightroom export settings!
Instagram has a horrible compression algorithm that pixelate your images to mush.
But in this article I've worked out the best settings for exporting to Instagram.
Links
Check out my Instagram to see some Instagram giant square grid images when I occasionally upload them. For more Instagram tips and tricks check out my Photography Techniques articles.
Artist / Photographer / Videographer