We are an Affiliate!
We hope you love the products we recommend! As an Amazon Associate and affiliate of other programs we earn from qualifying purchases, and we may collect a share of sales or other compensation from the links on this page. Thank you if you use our links, we really appreciate it!
For a little context, I have been a wedding photographer for just over eight years. And in January 2019 I decided to start a creative business, well restart.
At the start of 2019, having refocused my photography niche, I also needed to update my business plan to work in the current market. I couldn't just rely on word of mouth anymore.
The experience has been like starting a new business, and in doing so I have learnt a few new steps. So before you start promoting your creative business to potential clients, these are all the steps I've learnt from experience that you need to take first.
The article expands on how to start a creative business by linking out to other articles to go even further in explanation. To use this article effectively, think of it like a tree, branching out to even more information that you might want to delve into deeper.
Disclaimer
The financial information explained in this post is for general informational purposes only and are not intended to provide specific advice or recommendations for any individual. It is only intended to provide education about the financial terms and services.
Decide your Niche
The first thing you need to do before you start anything is decide what type of creative you are: artist, photographer or video creator, and most importantly, stick to it.
So how do you find your creative niche?
With photography if you are an amateur or hobbyist, you can photograph anything. But when you want to go professional, you need to be specific about what your niche is. Are you a portrait photographer? A landscape photographer? Or a sports photographer?
Look in the industry, there are few, if any, who claim to do it all. Most photographers pick a discipline to specialise in.
Why? Perhaps it's the perception of being a jack of all trades, master of none. Photography is a wide variety of disciplines, with each taking years to master.
Clients will want to work with those who choose a speciality. If you have a large portfolio of portraits with a few landscapes, how will that look to the client? Will you look undecided? Unfocused? They want a photographer who is focused on what they are offering.
So whatever creative niche you pick, stick to it.

Make a Business Plan
Before you even think about investing in gear or create your first project, you need a plan.
Why make a plan? You need to organise your budget, putting things in perspective. You also might take this plan to the bank to get a loan. Or you might need to show it to someone who is investing in you. Either way, it's always best to start off with a plan.
You need a plan so you know your limitations. Any creative business requires a bit of investment. There are the obvious large costs in gear, but you might forget about the big hidden costs, like insurance, licencing, marketing etc.
Now you've decided your niche you have a better idea of what your costs will and won't be. So if you've decided on portrait photography then you know you won't need tilt shift lenses, for example.
Then you need to know your incomes. I highly advise diversifying your income streams and making them as passive as possible, you can check out my article with over 17 passive income ideas for artists and creatives.
These are the basic elements of the plan:
Overview – what your business is.
Who you are and what you are selling.
How you plan to execute this plan – clients and marketing.
Financial Overview – this should be your business model:

How you will make money – Photography, Video, Digital Products, Consultancy etc.
Projected Revenue
Expenses
Profit/Loss
Check out my personal plan in this article for more about how I will execute the first three bullet points and specifically the structure of my business.
Having a plan is having a goal. Your goals have to be achievable and manageable. Knowing that your business will need time to grow to reach sustainable levels, and levels to pay the bills is important to understand from the outset.
Invest in the Right Gear
Investing in art tools and camera gear can get worryingly expensive. Especially if you have a little bit of Gear Acquisition Syndrome.
Check out my article for the first gear purchases you should make when starting your business. These are the essential items that can be expanded later on.
When you're starting a new creative business it can be hard to reign in the spending. It's really important to understand that you need to buy according to your needs, not your wants.
But at the same time, you have to invest well in your gear. So that means, obviously, don't buy a point and shoot and conversely don't go and get the Canon's flagship 1 series model, especially when you're starting out.
Making a budget of what you can spend is a good idea. See how far you can stretch and try make it so that you can afford a DSLR or mirrorless camera.
Entry level camera models are good enough to make an income for yourself. Do not attach as much importance to the camera body as to the lenses. Your lenses should last you at least two camera body upgrades.
Check my Kit.com Professional YouTube Video Gear for an idea of what you should purchase as your first bit of gear for a 'good' budget. If you are on a small budget and have to make compromises, check out my Budget YouTube Video Gear . (I need to make a disclaimer that the camera I recommend will soon be replaced by whatever Canon call their upcoming entry level mirrorless camera).
Depending on what niche you pick there can be more essential gear that you might need. But these gear guides are the starting blocks to get you going.
Choosing Your Business Name
Before designing you brand, you need to settle on a business name. In short there are two routes you can go down: naming the business after yourself, like I did, or naming the business after a phrase, which is a bit trickier.
Read more in my in-depth business naming guide article to make sure you decide on the right name for yourself. There's also 250 plus name suggestions for you to consider.
Create Your Brand
Now that you know what type of photographer you are, you need to create your brand. Remember that a logo does not mean brand. But a logo is part of your brand.
Your brand is the theme and general design that identifies your business. It can be a design, sign, symbol, your photographic or video style or even just a font.
But it has to be something that associates itself with your business. I would need another whole blog article to get into the importance of branding for business. But suffice to say, when you market your business, it is your brand that the client will see, so it has to be strong and represent your business well.
Your brand has to translate to the client a number of things, firstly that you are a capable photographer. In time it can do other things like convey authority, professionalism etc.
As I said, just picking a font for your business name is creating a brand in itself. Using that as your logo is sufficient for most people.
But there is a lot of power in having a logo design. You don't read a logo design, it instantly conveys what it represents. Think of some strong brand logos, like Nike's swoosh tick or Apple's apple logo.
Investing in a graphic designer to make your logos, banners, intros etc can be costly. But the benefits of creating a strong brand design, although not quantifiable, can go a long way to establishing a new creative business.
Get a Website
This is quite dependent on what type of creator you are. There are plenty of photographers for instance doing incredibly well without a website. I cover this in my article: "Do Artists/Creators Need a Website?".

But at the same time, remember building your web presence solely on social media is like building a house on renting land. Having your own URL establishes an extra level of professionalism and credibility.
Your website is completely focused on your brand. A dedicated resource of information about you, contact details and portfolio.
You can have a portfolio website, or if you like to share knowledge, a blog site, or a combination.
In either case you'll need to decide, which way you want to invest in developing your website.
First you need to decide if you want to develop and design it yourself. Or hire a web developer; you will have to factor in the cost. But I do suggest developing it yourself, website builders and WordPress websites can be set up in a few hours with no experience developing or coding needed.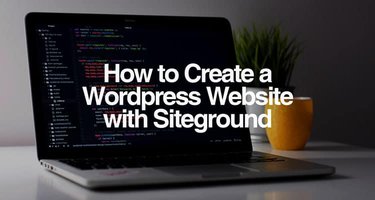 If you do decide this route, you'll need to decide between a website builder or WordPress. Either is good, dependant on your personal situation. I prefer WordPress, as there lots of great themes available.
Then you need hosting. I have found reliability and goof speeds with Siteground, who I use for all my sites.
If you choose WordPress then check out this step by step guide to get you from start to finish.
Also make sure it's fast loading! Users leave if it takes over 3 seconds. Check this article for 4 simple steps: How to Speed up a WordPress Website.
Social Media
There are a few social media platforms like Snapchat that you could probably do without. But I firmly believe in leveraging social media to drive traffic to your main platform/website.
The social media platforms that I would concentrate on are YouTube, Instagram, LinkedIn and Pinterest.
Instagram is a great platform for creating an audience and the features still can help promote off site platforms. LinkedIn is a great networking platform. Pinterest is a type of search engine that can drive huge amounts of traffic to your website.
I also invest a bit if time into Twitter but I do not think it would be necessary, other than to build a persona if you are part of your brand.
Business Cards
As with the website, but less so in this case, business cards are not essential. But they give you an extra level of professionalism.
Imagine you meet a potential client serendipitously, maybe in this situation you don't have internet to show them your website, or there isn't much time.
You can either ask them to remember to check you out later, or write down some quick info for them. Or you hand them a business card.
Which is more likely to be the successful conversion? Which sets the more professional tone? For all, definitely the business card.

Insurance
Insurance will be one of your bigger costs for any creative business. But the costs of not getting insurance could be higher so it's best not to overlook this.
You need to make sure firstly you are covered if your gear is stolen or damaged. Insurance companies will then also offer tailored insurances dependant on how much you want to cover.
Building Insurance
If you have a studio, you will need building insurance. Always check what is covered in building insurance as you will need to make sure your equipment is covered.
Indemnity and Liability Insurance
Indemnity insurance covers you if a client claims compensation for any mistakes you make in your work that would adversely affect them.

Liability insurance covers you if a client or member of public attempt to claim compensation from you for injury or damage.
Imagine if someone trips up over your tripod or your camera gear damages the client's property.
Other Insurance
I also am insured if a client agrees to a job and then cancels after I have already made an investment in costs towards the job. This could be travelling there, hiring equipment etc.
Tax: Sole Trader or Limited Liability
First you need to decide what type of creative business you are. Are you sole trader or limited liability.
Generally speaking, especially if you are starting out as a one man/woman business, it's best to be a sole trader (self employed).
And it's quite simple to set up, you just have register as self employed within 3 months of starting your business. And then you need to fill out a Tax Self Assessment form by the 31st of January of each year.
Tax (UK)
Income tax rates as of 2019 require you to pay a basic rate 20% on all income over £11,851 up to £46,350, 40% on the income between £46,351 to £150,000. And 45% on all income over £150,000.
It only makes sense to change to a limited liability if you are making enough to save yourself money.
This does mean you will have to make a few changes. First you will need to register with Companies houses and set up directors and addresses (not your home).
You will need to make yearly accounts which are costly, so you'll have to get an accountant.
But there are benefits, firstly, your tax costs ( UK corporation tax is currently 19%), once you pay yourself and minus your business costs could result in less taxable income.
Limited Liability as its name suggest means your liability is reduced. Let's take an example, if you are a sole trader and and someone tripped up over your tripod and your insurance didn't cover this, they could sue.
If they won, depending on how much, you stand to lose a lot, maybe even bankruptcy.
With a Limited Liability you personally are shielded. If you lose the case in the previous example, it would be the company that bears the costs. Not you.
It is still good business sense to get liability insurance whichever you choose.
There are quite a few other benefits to being a sole trader. Business banking is one, in most cases you will get access to business facilities not available to sole traders, like better and bigger loans.
Research your Competition
Whichever niche you have picked, it is always a good idea to see what your competition is doing.
Analysing your competition's business can elicit worthwhile information, what they're doing right and wrong that you can use or avoid in your own business.
You also want to know how saturated the market is for your type of business. Will it be more difficult to establish your business?
Build your Portfolio
If you've done everything on the list so far, now is the time to curate your content.
Your portfolio work needs to be your best quality work. It needs to reflect the standards set by your business brand.
It needs to the tell the client what you are and what you can do for them.
Marketing
You're now up and running; now your client base need to know. It's time to get the word out.
Firstly make sure your work is everywhere your clients may be. The more eyes on your work the better.
So make sure you're on all the social media platforms. On Instagram and Facebook you need to make sure you are using the business profiles.
Take care of the new clients you choose to work with as you build your client base, knowing the signs of a bad client can come handy.
Network
If your creative business is location dependent this is especially important. Photography for example can be a small market. In one town you might get just a couple of wedding photographers.
It might seem like they are the competition, but there is almost always enough work for everyone.
So having a good local network can be helpful. Imagine if there was a wedding too large for you to feasibly cover by yourself. You can rely on your network of fellow photographers by seeking collaboration.
In turn they might seek you out when they are in need too. This is just one of the many reasons another photographer might call on you for help.

Final Thoughts
Starting a business can seem daunting at first. But once you break down the steps, and take each, one step at a time it does become easier.
You will have ups and downs. Hopefully more ups; but the downs will sometimes make you want to give up. Do not give up.
Stay the course, stay committed, know that even when it might all seem like a lost cause and nothing is working. If you keep working at it, you'll turn the corner.
And when you do turn a corner you will be happy you didn't give up.
Because at the end of the day, you just need to keep working.
Link
Don't forget to follow me on YouTube for more content on business for creatives.
Artist / Photographer / Videographer