Learning how to get free products to review for your website or YouTube channel is not has hard as it might seem, though still takes time and work. That is something you can't get around. But having a large audience? That is not entirely necessary, and I am proof.
The TL;DR answer I'm afraid still requires putting in the hours. The answer is that you need to offer value to the brand you're targeting with proof of what you have to provide and what potential you have to offer.
I highly recommend you carry on reading or bookmark this article as I will explain why you need to do these things and how you can go about approaching brands and what you need to do to convince them.
Buy Products and Write Reviews
If you are just starting then don't even think about approaching brands yet. There's nothing you have to show a brand at this point.
First you need to be able to show and prove your value.
Concentrate on building your content so brands can see you have a body of work and can analyse the value of your content.
I would concentrate on my own content first and wait for the first small brand to approach me. And when they do, that is when you know it's time to work with brands.
So to do that you need to go out and buy products in your niche with your own money, review them, collect the analysis, and repeat again until you have a number of article reviews.
And these article reviews or videos need to be top quality content. Lots of information, opinion, data, images, real world usage, user experience, issues, and solutions etc.
Then you need to make sure the SEO is spot on and then you need views/visits. You need to sign up to Google Analytics or YouTube analytics and be able to present to brands the value of your reviews in unequivocal raw data.
This is what I do when I speak to brands. I show them the content I am creating and then the results with empirical data.
What to Do When a Brand Approaches You
So first off, Google defines a micro influencer as someone with between 3000-100,000 followers. At the time of the publication of this article I have just over 100 YouTube subscribers, 600 Instagram followers and maybe 20 Twitter followers.
That's not a lot.
Despite my numbers I am still being approached by small to medium sized brands.
Make a Proposal
My first brand collaboration actually happened about three years ago. It was May 2019 when Weglot approached me, and this was when the website was averaging just over 2000 monthly visits. That's really not a lot.
It wasn't to offer me a product/service but to ask if I would like to become an affiliate. So my first reply was to make a proposal.
I asked if I could try out their main service and write an article about it. I said the trial period was too short and that I could collect more accurate and usable data over a longer period and write a more comprehensive review.
The contact at Weglot got back to me and agreed to my proposal and I was set up with their Pro licence which is currently €490 (Euros) a year.
I used the Weglot plugin for about 6 months and wrote an extensive article on the plugin.
My first brand collaboration was a success, and the first building block in building my own brand. With each brand collaboration I would continue to build my own brand which in turn would increase the incentive for more brands to approach me.
XP-PEN
A few collaborations later and the biggest brand I have worked with, XP-PEN, contacted me to review their new display unit the Artist Pro 13.3 Pro display tablet.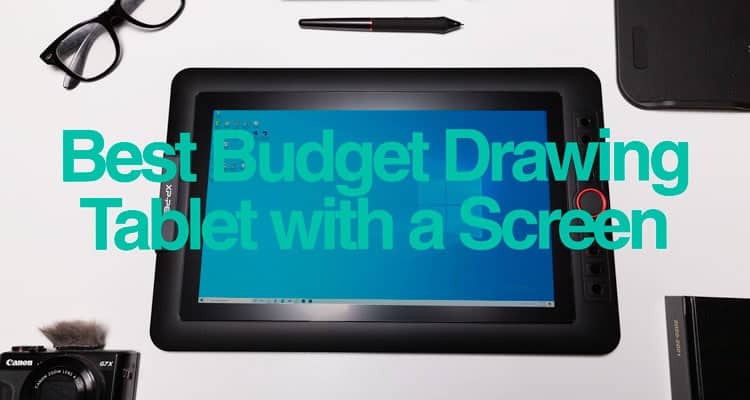 This time I was sent a physical unit to review and make an article and video.
No money was exchanged, and XP-PEN did not ask for input or influence in the article. In exchange I kept the display.
I have since continued to work with XP-PEN and now have caught the attention of some of their fellow display producers, like Gaomon and VEIKK who have also sent me units to review.
How to Approach Brands as a Micro Influencer
The reason I believe you should wait for at least one small brand to contact you first and concentrate on you content instead is that it's a good barometer for showing you when you are ready to work with brands.
Once one has approached you and you have had a successful partnership you can now use that relationship to your benefit when you reach out to other brands.
How to Write an Email to a Brand
I regularly reach out by email to the marketing departments of brands I wish to work with. With the small numbers my website/socials do, there is not going to be much interest in working with me from bigger brands.
But I still manage to get a few positive replies, and that's because I write a compelling email. In a successful email there are four elements you need to make sure are in there:
Why you want to work with brand
Your data; traffic numbers you have to show value (I always screenshot my analytics and attach it too)
Brands you have been working with
What you plan to offer, article, video, reel, post etc.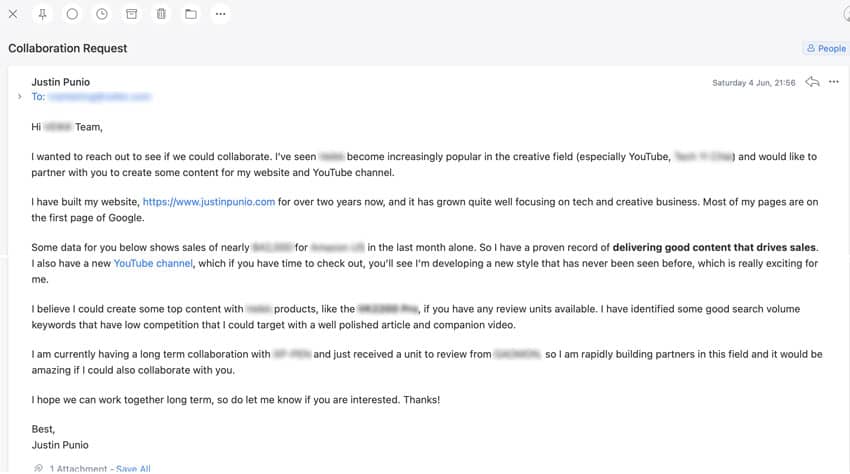 Once a month I'll devote 30 minutes to an hour to reach out to new brands and follow up with brands who haven't replied to me. This is actually an old school strategy to find brands to work with, and it's basically the secret to how to get free products to review.
Bear in mind lots of creators are sending similar emails and your email might never be read, or end up in the spam folder, or be skimmed over.
So it is always good to follow up on your previous email. You should still send a second email as someone new/different might be working in marketing and willing to read your email.
Social Media
Social media offers plenty of opportunities to connect with the brands you want to collaborate with. A good strategy is to get on LinkedIn or Twitter and find the people who actually work for those brands and start/join a conversation.
LinkedIn is a great platform where you can much easily find the people in the marketing department and connect directly.
Even connecting on Instagram is an avenue worth exploring especially if you have good content on there as well for the person you are connecting with to see.
Should You Accept Free Products to Review?
Yes. As a small creative content creator, free products are helpful to build your own brand especially if you are operating on a small budget.
As your audience and revenue grow you will also get access to products before they are released which again this will help your brand grow.
The Problem When Brands Send Free Products to Review
The problem viewers/readers have with product reviews where the reviewer has received the product for free is the element of trust.
If you are sent a poor product and you do not accurately review it, or skew the review to be more positive than it deserves, the review has failed in its main purpose.
Put yourself in the situation, there are two situations especially if you are working for the first time with a brand:
The product deserves a poor review, so you can review it correctly and maybe never work with the brand again. You lose out on further products to review. Perhaps the brand improves their products later which you now miss out on receiving before the release date.

Your viewers/readers however will have read/viewed read valuable content that correctly helps with their purchasing decision.

The product deserves a poor review, you review the product as favourably as possible, which isn't accurate. You can now continue to work with the brand in the future.

Your viewers/readers however will not have been given the best content to help with their purchasing decision.
For latter #2, you will always be found out eventually and called out for it.
The problem with #1 is keeping the brand happy and your viewers furnished with the right and correct information at the same time. Especially if you want early access to products.
It's all about ethics. Are you giving the audience you serve the relevant information to help?
Always give a genuine and balanced review, readers/viewers need this and are looking for this information. If it's good, say it is; if it's bad, tell the brand to change it. If the brand can't, then say it's bad. It's your job as a product reviewer to say when a product is poor. Your audience cannot trust you if you don't create genuine reviews.
I would suggest that whenever possible, you purchase the products yourself, because this will make you much more authentic in the eyes of the viewer.
For free products that haven't yet been released (Some brands like to have reviews for their products go live on release day), if there is an issue you need to communicate that feedback to the brand. Work with them so the issues are resolved for a better and authentic review.
When I am able to justify it financially, any products I get for free before they are released I do not keep, I will either eBay it or give it away to my email list. And if it is a product I want to keep, I will still give it away, and then purchase it myself. I think this is a win win for your integrity and your audience.
Finally
Now that you know how to get free products to review the work to get there can begin. The great thing is that once you have put in the hours, brands will start coming to you. But you have to put in the work, there are no shortcuts to success unfortunately.
Check out my comprehensive guide on how to start building your creative business in this article here. And for even more content check out my YouTube channel.
Artist / Photographer / Videographer