We are an Affiliate!
We hope you love the products we recommend! As an Amazon Associate and affiliate of other programs we earn from qualifying purchases, and we may collect a share of sales or other compensation from the links on this page. Thank you if you use our links, we really appreciate it!
Plenty of artists are building a business out of their art craft. But with the proliferation of artists on YouTube, Instagram, TikTok and Pinterest, it is getting harder to find your own audience. Which is why you need to know how to find your creative niche that can reach the right audience.
First I want to outline who this article is for. This is not an article for everyone trying to find a niche (however there are some good tips for non creatives who are finding their niche too). This article is for a creative who already has a creative skill they want to monetize.
This article will help you determine if you can take your craft and carve out a niche that can be monetised. Or if you already work in a niche area of your creative skill, we will also determine if it is a viable niche.
Why You Should Niche Down
I'm going to use the example of photography to explain why niching down is a smart idea. Photography as a topic is huge, there are a multitude of photography sub categories: weddings, food, sports, auto, fashion, astro, timelapse etc.
And within those sub categories there are even more sub sections.
To cover an entire discipline means devoting time to one section at a time and in doing so your content is quite varied.
The advantage of this is you are reaching out to a much larger audience. If you can be effective enough to reach the entire audience you have much better scope for returns.
The problem is covering all the sections effectively. For a large team this is feasible. For the one man band this is an herculean effort. Unless you can bridge this gap by maybe being an engaging personality, in the end your content will be too diluted.
Added to this is that your market is most likely very saturated with content and creators making the same content. This makes it harder to stand out in a crowd and reach your audience.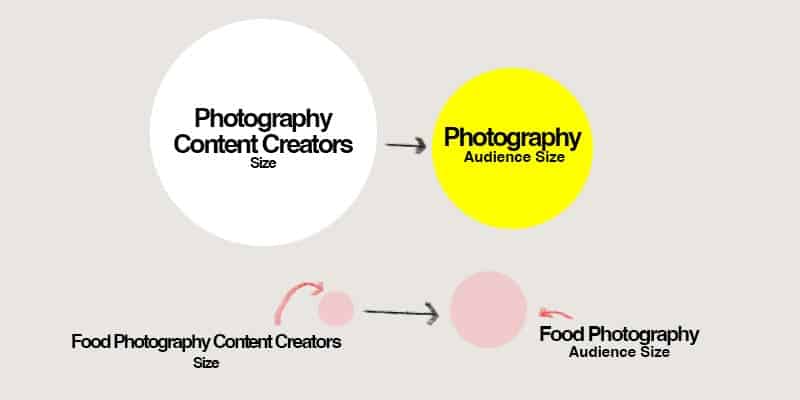 By choosing your discipline and then niching down to concentrate on that particular sub category your content becomes much more focused.
Instead of focusing on all types of photography, being a jack of all trades and master of none, you choose camera tripods or food photography for example.
Now your audience is smaller, but there are fewer content creators to compete with. You are much more likely to be able to reach your audience now.
You may even find that you niche down and discover there is almost no one creating any content for that sub category.
Decide Your Niche
Deciding your niche is the first step in my recommended plan for any creative looking to build a creative business. The term artist is an umbrella term for many skillsets. So you need to define what is it you are if you haven't already. Are you a painter? Photographer? Filmmaker?
Whatever it is, you decide on it and more importantly, stick to it.
This website is all about making an income from your creativity, it has been created to help creators. But I make no secret of the fact that I am here to make money.
But the biggest mistake you can make is deciding on a niche based on money. Focusing on money first will ultimately end in failure.
You need to enjoy or love your craft first. This process of creating content for a website, YouTube, shop etc. is a massive effort. If you don't enjoy the creative part it will show in your content.
You need to passionate about your craft, because when you hit those road blocks, and issues and walls, not loving what you do makes things a hundred time harder.
How to Pick a Domain Name
I have currently use three domain name providers, 123-Reg, GoDaddy and Namecheap. Of the three, for a beginner, I've been quite impressed with GoDaddy's overall service. They regularly provide discounts and the dashboard is easy to use.
I've even used them to transfer domain names to them and their service worked flawlessly.
I have a fantastic article on how to decide on a domain name, 250 Names for a Photography Business – A Guide.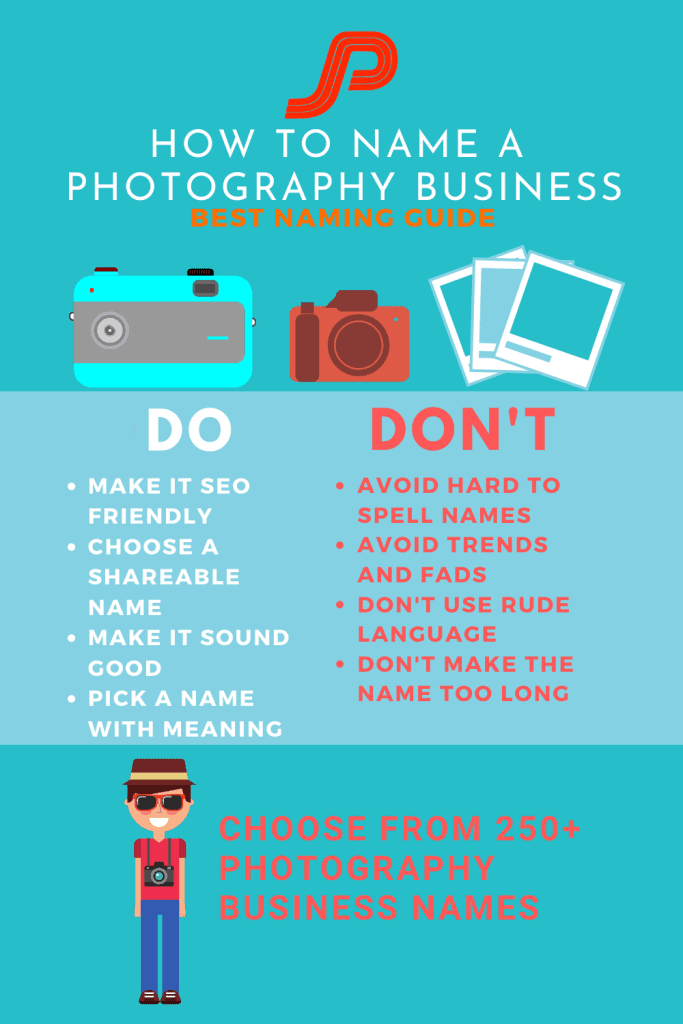 Above is a short guide of some general dos and don'ts. But for the full guide be sure to read the full article.
Choosing a business name for your niche is something to get right straight away. If you need to change it later on it will be a lot of work.
Can You Monetize Your Niche?
Unless you're extremely lucky or you've niched down too far, there will almost likely be competition in your chosen niche. From this you can gauge if the niche is financially viable.
An extreme niche like BestCameraTripodsForLondonWeddingPhotographers.com would probably have little competition, but the audience and market for that would be extremely low. Making a sustainable income would not be possible.
BestCameraTripods.com would be a better viable niche and one with already established competition. From this you can gauge how financially viable it is.
Using tools like Ahrefs.com or Ubersuggest.com you can see how much traffic these websites drive but also using your own analysis to see how does their business look. Is there consistent content? Is there a lot of content? Is there a large social media presence?
With all this information you can use your own judgement to determine if this is a niche worth tackling.
Also do not be afraid if it feels like there is too much competition. There is always room for more players in a market. You just need to make sure you are delivering good content and be consistent.
Don't Let Your Niche Restrict Opportunities to Grow
Following on from my article on how to choose a business name, it makes good sense to pick a name that allows room for growth to expand into other niches.
For example if your website is called BestCameraTripods.com which is actually a great niche, there isn't a lot of room for anything else.
Of course, nothing is stopping you writing an article on business for photography, but it doesn't seem like a title that makes sense on a website about tripods, right?
I have another website called WatercolorCorner.com, and again it would not work if I decided to pivot to a website about oil painting.
However, having the keyword in the URL name gives the viewer an instant understanding of what this website is about. So there's a balance you might want to have. In my case if I want to talk about oil painting, it would make more sense to start a new website.
Hence why this website is eponymously named. I am building a business brand around my name linked to business for creatives. Because it's my name it doesn't constrict me to any one niche.
But that still doesn't mean I should include an oil painting article!
Tools to Find Your Creative Niche
There are a few good online tools to help you find more niches around your chosen skill. AnswerThePublic.com is a great tool for not just finding article keywords but for giving you lots of keyword ideas for niches.
Another great tool that's also free is Ubersuggest.com; again put it your keyword and Ubersuggest will generate lots of keyword suggestions.
Finally
I hope this article points you in the right direction for defining which niche is best for your business.
If you have any questions, let me know in the comments below, and good luck to you! Don't forget to check me out on YouTube and Instagram.
Artist / Photographer / Videographer