We are an Affiliate!
We hope you love the products we recommend! As an Amazon Associate and affiliate of other programs we earn from qualifying purchases, and we may collect a share of sales or other compensation from the links on this page. Thank you if you use our links, we really appreciate it!
So you have decided to go down the WordPress website route. You have chosen… wisely; and learning how to create a wordpress website with siteground is easier than you think!

Jokes aside, on more than one occasion I thought to myself about turning around and going with Squarespace or Format when I hit a stumbling block. But I persevered! And in the end I now have a website I am very happy with. A website that I could not have achieved without a WordPress platform.
Figuring out how to create a wordpress website with siteground is a process of finding out solutions to issues.
Use this link to get yourself up and running with Siteground hosting to follow this tutorial.
But with perseverance the result is a website that should function and perform better than what you could achieve with any website builder. A website that will elevate your business to it's best potential!
Why Build a Website With WordPress
Before we plough on and answer the question of how to create a wordpress website with siteground, let me go over quickly why creating a website with WordPress is the right decision.
I have previously discussed which website is best for creating a photography website. And put forward two great alternatives to a WordPress website.
However, even though you can build some great looking websites with website builders, you will not have the same level of control over everything or as wide a choice over design.
WordPress gives you unlimited control. But be careful, you have to keep on top of maintenance.
This is going to be one of my longer articles so I'll outline some hyperlinks for you to jump and skip to, should you need to. But I do suggest going through each step thoroughly:
So let's get started!
1. Get Your Domain Name
Hold your horses! First you need a domain name. But which one is good to register a domain?
There are quite a few good Domain Registrars to choose from. I have been with 123-reg for many years without any complaints. I also use GoDaddy and Namecheap, both of which are just as good.
Namecheap have good prices and good support. All three keep on top of renewals so I have never lost a domain to negligence.
For more about choosing a domain name check out my in depth article, 250 Names For a Photography Business.
2. Starting Siteground
The next step is to get your hosting for your wordpress website. After a bit of research I found the best two were Siteground and Bluehost.
Siteground edged it by having consistently good reviews for speed optimised websites. Always prioritise performance as much as your budget will allow. Slow websites lose clients.
Choose a Plan
Check out their 3 plans here and grab your hosting. Click here to purchase one of their plans.
I would personally go for the GrowBig plan. For an extra £2 you get more speed related options and more support.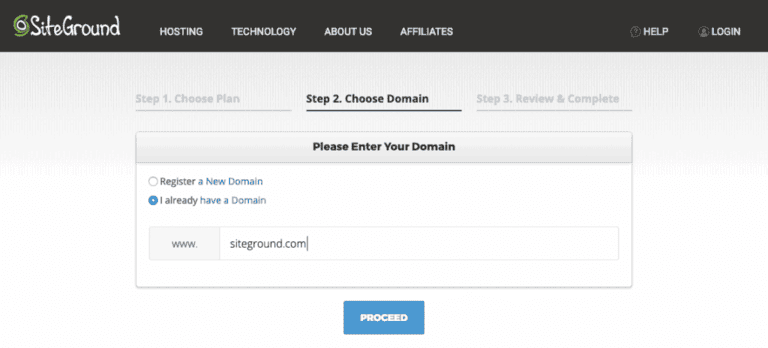 Siteground hosting also comes packed with Cloudflare CDN for free. You can always pay to upgrade the features, but what you get for free is brilliant.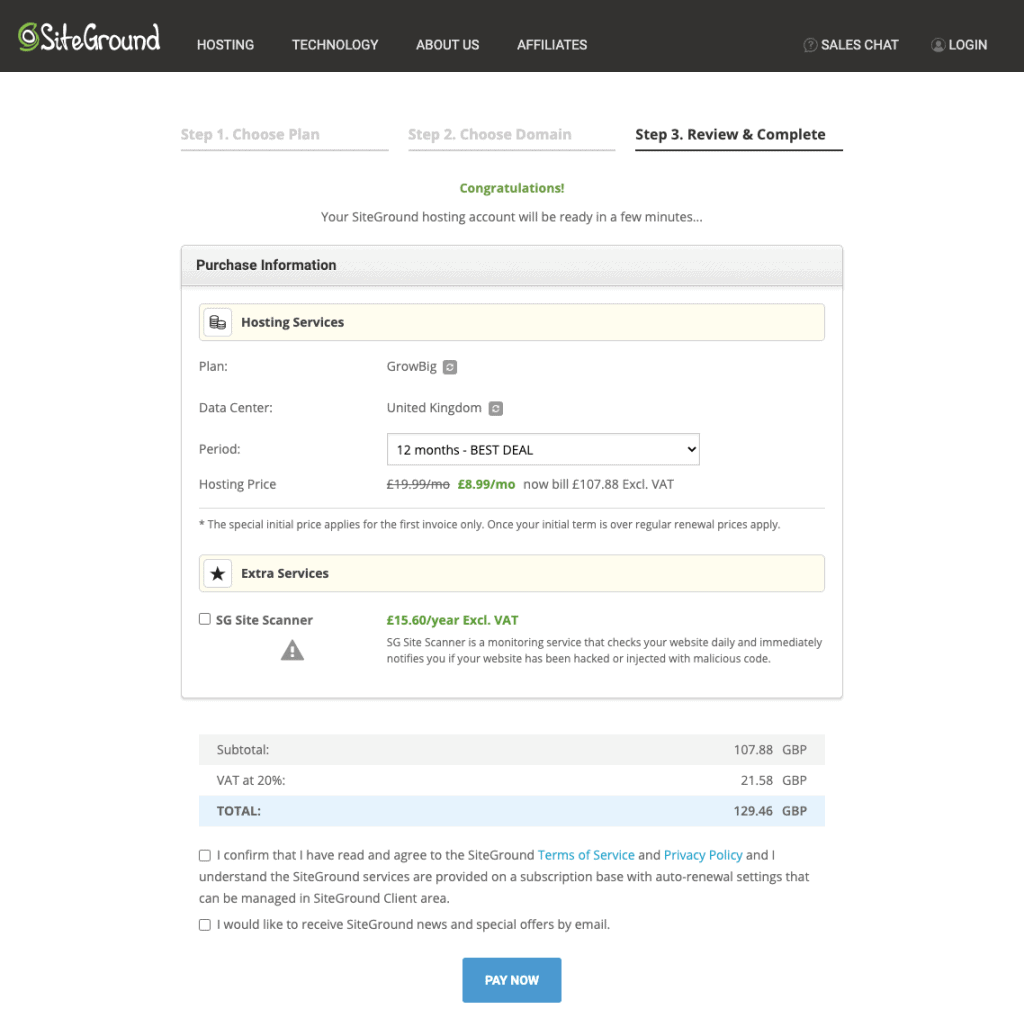 Once you have paid you will be directed to the Customer Area. You will get a prompt to set up your website by yourself which you select.
Once you complete setup you will be directed to your Siteground user page where you can manage your accounts and change your account details or talk to support.
Siteground hosting also comes packed with Cloudflare CDN for free. You can always pay to upgrade the features, but what you get for free is brilliant.
3. Add New Website
You can either register a domain with Siteground or if you have have a registered domain with another company select 'Existing Domain'.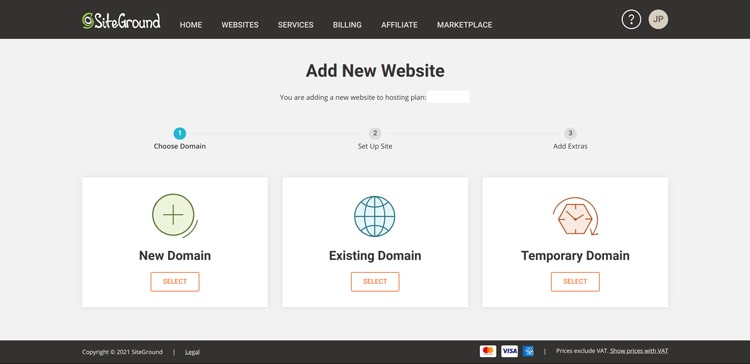 I would recommend using a dedicated domain registrar like GoDaddy or Namecheap. Don't have all your eggs in one basket.
Moving hosts is common and recommended, as you will find better deals and hosts with faster servers. You don't want the hassle of moving both.
So it makes sense to have separation of hosting and domain name.
Enter your domain name into the box, you don't need to write http or www, just 'yourdomain.com'.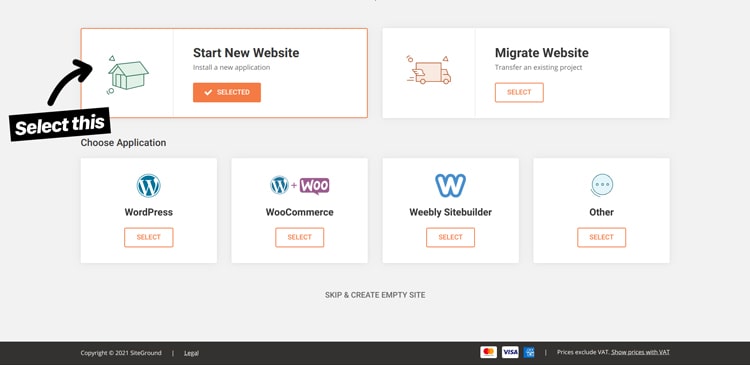 Now we can upload WordPress later on to your website. If you plan to have your shop on your website then you can select the WordPress and Woocommerce option. Both options are available later again. So I selected Start New Website.
You can select SG Site Scanner which lets Siteground notify you if your website is hacked or injected with malicious code. This is an extra layer of security but you can use WordPress security plugins, which are just as good.
Select Finish.
Siteground will now create your website.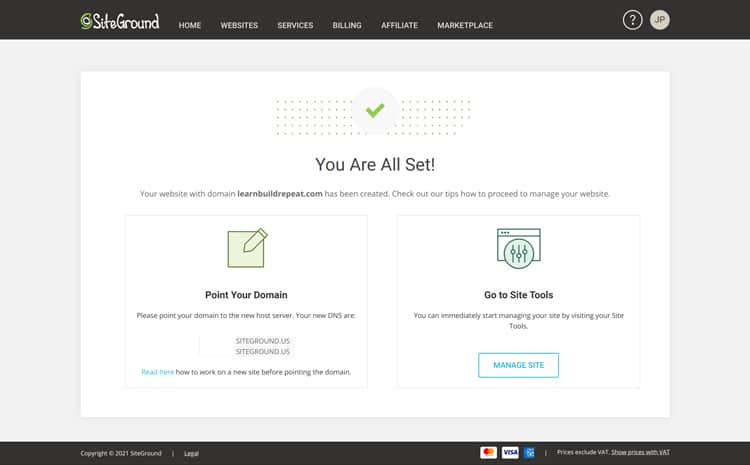 Copy your new Siteground DNS to your domain registrar and in the nameservers section you can add the two DNS to point the domain at Siteground's servers.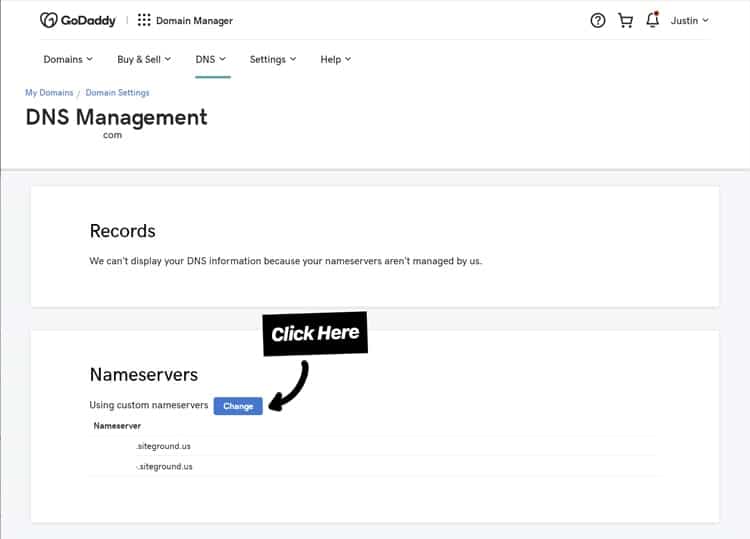 Above is GoDaddy's domain manager page. Click on the DNS section and scroll down to Nameservers.
4. Secure Website With SSL
You will not be taken to your Siteground dashboard, which was previously cPanel. From here you can change various options on the backend of the website.
The first thing to do is install an SSL certificate. Do this by going to SSL Manager in the left menu.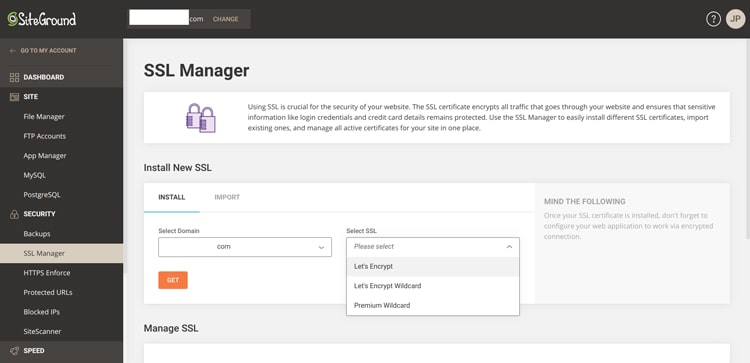 Select Let's Encrypt from the dropdown window. Your website will now have the HTTPS enforced. Sites with only a HTTP are less secure and vulnerable to hacking.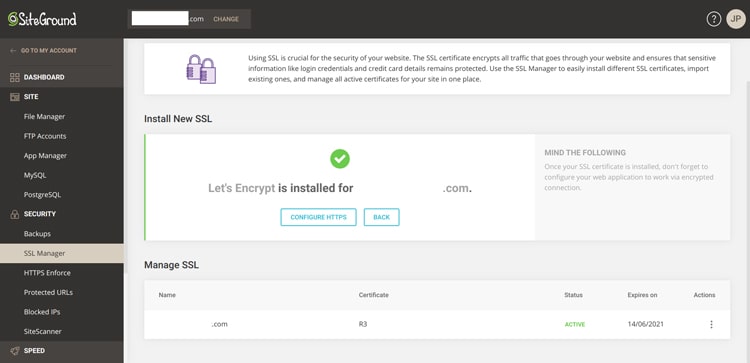 The second step is make sure your website works correctly with your SSL certificate.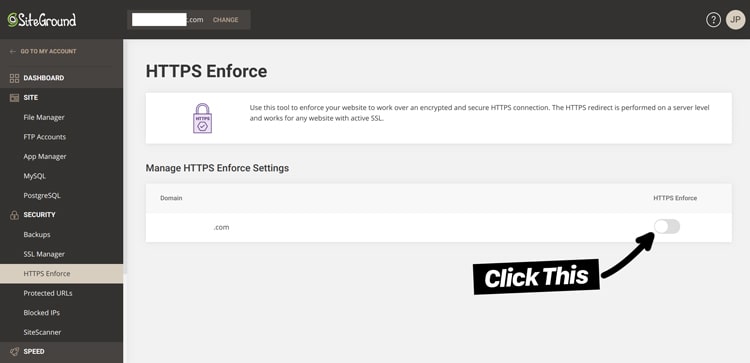 There are two ways to do this. You easiest way is to go to HTTPS Enforce in the left menu and switching on HTTPS enforce.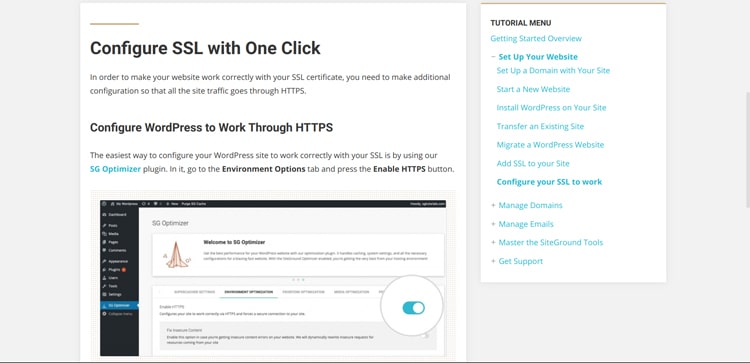 The second option is dependent on if you will use the Siteground optimization plugin, SG Optimizer.
If you do, you can go to the Environment settings and press Enable HTTPS.
HTTPS being more secure means the website will rank better in Google, so it is advisable to do this first, especially if you plan to set up a shop with Woocommerce later.
5. Install WordPress
In the left menu go to Install and Manage. From here you can install WordPress if you didn't choose to do so earlier.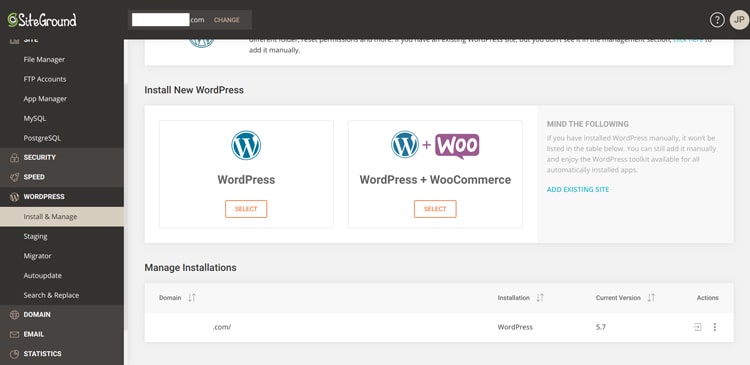 Again if you want to have a shop as part of your website then select the Woocommerce option.
I personally prefer separate this by using a dedicated shop site like Gumroad or Shopify.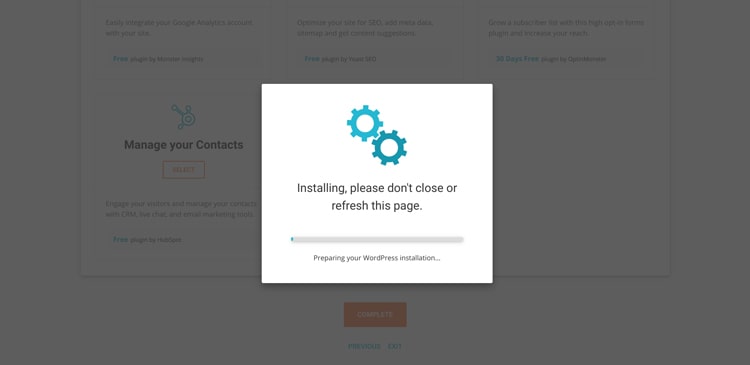 WordPress will then install. Do not close of refresh the page until the installation process is complete.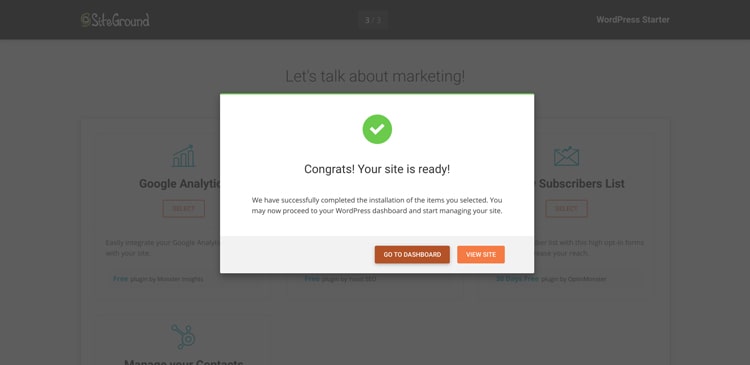 You can now either go to your dashboard or view the site.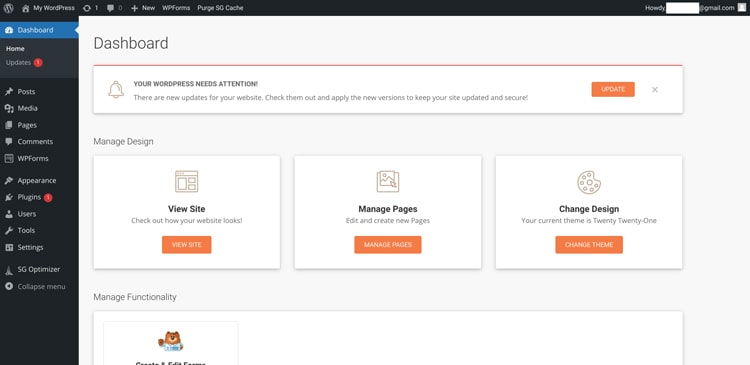 Once you are in your dashboard you can now add a new theme and download plugins.
5. Picking a WordPress Website Theme
If one of the reasons you've gone for WordPress is to keep your costs down. Then there are plenty of free themes to choose from.
If you need a few suggestions check out my blog post on The 5 Best WordPress Themes for Photographers.
If you have the budget for it, then I do suggest getting a paid for theme. In general they come with more functionality and more dedicated support.
The two most important aspects to get right are design and speed. For speed I suggest two themes, GeneratePress and Popcorn. Both of which I have reviewed if you click on the links.
The Setup
Once you've decided on your theme go to your WordPress dashboard and select Appearance and then in the submenu, Themes: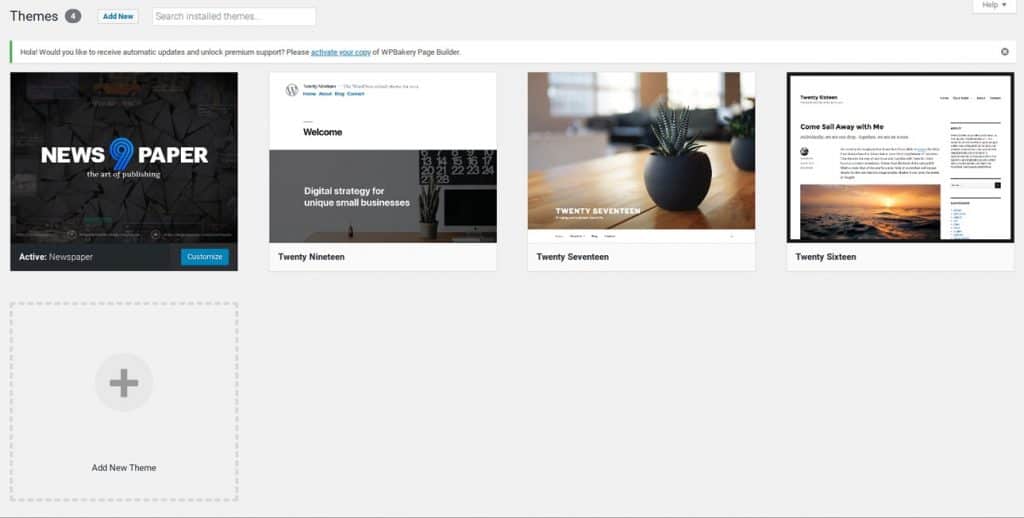 Select 'Add New' and install the chosen Theme.
You can now go to customise and change various settings. Depending on the theme you have chosen you can change quite a few things in the Customiser.
In other themes you might get extra sections like a Theme Panel where you can change settings separately to the Customiser.
6. Essential WordPress Plugins to Install
The power of WordPress is largely due in part to the sheer number of Plugins you can install to further customise your website.
Remember not all plugins are equal. Check the reviews and make a note of how often the Plugin is updated.
You want to use Plugins that are regularly updated. If it's not updated often it may not be compatible with your website's version of WordPress and leave you open to security issues.
The most important plugin I suggest is WP Rocket which will be covered in the next step. Here I will list (not in order of importance) the other plugins I suggest you get:
Akismet Anti-Spam – If you are going to use a comment system or a contact form you want to prevent spam from wasting your time.
Autoptimize – This Plugin will optimize your HTML, Javascript and CSS. This can be done by WP Rocket, but Autoptimize has been developed to work with WP Rocket so they work well in conjunction.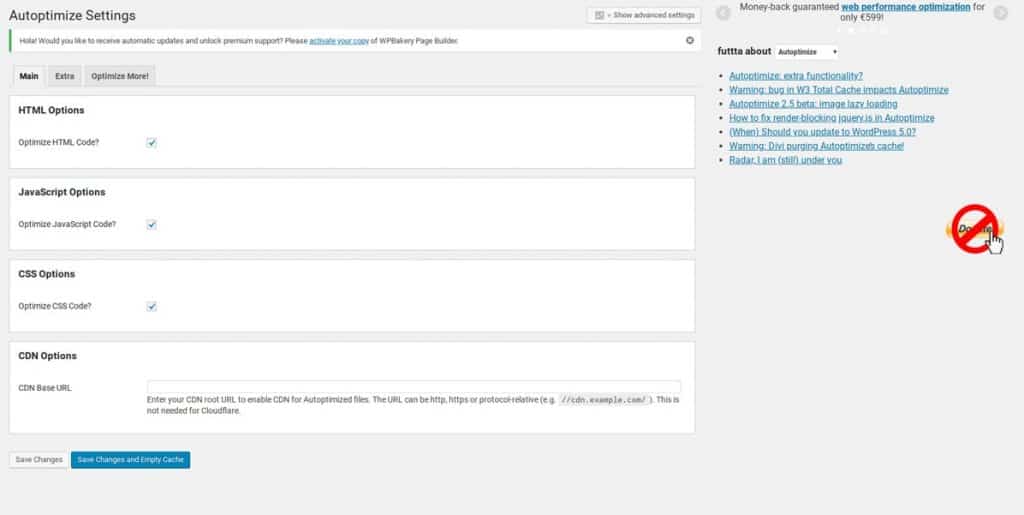 Contact Form 7 – You will almost certainly want a contact form on your website. And if the Theme you pick doesn't come with a Contact Form section, then download this Plugin. Once you have selected the fields you want in your Contact Form, you can then select the shortcode at the top of the form and paste this into your Contact Page, which I will outline in the Create Pages section.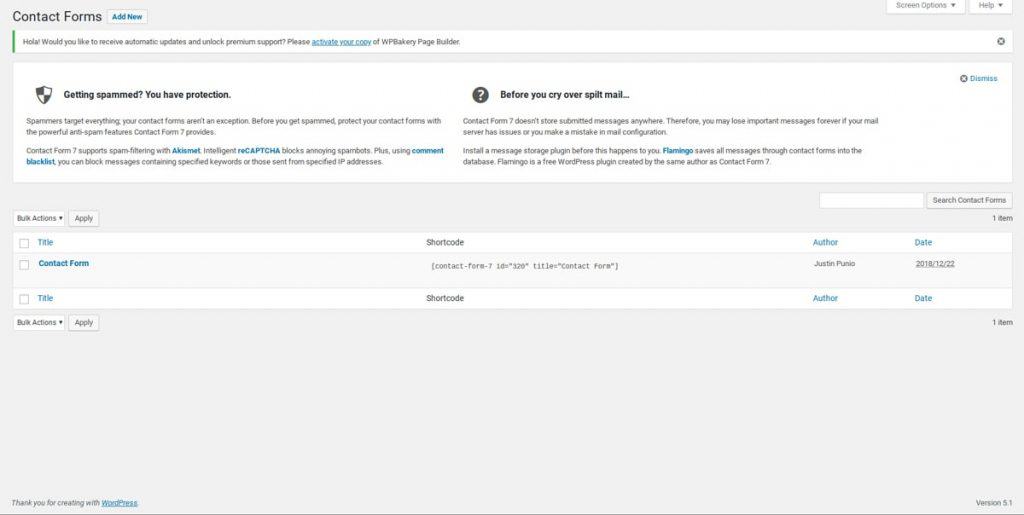 UpdraftPlus – Backup/Restore – It goes without saying, you should be backing up your entire website at regular intervals. Especially when you decide to make changes.
Woocommerce – If you intend to sell digital products or physical products like Prints then you need an eCommerce Plugin. Woocommerce will set everything up for you, and even create the Pages you need. A Shop page, Cart Page, Checkout Page etc. Depending on which Payment options you want, you will also want to look at Woocommerce Paypal and Stripe Plugins.
RankMath – SEO (Search Engine Optimisation) is important. And not something to be overlooked.
ShortPixel – This is one of the best image optimizing plugins on the market and the pricing is tailored to your budget with a credits system. Check it out here:
Try to keep the number of plugins to under 20. The more plugins you have, the more bloated your website will be. This will affect performance. I have found 20 to be ideal.
7. WP Rocket (Important WordPress Website Plugin)
All those suggested Plugins are free, but some of them do offer Premium plans for more functions and support.
Users click off if your website takes over 3 seconds to load. Check out this link for 4 simple steps to speed up your WordPress website.
The only paid for Plugin I highly suggest you purchase is WP Rocket. WP Rocket is a caching Plugin.
Initially I wanted to keep costs down to just hosting and the domain, but I soon found out there's only so much performance you can achieve with free Plugins.
Before I purchased WP Rocket I employed all the optimisation techniques Google could find for me. But my results in GTMetrix and Pingdom were average.
It was around 4-9 seconds, but in my opinion that's not good enough. That's over 3 seconds to load from my local server. Remember your website will load at different speeds in different regions around the world.
No matter how well designed your website is, if it takes more than 3 seconds to load, 40% of visitors will leave the website. That's 40% lost business, despite you having a well designed and ergonomic website.
WP Rocket boosted my website performance speed to loading in under half a second, or to be precise, 302 Milliseconds on non busy days. Your results will differ depending on location, time of day etc.
These are the settings I customised, with the other options left on default:
1. Cache
I enable caching for mobile devices. If you are setting up a membership for your website, then select caching for logged in WordPress users too.
2. File Optimization
Some of these settings are already covered in the Autoptimize plugin like minify CSS.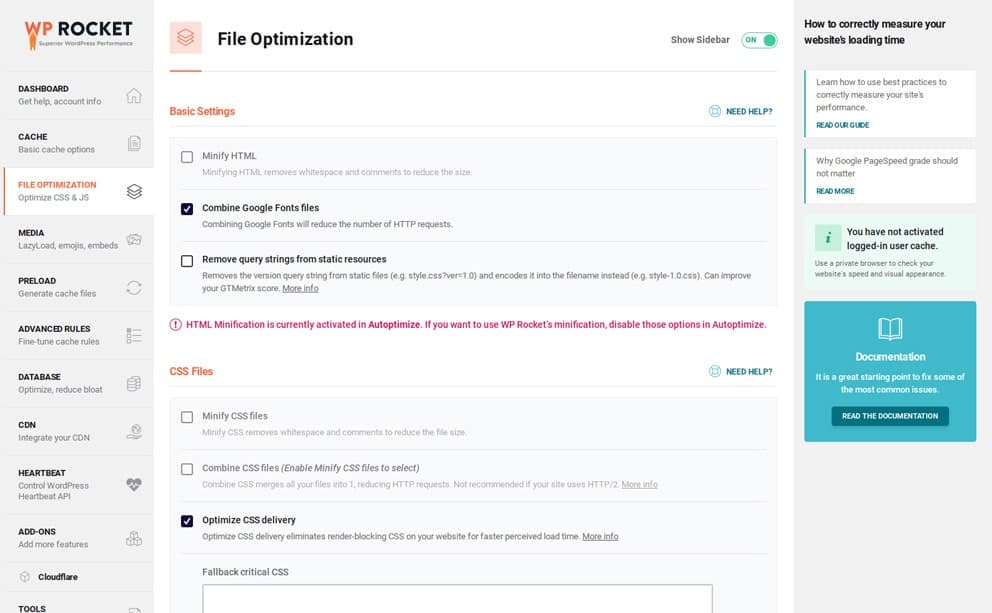 I have also found that by Combining JSS Images do not load correctly on certain browsers.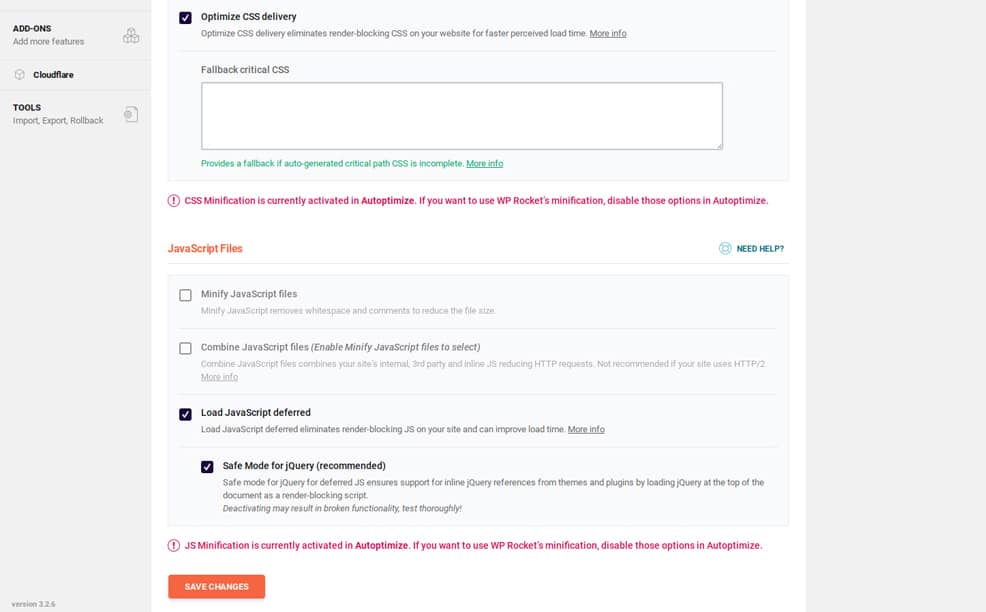 As of this date this is till the case, but it may be due to my theme. Test this out with your theme and if it works keep this setting activated as your performance will be further accelerated.
3. Media
Lazyload is a setting to not load all images at once, but as you scroll down the page.
iFrame will place a thumbnail picture instead of an actual Youtube or Vimeo video, for faster loading pages.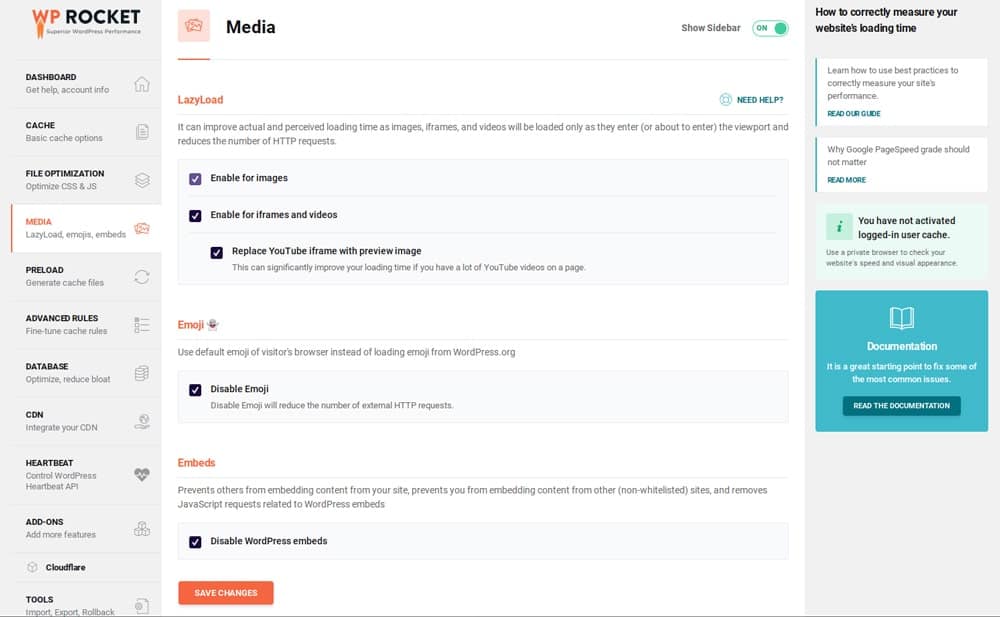 4. CDN
If you have enabled Cloudflare CDN it will say here that it is already enabled.
8. SEO – Optimise Your WordPress Website
You've now installed a CDN, website optimising plugins and WP Rocket to optimise the performance. Now you can take some extra steps to add more optimisation. For further information, see this blog article.
Permalinks
In your WordPress user page go to your Settings and Permalink Settings. Here you can change your page structure.

Select Post Name. This type of page and post structure will rank your site better in Google than the other options.
Image Optimisation
In the next section you will be creating your portfolio and uploading content. And before you do I wanted to give you some important tips for uploading photos.
If you are you using Photoshop, for images for the web you can use Save for Web to optimise your exported photos.
Another option or can be used in conjunction are some online image optimisers. I like to use ImageCompressor which is a free resource.
9. Create WordPress Website Pages
This is pretty straight forward but I wanted to add this section as a bit of checklist for you when you create your pages.
In your WordPress Admin page, you simply need to go to the Add Pages section to create your pages.
Front Page
I know there are a few amazing photographers who employ a front splash page, but I would personally advise you against doing this.
A front splash page is essentially one extra redundant step a client has to make before getting to your portfolio/website.
As I have tried to impress upon you, the quicker a potential client can access your website and product the more likelihood of converting a visitor to customer.
If your website for some reason takes long to load, which always frustrates the user, and they see they are still not in your website proper, they will go elsewhere.
WordPress Website Pages
You'll be creating pages relevant to your business, but every website needs these main pages:
Home/Portfolio Page
Contact Page
About Page
1. Home/Portfolio Page
I would highly suggest, unless you intend on creating a blog, to make sure the first thing you client sees on your website is your work.
As I've reiterated, the sooner a client sees your work, the sooner they can decide if they want to use your services. Many potential clients will make up their minds in under a few seconds.
2. Contact Page
The next most important page to increase conversion is how to contact you.
A page with a Contact Form Plugin is the best way to get clients to contact you.
If you add an visible email link, spam sites can and will scan your website and will be able to pick up email addresses to use. Having said this, the trade off is clients who like to click on email addresses will not have this option. So this is up to you.
I personally would highly suggest that all pages on your website have a footer with your contact form in. It has been shown that having a contact form/email address on every page will increase client conversion.
3. About Page
The about page, while also providing some personal information, is a great way to highlight your experience and credentials as a photographer.
If you have some notable clients you have worked for, putting their logos here has been shown to create great conversion.
Youtuber Chris Hau highlighted how listing Mercedes Benz as a long time client on his website increased his client base. He attributed this down to clients factoring in Mercedes Benz into their decision, 'If Chris Hau is good enough for Mercedes Benz, then he should be good enough for my business'.
Final Thoughts
Congratulations for getting here! Going through how to build a wordpress website with siteground wasn't a tricky question after all. I hope these steps have helped. The process of developing a WordPress website was a huge endeavour for me and I hit many stumbling blocks as I said that made me question my decision.
But I googled and meticulously searched forums to the solutions to all the issues. And if you've followed the steps outlined here you will have avoided the issues I had to overcome.
But because of the nature of a WordPress website, each one is different, so you will no doubt encounter your own stumbling blocks. All of which will have solutions if you search for it.
The great thing about WordPress websites are that because it's so widely used, there will be multiple solutions to each problem. You just need to figure out which one is suitable for you.
There are a few affiliate links like Siteground and WP Rocket in this blog article. These are two services I use myself and would recommend even if I didn't have affiliate programs with each respectively.
I would also suggest for affiliate marketing to get AAWP, it's a great tool for displaying Amazon links and will convert better. Check out the review of AAWP in this article.
Purchasing through these affiliate links will have no bearing on your cost. It's exactly the same price. This website just takes a small percentage which goes toward supporting the website running costs. Your support is much appreciated and will help me keep this website running. And I hope I have answered that burning question of how to create a wordpress website with siteground.
Check out more business articles here to help you build your photography.

Artist / Photographer / Videographer