We are an Affiliate!
We hope you love the products we recommend! As an Amazon Associate and affiliate of other programs we earn from qualifying purchases, and we may collect a share of sales or other compensation from the links on this page. Thank you if you use our links, we really appreciate it!
This budget pen display is aiming at the market for whom Wacom is just a tad bit too expensive. There are a few quality pen display makers already in this market like the excellent XP-PEN and Veikk. So how does this pen display handle compete in the three main areas: photo editing and painting?
Mini Review
The Gaomon PD1320 is a capable 13.3 inch pen display that is an excellent competitor to XP-PEN's 13.3″ Artist Pro. The screen has a textured matte finish and it has decent color accuracy.
Now let's crack on with a full in depth review. But before we do, one little thing:
Product Review Disclosure
Gaomon have sent the PD1320 to review for this article, but this article is not sponsored by Gaomon. Gaomon have had no input in this article or preview it before it's posted; all conclusions are my own.
What's Included
In keeping with the budget nature of this product the packing is very basic plastic and zip bags. There is good protection as standard in the form of foam padding and protective film on the display which is always a pleasure to remove.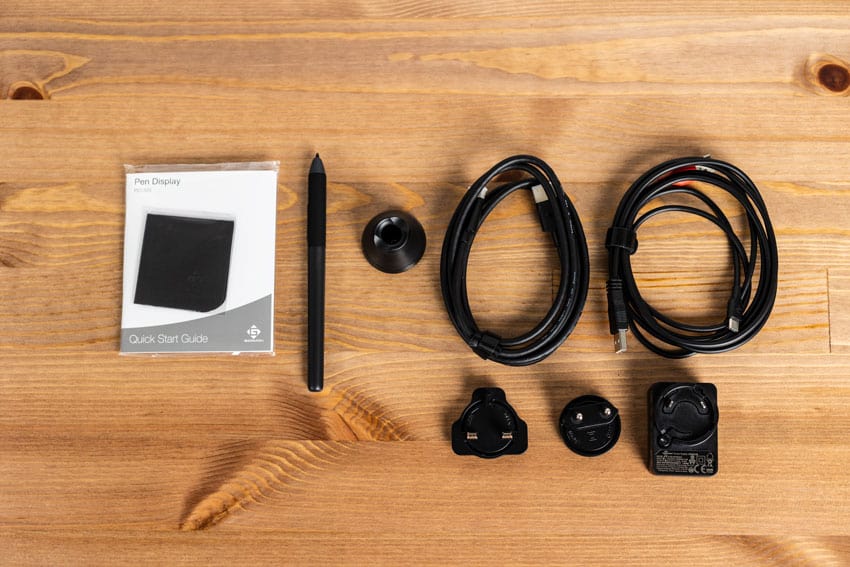 Also included is a protective cover similar to the ones you can get for the Apple iPads. The difference is this one isn't magnetic but attached by peeling back a film revealing a sticky adhesive. Take your time attaching this as if you need to repeat this the stickiness will be less effective.
I much prefer the magnetic version with iPads as I don't always wish to keep the protective cover on.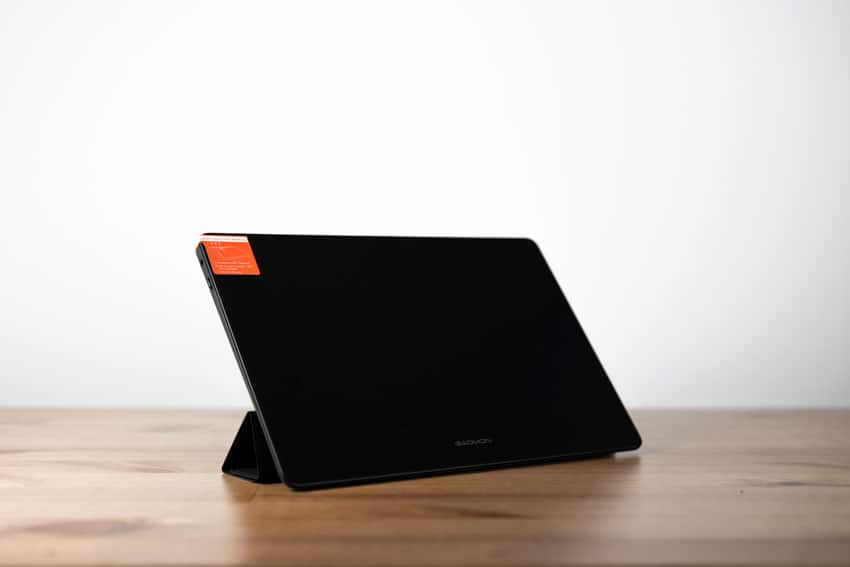 PD1320 Features
The PD1320 supports a 13.3 inch display making a direct competitor to the XP-PEN 13.3 Artist Pro. Other standout features include:
IPS panel covering 100% of the sRGB color space/ 86% NTSC Gamut
Anti-Glare Fully laminated HD 13.3 screen with 178° viewing angle
Matte drawing surface (more on this later)
8192 levels of pressure sensitivity
FullHD resolution (1920×1080)
Battery free pen stylus with ±60° tilt support
2x USB-C ports
Thin 'blade' design (4.5mm at its thinnest) and net weight of 88g
Support for Windows 7/8/10, MAC OS 10.12 and above and Android 6.0 and above
Foldable cover included
So we'll be using mainly Photoshop, Lightroom and Premiere Pro, and I'll also be using my 2021 16″ M1 Max MacBook Pro.
First Impressions
My actual first impressions of this pen display was that its very minimalistic with no short cut buttons which is not a problem for me as I rarely use the buttons on pen displays, preferring to have one hand on my MacBook Pro keyboard.
It's light, which means its very portable which is good for my back!
And what is always good to see is a textured screen which makes drawing more organic.
Ports
The PD1320 has ports on both the left and right. On the left side, interestingly, you have a 3.5mm headphone jack; you also have a unique toggle button which you can use for changing the brightness and if you push the toggle button inwards you can access the OSD, you can then navigate using the toggle button.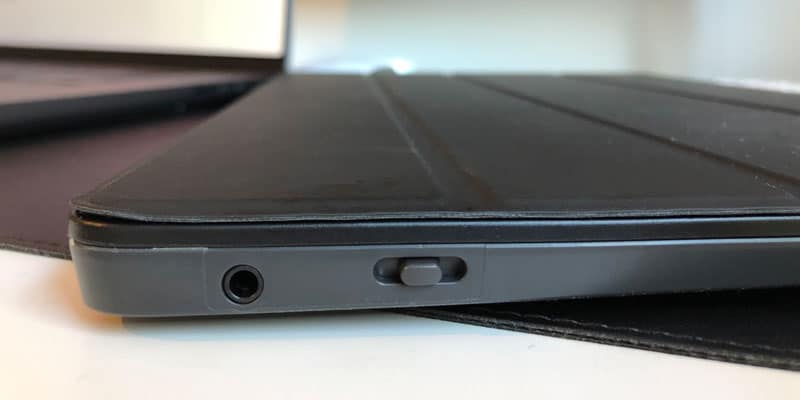 On the top you have the power button which you have to press and hold to switch the PD1320 on. If you do a quick press of the button it will change the video input from HDMI to USB-C.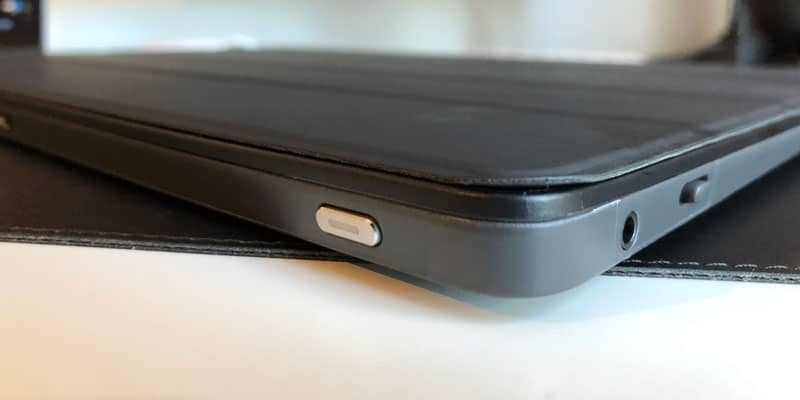 On the right you have three important ports, one HDMI port and two USB-C ports.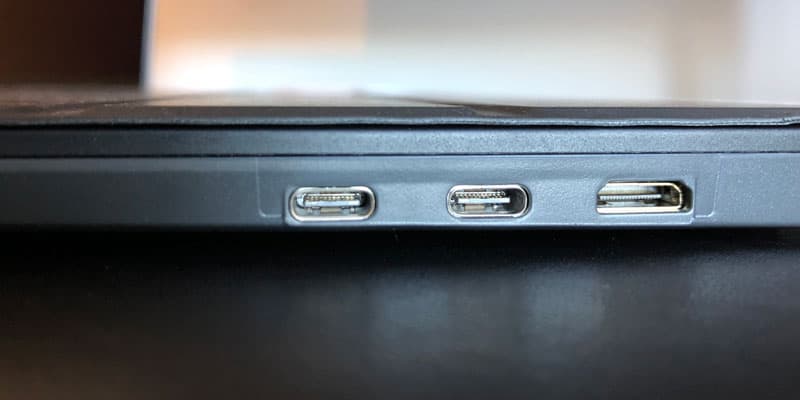 Connecting the PD1320 to the MacBook Pro
The PD1320 can be powered by my M1 MacBook Pro 2021 through a USB-C cable. You will still have to connect HDMI to Micro HDMI cable to use the Gaomon PD1320 as a secondary monitor.
As a stationary display this setup works adequately for most artists' needs. But if you want to have a more variable setup, maybe you want to move the display between the desk and your lap, the dual wire setup feels a bit cumbersome. I talk about this in my iPad Pro vs Wacom article.
You can use a single USB-C cable but it needs to be the right one, unfortunately not all USB-C cables are the same.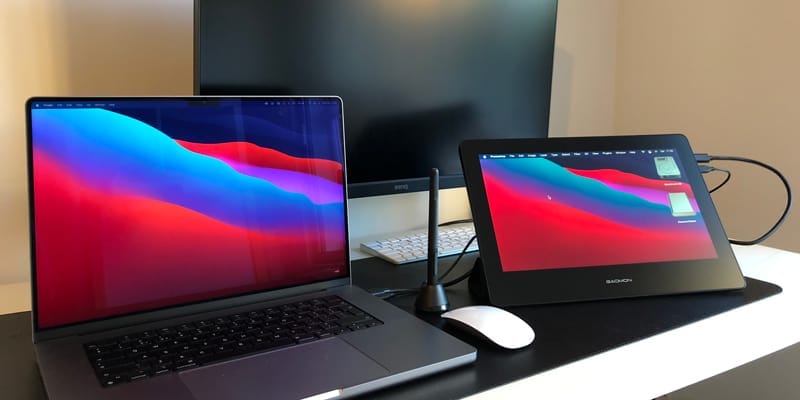 Especially when you compare the wireless iPads. Now this isn't a Gaomon issue, this is the same setup for most pen displays. But it's something that needs to be worked on. A wireless solution is the ultimate goal.
To configure the PD1320 go to Settings > Displays. I use the PD1320 as an extended display with my MacBook Pro as my main display. This works perfectly for a dual monitor setup with Photoshop opened up on the Gaomon.
Adobe Photoshop
In the almost half year I have been using the PD1320 the main app I have used it with is Photoshop. It's probably the main app you that will be relevant to you the reader.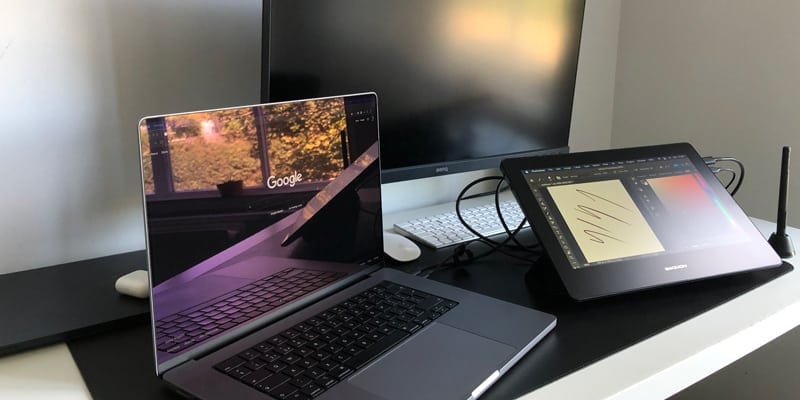 In a nutshell the PD1320 'works exactly as it says on the tin', I have not encountered any issues that prevent me from performing the same tasks as with my main tool for PS, a Wacom tablet.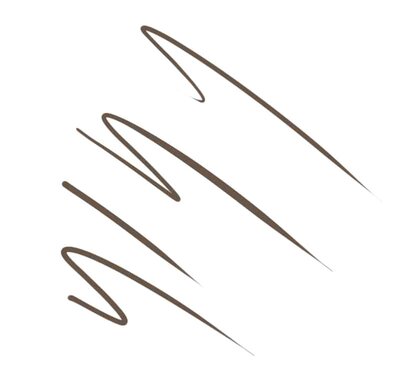 As you can see in the above image, the pen pressure sensitivity works very well. There are no blobs at the end of the stroke, no funny artefacts, just what you would expect a properly tapered stroke end.
Drawing thick to thin requires not a lot of effort and feels like the right amount of pressure I would expect. So I'm never having to press too hard to get a thick line. Or I never have to second guess how much pressure I need to apply to go from one width to another.
This obviously makes drawing much more intuitive and closer to how much pressure I would apple with say a Copic marker.
Screen Size
The screen size is diagonally 13.3 inches and I think this is the smallest size feasible for drawing especially with Photoshop. And even at 13.3″ I still feel a bit too cramped. You can always adjust the screen size in MacOS settings but that just means you need to revert it when you aren't using the PD1320.
It would not be such a huge issue if Photoshop's UI was smaller, or even more so, if you had touch features like magnify and drag.
As it is I sometimes feel a bit claustrophobic when I'm drawing and it can take me out of the zone.
Drawing
My first pen display was the Cintiq 24HD and one thing that always bugged me was the glass and cursor separation. It always looked like there was a few millimetres between the pen and the pen stroke. With the Gaomon PD1320 there is a almost no perceivable gap.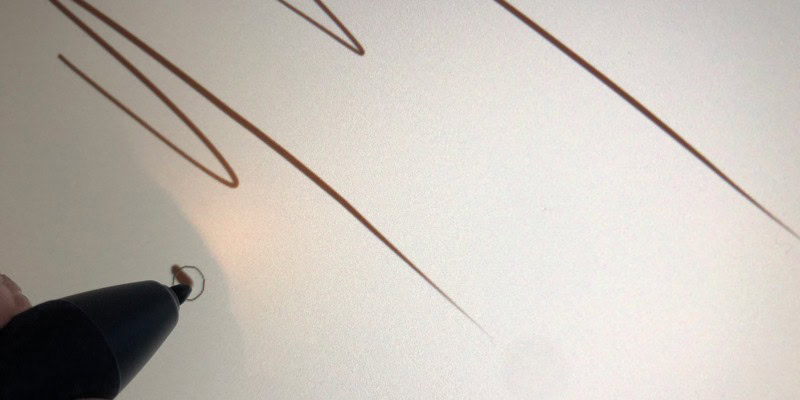 Nothing took me out of my zone faster than this issue, and I'm glad to report along with the matte screen surface the drawing experience is as good as the iPad and Procreate in terms of pen and cursor.
There is a nice amount of pressure needed to go from thick to thin. I really enjoy the feel of the pen nib on the screen when I make strokes. With the matte screen you get a bit of friction that makes it feel like you're on paper.
Conclusion
The value for money for this pen tablet is undeniable good. For what you are getting at sometimes two thirds the price of an equivalent size Wacom is hard to ignore.
For someone in this budget I think this is an excellent rival to the XP-PEN Artist 13.3 Pro and there is little between them. But I would still pick the Wacom tablet (not pen display), tablet. The tablet is still in my opinion the superior drawing tool.
Even if you had a bigger budget I would still pick a tablet, but if it's pen display you want then the iPads still best pen displays like the Gaomon 1320. Along with the iPadOS and apps designed for iPad as well as pinch and drag the iPad is the superior pen display. Especially when used with MacBooks.
So wrapping it up, this is a great addition to the pen display market. I am so glad there are brands like Gaomon offering genuine high quality tools to compete with Wacom. Wacom are now finding it very difficult to justify their astronomical prices when Gaomon and XP-PEN are producing tools on par with them.
Links
If you have found this Gaomon PD1320 review of help then please use the affiliate link below to go to Gaomon's flagship Amazon store.

Artist / Photographer / Videographer