We are an Affiliate!
We hope you love the products we recommend! As an Amazon Associate and affiliate of other programs we earn from qualifying purchases, and we may collect a share of sales or other compensation from the links on this page. Thank you if you use our links, we really appreciate it!
For videography, and even photography, adding a monitor to your rig can add an extra dimension of viewing and control. The go to monitor has and for many still is the SmallHD Focus, but how does the Feelworld F6 Plus compare?

My main cameras are my Canon 1DX2 and Canon 5D2 and neither have a vari-angle monitor. I previously owned the Canon 80D which did have a vari-angle monitor and I found it immensely useful, however it was quite small if I used it from a distance.
FEELWORLD F6 Plus 5.5 Inch Touch Screen DSLR Camera Field Monitor with 3D Lut Small Full HD 1920x1080 IPS Screen Suppor 4K HDMI Include Tilt Arm +Battery + Charger…
🎬【Newest Innovative Touch Screen】Easy Touchscreen Controls,Freely Zoom In and Out OCR Full-fit Screen Design The monitor uses OCR full-fit technology and high-strength, scratch-resistant, impact-resistant glass. Use simple tap and swipe gestures to make adjustments! The built-in monitor is also an interactive touchscreen that makes setting up the F6 PLUS incredibly intuitive. All of the functions are at your fingertips.
🎬【Light and Slim Design, Only 235g 】The F6 PLUS is 5.5 inch and only 235g, and makes it the ideal size and weight for field production. The entire monitor's build is sturdy and compact, allowing you to easily mount it to your DSLR camera or even a gimbal stabilizer. It gives you the freedom to shoot well anywhere.it can power your DSLR or mirrorless camera at any time, extend the run-time of your camera, while provide a more usable display.
Last update on 2022-09-21 / Affiliate links / Images from Amazon Product Advertising API
In this review I'll show you how solved my problem.
Multiple Angles
It might seem plainly obvious to say, but having an articulating monitor/flip screen that can vary its angle to multiple positions can be quite useful.

However despite the tech to do this being possible, a lot of camera manufacturers don't avail themselves of the tech. Only Canon have the best articulated vari-angle monitor on their mid-pro series: the Canon 6D series and the Canon 90D, going two generations back.

On many occasions I have found myself in a situation where I am reaching or positioning for a shot where I can't see the monitor. I might be holding my hands above my head or getting a shot from as low as possible.

For a run and gun setup this monitor is too big. But for tripod shoots, for video and photography, the Feelworld F6 Plus is perfect.
Feelworld F6 Plus Specs
The Feelworld F6 Plus has a 5'7" 400ppi 1920×1080 FullHD screen that supports 4K input.

On the top there is a 3.5mm headphone jack to monitor audio. There is a DC IN 12v for external power options. There is a mounting point which is repeated at the bottom. And lastly, an SD card slot for LUTs.

On the side there is an HDMI out to connect to external monitors as well as the main HDMI in port.

The major upgrade over the previous Feelworld F6 is that the Feelworld F6 Plus supports a touchscreen interface.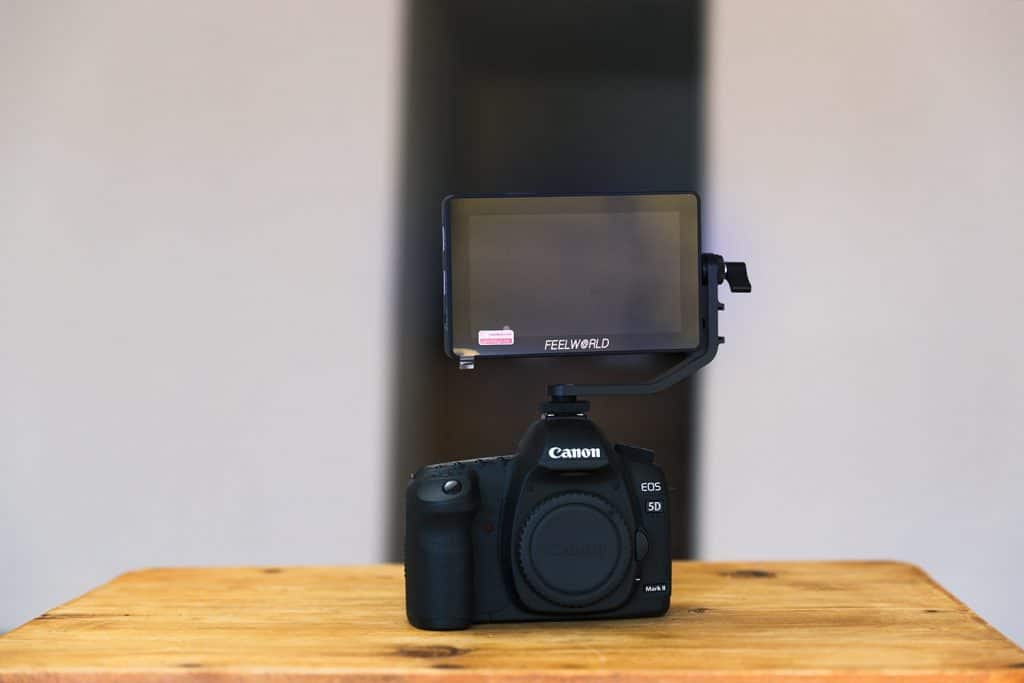 It has about 500nits level of brightness, which is quite good. Considering basic laptops start around 300 nits, this monitor should be able to be viewed in bright outdoor situations.
Touchscreen Options
Once connected if you swipe up from the bottom you'll get six options for video:
Focus Assist
False Color
Histogram
Audio Monitor
Monochrome
Safety Marker
Notably what you are missing is Waveform and Vectorscopes.

Swiping from the left lets you access the menu settings:
Exposure Assist Features
Framing Menu
Video Settings
Color Settings
Monitor Settings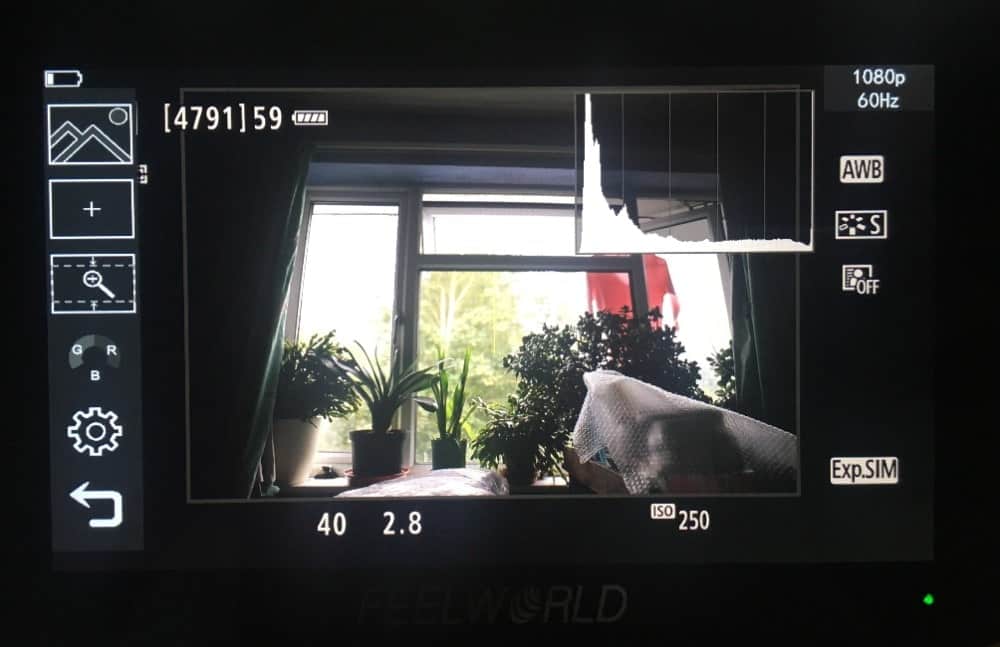 Packaging – Mount and Hood
Much like the SmallHD monitor the Feelworld F6 Plus comes with a mount and hood which further helps in bright light situations. It uses velcro fastening to attach itself.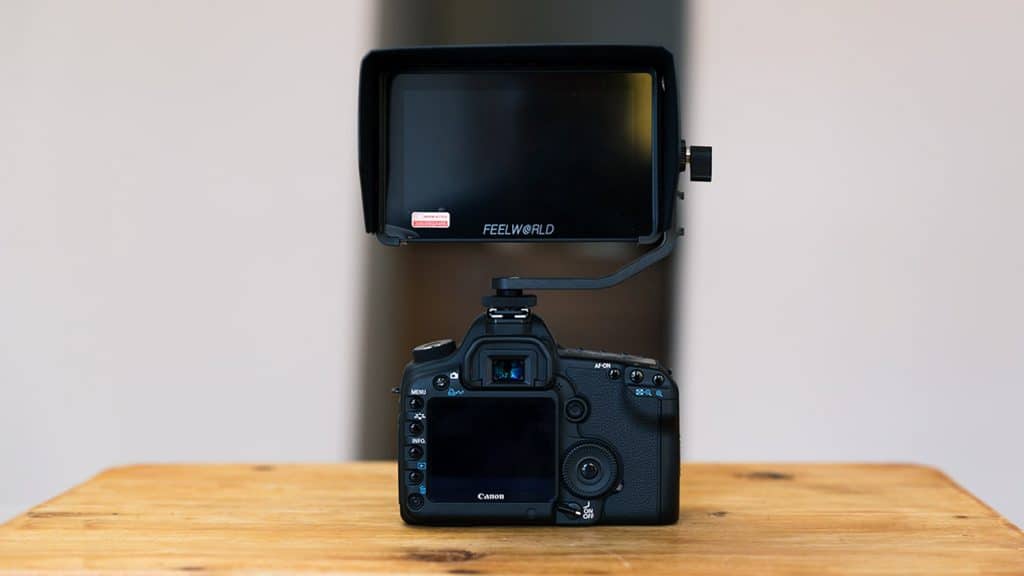 The mount is an improvement on the previous Feelworld F6, which reportedly would require loosening the screw to tilt the monitor. This issue has been resolved this time around.
Packaging – HDMI
The Feelworld F6 Plus comes with a Micro HDMI cable, but check to see your ports to see if it has this port. Like me, you may need to purchase a Mini HDMI cable which is not included (unlike the previous Feelworld F6 which did include the Mini HDMI cable).
I'll provide an Amazon link to the cable that I purchased at the end of this blog article.
Touchscreen Limitations
The Feelworld F6 Plus has a fully functional touchscreen for its menus and options, however it does not let you use the touchscreen for your camera menus or moving the Autofocus point.
You still need to use your camera dials and buttons to go through the menu. In the case of selecting an autofocus point, this has to be done in camera.
Battery Life
Quite conveniently the Feelworld F6 Plus lets you use two different commonly used batteries: The Canon LP-E6 (and Canon LP-E6N) as well as the Sony NPF battery.
I was using the Canon LP-E6 batteries which I have plenty of as a Canon user. However I found I only got between 30-40 minutes of battery life; one old battery only had 20 minutes of life, which is not a lot. So I suggest you have plenty of batteries on hand.
One other minor inconvenience is that with the monitor switched off, if the battery is still attached it will still drain battery life. I have to detach the battery as soon as I am finished using the monitor.
Feelworld F6 Plus Latency
There is a very small amount of latency, which is just about perceptible, but not enough to be a dealbreaker in my opinion.
Feelworld F6 Plus Final Thoughts
Compared with its biggest competition, SmallHD or others like SWIT, Neewer and Sokani, the Feelworld F6 Plus was the most enticing when I was searching.
It has almost the exact same specs and features of the SmallHD 5" monitor for half the price, minus a few features.

If Waveform and Vectorscopes are critical to you when monitoring your video footage then spending a bit more for the SmallHD may be your only option.
In my case I needed a monitor to show me what I am filming from different angles of view. As well as having framing options, and focus assist features, which this monitor is more than sufficient for.
Links
If you have found value in this review and it has helped convince you to purchase it, please use the affiliate links in the blog article. There is no difference in price, the cost to you is exactly the same. And I get a small percentage, which I contribute towards the costs of running this website.
Feelworld F6 Plus on Amazon US
Don't forget, to check out my YouTube and Instagram.
Artist / Photographer / Videographer