We are an Affiliate!
We hope you love the products we recommend! As an Amazon Associate and affiliate of other programs we earn from qualifying purchases, and we may collect a share of sales or other compensation from the links on this page. Thank you if you use our links, we really appreciate it!
You've got the tools for your creative work, but there is also the equipment needed to start a creative business, turning your creative passion into a full time income.
In my article about writing a business plan I outlined the strategies for creating a business from your creative passion, which included creating a website and developing a social media platform like YouTube.
What I will do is list the essential gear I recommend you will need to build a creative business. These are the things that you have to get.
So to be clear, the type of person that this article is aimed at, is a working creative professional who will be monetizing their art by creating a website blog and online shop, as well as starting with one social media platform, like YouTube, to create videos and photos.
If you already use some of this equipment in your toolset to create your art then that's a bonus, but let's start:
Computer/Laptop
Most of us have a laptop or computer. If you're reading this article, there is a good chance you have one. The most essential tool for running a business is having your own desktop/laptop.
As someone who needs to be mobile, working in different spaces, I lean towards recommending laptops. For me time is precious, and I try to work wherever I am, and I am not always at my desk. So if I can bring my laptop with me and find time to work, that is an opportunity not to be missed.
Now the question is what laptop?
Depending on your budget the best laptop should be able to handle photo and video editing. Now more laptops will be able to handle photo editing than video. Video editing is where you need to be careful. Be wary of buying a cheap and underpowered PC that is too slow at rendering video or even scrubbing through the time line.
Time is the most valuable asset.
I recommend getting a laptop with no less than 16GB of RAM. I would also recommend at least 1TB of storage space, with 2GB being the optimum. After this it's best to just get cheaper external storage solutions.
Personally I believe the MacBook line-up is where you should look to. There is a Apple premium added to the price tag, but Apple products when treated with care will last years. And a laptop is one of the biggest investments for a new creative business.
Sale
Last update on 2023-09-24 / Affiliate links / Images from Amazon Product Advertising API
This doesn't mean getting the MacBook Pro, the MacBook Air has the M1 chip and is a solid laptop that punches above its weight and performs excellently.
For those with bigger budgets, the new 2021 MacBook Pros are absolutely some of the best tech to come out of Apple for a long time. These laptops which destroy most of the competition and will almost create anything you can throw at it.
Projects that would take hours to export on my old 32GB quad core custom PC now take minutes. That's more time to spend on new projects.
You also want to make sure to get a laptop with a good calibrated screen. Again Apple with their new MacBook Pro lineup have delivered. The screen on the MacBook Pro 14 and 16 is of the same tech as their Pro Display XDR, which is Apple's reference monitor with the top tier color fidelity.
Mirrorless Camera
This is another tool you may already have. But if you don't, while you could quite easily use your iPhone or phone of choice, the better professional choice is to invest in a good camera.
The future is mirrorless, so I would recommend getting a mirrorless camera from either Canon or Sony. For me I decided to stick with Canon who I have used in my professional career from the start.
There are a few camera functions and settings that you have to make sure the camera has:
Autofocus – At the moment it is Canon and Sony who offer the most reliable autofocus systems with Canon just edging it for me. A camera that can't lock onto a face and is blurry all the time is useless. Hopefully soon tack sharp focus will be just expected, but until then, Canon is as close as you'll get.
4K Video – As 1080p was, 4K is fast becoming the new standard video screen size. With more and more 4K screens it is now much more usual to choose 4K viewing. And now with 8K cameras starting to be more common, it won't be long until 1080p goes the way of 720p. Does anyone still watch in 720p?
Flip Screen – If you are filming YouTube video then the flip screen monitor is essential. You need to be able to see yourself to make composition changes and general setting changes if you see anything off.
Dual Card Slots – Less important than the latter three is two card slots. While I have been using one card slot for the majority of my wedding photography career, having the security of two card slots in the unfortunate event of a card failure is good to have. I have yet to have even my 10 year old cards which I still use fail on me, but on a one take shot I would like the two card slots.
In my opinion I think the best camera for YouTube and creative business is the Canon EOS R6. There are better cameras, but after the R6 you're only getting incremental increases in quality for huge increases in cost.
Last update on 2023-09-24 / Affiliate links / Images from Amazon Product Advertising API
The R6 is the best value camera in its range and is capable of almost anything you need to create.
Microphone
Sound is as important as picture quality of a video. Viewers are much more forgiving if you have good audio but poor video quality.
However most viewers cannot tolerate poor audio, no matter how good the video quality is. So making sure the audio is good is paramount.
The first step, because there are many steps to good audio is to get an external microphone, like a shotgun mic.
I use the Rode Video Mic Pro which has great audio quality and has yet to fail me. There is a newer version which should be slightly better:
Sale
Last update on 2023-09-24 / Affiliate links / Images from Amazon Product Advertising API
Tripod
Tripods are one of these photo/video pieces of gear that you will buy maybe once every 10 years. Treated right they could last a lifetime, so you should try to get the best tripod your budget can afford.
Two things you need to look for are weight and ergonomics. You want carbon fibre light and easy and quick to use controls.
Sale
Last update on 2023-09-24 / Affiliate links / Images from Amazon Product Advertising API
The Peak Design tripod is quite expensive but is light and its unique design offers super fast deployment. It also works with other Peak Design products.
This will be my next tripod, but right now my current carbon fibre tripod, the Sirui has yet to break on me so I have no reason to upgrade yet.
Sale
Last update on 2023-09-24 / Affiliate links / Images from Amazon Product Advertising API
My one is so old its not sold anymore, but this is the newest version of mine, which even better. It's also a third of the price of the Peak Design tripod.
Lighting
After getting a camera you are almost ready to shoot a video or take photos. But that's only half the equation.
Lighting shapes an image just as much as the camera. Now, you can always use natural light by using direct light from the window or by going outside.
But you can get very good and budget lighting gear so that you can always control your lighting situation meaning you can film whenever you want.
I recommend a 3 point lighting set up. Which I will outline below in a simple sketch.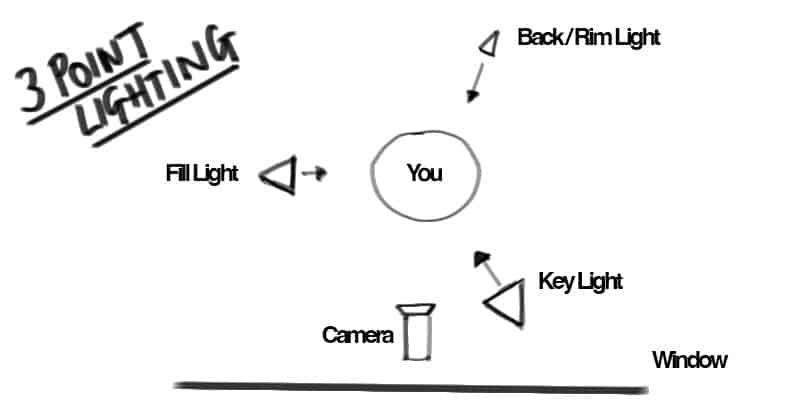 A simple 3 point lighting set up consists of one main light which can be a light or a window. You then have a second light that fills in the dark part of the face that the key light cannot get to. Then an optional third light, the Rim, to add a tiny rim of light to the back of the head.
Rim lights help to separate the subject from the background. Again it's optional.
Check out my lighting kit on Kit.co for the lighting I recommend plus links to purchase them.
https://kit.co/JustinPunio/budget-youtube-lighting-gear-2022
These are the 4 things you need, that you can start building upon. However if you have a more healthy budget then check out this lighting kit for YouTube:
https://kit.co/JustinPunio/professional-youtube-lighting-gear-2022
Working Space
As a wedding photographer I only ever needed a desk to work on. And for a few years when I was using my Dell laptop I worked wherever I was comfortable. As long as I could make that space a dedicated space for work for as long as I was working, that's all I needed.
Having a permanent dedicated space to work on is actually a new thing for me that I think has worked wonders for my productivity. No more cafe tables with tea on order for me.
I would recommend a simple desk from Ikea that is about 120-140cm long by 80cm wide. These decent tables will not set you back too much money. But if you have the budget then you can go ahead and get the adjustable height tables like Fezibo and Fully that many YouTubers use.
Last update on 2023-09-24 / Affiliate links / Images from Amazon Product Advertising API
I highly recommend getting the best chair your budget can afford. When you're sitting at your desk for hours, making sure your posture is correct is important for the health of your back.
Ergohuman High Back Swivel Chair with Headrest, Black Mesh & Chrome Base
Made of Chrome/polypropylene base with nylon casters, this chair is made of 97% recyclable components
Product dimensions – 29" D x 26.5" W x 46"-52" H | Seat dimensions – 18.5" D x 20.5" W | Seat height (lowest/highest) – 18.5"/22.2" | Back dimensions – 20.5" W x 28" H | Product weight – 66 lbs. | Weight limit – 250 lbs.
Last update on 2023-09-24 / Affiliate links / Images from Amazon Product Advertising API
There are a lot of great ergonomic chairs, the gold standard being the Herman Miller range of chairs, which can be priced at over $1000. There are great cheaper alternatives though, that you can check out.
Working Mobile
As I mentioned earlier, being able to work wherever you are is a luxury not afforded to those who choose desktop computers.
There are tradeoffs of course, but the opportunities to work that I would miss out on when I had my custom PC amounted to hours of work and progress lost.
So if you follow my recommendation to get a laptop and have the option to go mobile, you'll need travel accessories for when you take your work on the go. The first item on this list is a bag.
Last update on 2023-09-24 / Affiliate links / Images from Amazon Product Advertising API
One of my go to brands is Peak Design, they continually produce some of the most innovative and cutting edge products for creators. I have the V1 of the Peak Design Everyday Backpack and it has lasted me years.
The V2 builds on the success of the first. Another brand I have used is Lowepro which offers good alternatives. If I couldn't choose Peak Design, I would try Db Journey bags, which don't look like camera bags which can be safer when travelling.
Is There More Equipment Needed to Start a Creative Business?
Yes, there is but all the equipment needed to start a creative business could get quite long, as there are hundreds of accessories that I could add, and quickly this could be a list that would cost a fortune, if it doesn't already.
For a comprehensive list, check out my YouTube video.
This list is just the start of what gear you need. But it serves as the foundation for the rest. Get it right here and any further gear will only enhance your productivity and creativity.
Artist / Photographer / Videographer