We are an Affiliate!
We hope you love the products we recommend! As an Amazon Associate and affiliate of other programs we earn from qualifying purchases, and we may collect a share of sales or other compensation from the links on this page. Thank you if you use our links, we really appreciate it!
If you don't want to film yourself out of frame, out of focus, having to redo shot after shot, because you can't see the back of the camera, then you need a cheap vlogging camera with flip screen.
I always recommend starting your YouTube channel with the tools you have first (like your phone), investing later to upgrade when you are able to.
However if you're using your phone or an old camera at some point you will need to invest in a way to monitor your video.
That could be an external monitor, which can be budget friendly, or just get it right the first time and save space by getting a vlogging camera with a flip screen.
Having a camera that includes a flip screen from the start would be more ideal than buying an additional monitor later on, after investing in a camera without one.
In this article I'll give you several great options for purchasing an affordable vlogging camera with a flip screen.
But if you're in a rush, here are the top three I recommend:
Best Choice
Canon PowerShot G7X Mark III Digital 4K Vlogging Camera, Vertical 4K Video Support with Wi-Fi, NFC and 3.0-Inch Touch Tilt LCD, Black
Canon EOS 250D (Rebel SL3) DSLR Camera w/ 18-55m DC Lens (International Model)
Canon EOS M50 Mirrorless Vlogging Camera Kit with EF-M 15-45mm Lens, Black
Best Choice
Canon PowerShot G7X Mark III Digital 4K Vlogging Camera, Vertical 4K Video Support with Wi-Fi, NFC and 3.0-Inch Touch Tilt LCD, Black
Canon EOS 250D (Rebel SL3) DSLR Camera w/ 18-55m DC Lens (International Model)
Canon EOS M50 Mirrorless Vlogging Camera Kit with EF-M 15-45mm Lens, Black
Last update on 2023-11-29 / Affiliate links / Images from Amazon Product Advertising API
Why You Need a Flip Screen
As a photographer and YouTube content creator having an articulated screen has been such a time saver. It's not just great for monitoring your video.
When I've had to get a shot from an unusual angle it has been so useful. A good example is when I was filming a protest in London, I had to hold my camera up high, above the crowd, to get a clear shot.
Having the articulated screen on my Canon 80D meant I could see what I was filming. I simply tilted the screen down with my arms holding the camera above the crowd for a better shot.
Another example is when I was photographing a hotel room and I needed to place the camera right in the corner to get the widest angle. My 1DX didn't have a flip screen, so I had to keep turning the camera around to check my shots. It was a pain, something a flip screen would solve.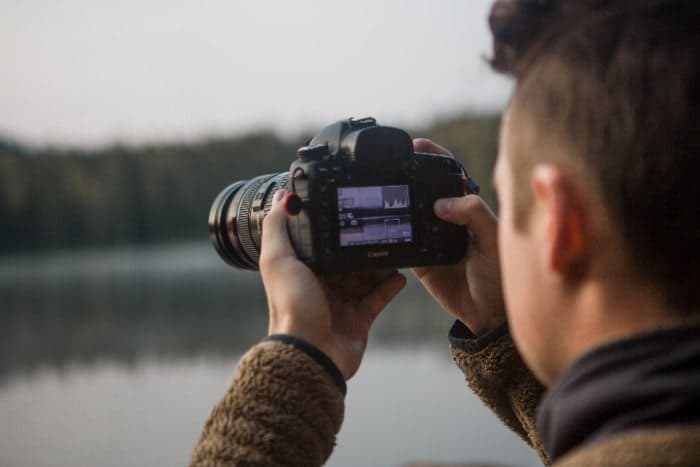 As well as high, filming from low down has made it easier on my 'old man knees'; I don't have to get too low to see what my composition is and film blindly.
With video and YouTube it's just as important. Filming yourself in a poor composition accidentally because you can't see is just wasting precious time!
A flip screen also means you can keep adjusting your lighting, your audio and other compositional elements, and monitor it all in real time as your monitor can show these settings.
Instead of running back to see the back of the camera to keep checking your recording and then going back to make a change, and then running back again, you can do it live with a flip screen.
Once you have everything locked in to your preference then you can press record.
How to Choose a Camera With Flip Screen
Before we run through the list, let me run through some tips about choosing the right cheap vlogging camera with flip screen.
Not all cheap vlogging cameras with a flip screen are born equal I'm afraid. Sony (and other) cameras with flip screens flip up, Canon cameras with articulated screens flip out.
But which is the right one for you? Well there are a few considerations to make.
Flip Out Vs Flip Up
The first is which type of flip screen do you need. Do you need to just see yourself in front of the camera?
A top flip screen like with the Canon G7X above is great because you can hold it on either side and still see yourself, without your hand getting in the way.
If you see the grip, it is designed for right handed users when not filming yourself. But I have found it easier to hold it either side.
On the other hand, an articulated vari-angle screen like on the Canon 80D, while more versatile means you can only hold it on the one side. You shouldn't hold it by the flip screen!
So if you're filming yourself that would be the right hand when holding it facing normally and left hand when filming yourself.
Vari-Angle LCD Touchscreen
A screen that flips in one direction can be all you need. But there can be situations where a vari-angle LCD touchscreen is actually the superior option.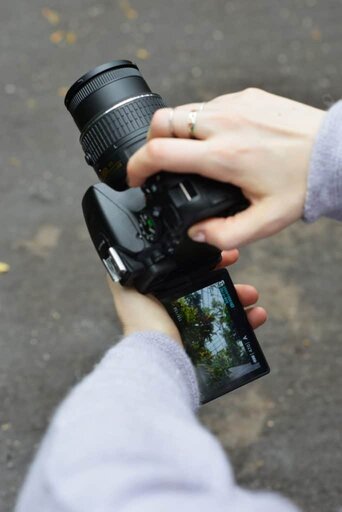 Filming in portrait mode at different heights as I spoke about above means you need your screen to flip at the same angle but when the camera is held on its side.
If the LCD can only flip in the one direction it'll not be as useful when tilted to shoot in portrait mode.
Best Compact Camera with Flip Screen
I'll be talking about three types of cameras, the first of which is my recommended choice – the Canon EOS G7X Mark III.
Last update on 2023-11-29 / Affiliate links / Images from Amazon Product Advertising API
I have tested this camera out and have found it to be as good as my Mark II is, but with some extra functions.
First it has 4K capabilities, but I do not think this is dealbreaker for vlogging with compacts. Most cameras this size don't film 4K for long due to heat issues.
You'll also most likely generate most of your traffic from mobile devices. Mobile devices with 4K capabilities are actually not as uncommon as thought.
But the majority are still not watching on 4K.
My favorite feature (over its predecessor) is the 3.5mm microphone jack! Audio is so so important. A YouTube viewer will tolerate a poor quality video with good audio, but will switch off straight away if the audio is bad, regardless of video quality.
Pairing the Canon G7X Mark III with a Rode VideoMic is the perfect cheap vlogging camera with flip screen setup.
Sale
Last update on 2023-11-29 / Affiliate links / Images from Amazon Product Advertising API
The new Digic 8 processor is a huge upgrade over the Canon G7X Mark II Digic 7 processor.
This allows the G7X Mark III to film 1080p in 120fps, use C-Raw, use time lapse mode, faster shooting and live-streaming to YouTube.
Canon G7X Mark III things to note
There are a few things the G7X Mark III has a few issues with. The main one being the flip screen tilts in one direction flipping 180°. You can't flip outward to the side, but this may not be an issue for you.
Battery Life
Battery life for the NB-13L seems to be varied amongst the reports from users. But in general I personally get about 300 shots from one fully charged battery.
I've read some users get up to 400, but that depends on the battery luck of the draw I guess.
More relative to this article, with video I can get about an hour of continuous video recording.
Cheaper Alternative to the Canon EOS G7X Mark III
You'll find the Canon Powershot SX740 being recommended as the 'cheapest' cheap vlogging camera with flip screen in other similar articles to this. Calling it the the G7X without a few bells and whistles.
The problem they don't mention is while the G7X is a 1" sensor, the SX740 is smaller, at half the size, 1/2.3". Which is the same size as most smartphone cameras, which you probably own!
I would not suggest getting the SX70 with its 25x optical zoom, for that reason – you already own pretty much the same camera in your phone.
Instead get the modestly priced Canon G7X Mark II, which is the one I own. I think it's one of the best vlogging cameras available now.
Last update on 2023-11-29 / Affiliate links / Images from Amazon Product Advertising API
It's a fantastic little cheap vlogging camera which will be significantly less expensive than the newer mark III version.
It's a 1" sensor at 20MP which is all you need. It doesn't film in 4K like the Mark III, but at this camera size, filming 4K is not always workable.
These more expensive compacts suffer heat issues filming in 4K. 1080p is more than enough, and despite what you may have heard it is future proof for quite some time.
Best Mirrorless Camera with Flip Screen
Mirrorless is the new camera format that will be replacing the DSLR format, which has been around since 1988.
Mirrorless cameras are slightly more expensive than compacts. But the main advantage they over is the versatility with interchangeable lenses.
Canon EOS M50
My next recommendation is a cheap vlogging camera with flip screen for mirrorless cameras, the Canon EOS M50 with EF-M 18-150mm lens.
This is stepping up a level. But in doing so you get to use a wider range lenses, which are better for vlogging, instead of being fixed to an optical zoom.
This is a really popular choice amongst YouTube creators and it's easy to see why.
Sale
Last update on 2023-11-29 / Affiliate links / Images from Amazon Product Advertising API
The light weight benefits of mirrorless along with the functionality is a great combo. Throwing in the wide range of 18-150mm zoom lens means you don't need much more in terms of camera upgrades.
The Canon EOS M50 trumps the G7X3 with a megapixel count of 24.1MP on a larger APS-C sensor, which means it's also better for low light conditions.
As well as that, the 4K 25/24fps is more reliable than in the compact. So the option to film either 1080p or use 4K natively or downscale to 1080p is available.
But where we really see the difference is the viewfinder and the vari-angle LCD touchscreen!
As mentioned earlier, being able to pull out the screen, rotate it and swivel it to almost any direction you are standing from, makes this flip screen so superior to a regular one direction flip screen.
As well as that, this also uses the Digic 8 processor which allows fast shooting at 10fps. So you get the best of both worlds. A great photography and video camera.
Best DSLR Camera with Flipscreen
You might be noticing a bit of a trend here! Yes it's another Canon. The thing with Canon is that, unlike any other camera brand, they have the best overall features for the perfect cheap vlogging camera with flip screen buyers.
My pick for the the DSLR market is the Canon EOS 250D or Canon EOS Rebel 3.
Last update on 2023-11-29 / Affiliate links / Images from Amazon Product Advertising API
Sony is trending among photographers, as it has some killer features on their vlogging cameras, but they are let down by the awful color profiles, requiring lots of work in post.
With Canon it's great colors straight out of the box.
Panasonic and Nikon just seem to always come up short in my time with them.
The Canon EOS 250D is the lightest DSLR that Canon has in their range. It's really super small.
I recall putting my old 24-105mm L wide angle lens on dwarfed the camera. It was so front end heavy it was almost comical. But paired with a decent non L lens and it's an amazing combo.
Canon EOS 250D Specs
Sensor: 24.1MP CMOS sensor (Total 25.8MP)
Dual Pixel CMOS Autofocus (9 Point autofocus system via optical viewfinder)
EF and EF-S Mount compatibility
Screen: 3 inch flip screen (vari-angle touchscreen with 1,040,000 dots)
Burst shooting: 5fps (4fps with Servo AF)
Video: 4K (up to 25p); Full HD (up to 60p)
DIGIC 8 Processor
Connectivity: Wi-Fi and Bluetooth
Optical Image Stabilization on compatible lenses.
The great thing about the 250D is the price. You can check the price on Amazon for bundle packages.
Because the 250D is an EF-S camera, it benefits from being able to use both EF-S and EF lenses!
The EF mount alone has over 80 lenses to choose from.
Don't be put off by the mirrorless revolution. You may feel like by buying into DSLR you are not future proofing yourself. But this would be a massive mistake.
Any camera you buy you will be replaced at some point. You could then say, well what about the lens? Well EF lens can be used with an adapter on the RF mirrorless cameras. So it's lifetime is extended to maybe another two decades.
There really is no real issue to not consider a DSLR.
I am targeting this article at YouTubers who are just beginning. Which means as with all YouTubers, the ones who find success almost never use the same setup they had when they started out.
Look at you first cheap vlogging camera with flip screen as just that: your first affordable investment. Only later does it make sense to upgrade with a more expensive camera setup.
Best Full Frame Camera with Flip Screen
If you can stretch your budget a little more, there is the incredibly priced full frame camera from Canon, the Canon EOS RP.
Last update on 2023-11-29 / Affiliate links / Images from Amazon Product Advertising API
This is Canon's prosumer offering and the cheapest camera in their main mirrorless R-mount range.
With full frame you get an even bigger sensor than the APS-C in the Canon M50 or 250D, which means better image quality.
This is the new R mount from Canon replacing their EF mount DSLR cameras.
So you are getting a future proofed camera, that will have new lenses developed for it for decades to come.
Whereas the EF lens are not being developed further they will still be capable to be used alongside the RF mount.
Although as I said, being future proof at the starting stage of growing a YouTube channel is not an issue as you will level up your gear anyway.
Canon EOS RP specs
As a entry level model for the R line, being full frame, it does pack a punch with its specs:
Sensor: 26.2MP full-frame CMOS (27.1MP total)
Lens mount: Canon RF mount.
Screen: 3.0-inch vari-angle touchscreen, 1,040,000 dots.
Burst shooting: 5fps (4fps with Servo AF)
Autofocus: Dual Pixel CMOS AF, 4779 selectable points.
Video Resolution: 4K (up to 25p); Full HD (up to 60p)
Connectivity: Wi-Fi and Bluetooth
Vari-Tilt Touch Screen
The trump card that the Canon EOS RP has over the other entry level full frame cameras from other brands is the vari-angle touchscreen LCD.
As I mentioned in my explanation about the pros and cons of different versions of flip screen cameras, this is in my opinion the best variation.
This is the best cheap flip screen vlogging camera in the full frame segment. The only real way to do better is to buy second hand, but at this stage you are getting all the features you need.
Video Camera Specs
Because the Canon EOS RP is a full frame sensor it does not suffer the 1.6x crop factor you get with the APS-C sensors.
This means you get even wider angles of resolution. As a YouTuber if you film a lot of handheld facing yourself shots, this means the shot won't be punched in as much.
So you can relax your arm a little!
You get 4K up to 23.98/25fps and 1080p up to 59.94/50fps. There are a few frame rates missing, but again, at this level of production, you are getting all you need to start YouTube with good video quality.
You get a headphone and microphone jack, which means you can benefit from better audio with something like a Rode VideoMic Pro and you can monitor your audio.
The RP also comes with a timelapse movie mode which is great. Canon doesn't always include this feature. It's the same as with my Canon 80D and produces really easy to make movies.
While the RP doesn't have IBIS, it does have optical image stabilization, which means it crops in to give you a stable image. This makes having the 4K option great because you don't lose as much if you shoot in FullHD.
And lastly the video side great features including Canon's amazing Dual-Pixel autofocus and EyeAF.
Final Thoughts
There were so many cheap vlogging camera with flip screen considerations I could have added to this list. However when it comes to color science, Canon still has everyone beat.
So even if the 4K on the Sony RX100 VII is superior, it doesn't matter because the video quality makes people's faces look green!
No digital camera is perfect. Canon are well known for not including features that they could easily include from the start, so they don't cannibalize their more expensive lines.
The vari-tilt flip screen is also notably absent from many of Canon's main competitors, for some reason not apparent to me. Perhaps some kind of patent? Or preference?
I'm not sure why you would prefer the one directional flip screen to the vari-angle tilt screen. But you add that with Canon color science, plus Canon's easy-to-use menu system (Sony's are a nightmare) and you have a winning camera system.
Links
Check me out on YouTube to see my flip screen cameras in action!
Artist / Photographer / Videographer