We are an Affiliate!
We hope you love the products we recommend! As an Amazon Associate and affiliate of other programs we earn from qualifying purchases, and we may collect a share of sales or other compensation from the links on this page. Thank you if you use our links, we really appreciate it!
The Sony A7S III is a beast of a video centric camera, so to get the best out of it you need the right memory cards, but which card is fast enough to write 1080p or 4K? And how much video can you write to a SD card or the CFExpress Type A card?
The best SD card for video on the Sony A7S III is the Sandisk Extreme Pro 128GB UHS-II V90 SD card, and the best CFExpress Type A card for video on the Sony A7S III is the Sony Tough SEA-G series 160GB card.
Last update on 2023-09-24 / Affiliate links / Images from Amazon Product Advertising API
The above cards are the all-around best memory cards for the A7S3 to buy, for all recording modes on the camera.
Scroll down further for a table on all compatible cards and recording times with an SD and CFExpress card.
Every content creator will have different needs from the Sony A7S III, so these cards will not fit everyone's needs.
Last update on 2023-09-24 / Affiliate links / Images from Amazon Product Advertising API
In some cases you may not need as much as a 256GB card and in other cases you may need more, especially if you're a heavy video user.
The A7S III has dual card slots that fit both SD cards and new CFExpress Type A cards.
Later in this article we go over the memory card lingo so you can then work out for yourself how much storage you actually need to video a wedding, make a YouTube video, or some combination etc.
To do this you need to be familiar with the information on the face of the card that is relevant to you. So check that out at the end of the article.
Choosing the Best Memory Cards for the Sony A7S III
You can't buy any SD card! Like its sister camera, the Sony FX3, you will require a UHS-II and V90 SD card to make sure you achieve the optimal write speeds when recording to the SD card for most modes. However you can get away with a V30 card for some lower bitrate modes.
It's worth noting the A7S III has no recording limit like some of its competitors. So you can record until you fill the card, or it overheats.
The Sony A7S III can record 16-bit linear linear RAW which is compressed and recorded as 12-bit ProRes RAW. The A7S III does not support 8K video.
It does have 1080p which it can record at 24/30/60/240fps.
To record in 120 or 240fps you need a SD memory card that can record higher than SDXC V60 or a card that can record higher than CFExpress Type A VPG200. Or respectively at least 60Mbps or 90MBps.
Every single frame rate, resolution and bitrate for video that the A7S III records to a CFExpress Type A card can be recorded to a SD card except for one bitrate.
That means you can record almost 99% of what the A7S III is capable of onto SD cards.
The only thing you cannot write to a SD card is 4K 120fps in the XAVX S-I compression. This is 1200Mbps which you would need a CFExpress Type A card for.
Best SD Card for Recording 4K Video on the Sony A7S III
The Sony A7S III can record up to 10 bit 4K 4:2:2 24/30/60/120fps from its 12.2MP sensor.
I have a solid history using Sandisk, so I would only recommend other brands when Sandisk doesn't offer the capacity I would like. However brands like Lexar and ProGrade are in reality just as good.
To work out the amount you can record to the SD card, you need to know the bitrates, below are the bitrates for UHD 4K (bitrates in green require V60 cards at a minimum, bitrates in red requite a V90, bitrates of 100Mbps require only a V30 card. CFExpress Type A can record all modes):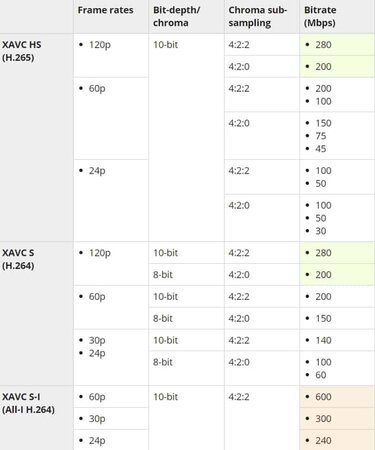 And these are the bitrates for Full HD:
Check out my table of recommended cards and how much you can should be able to write to each card.
Check out the table below for the recommended 160GB CFExpress card and how much you can should be able to write to it:
SD Cards Explained
On the face of an SD card are lots of numbers and symbols that help you to understand if it will be able to record the photos or video at the optimal speeds required.
SDHC and SDXC
The actual difference between the two is the different filing systems which mean higher memory capacities.
The SDHC can hold up to 32GB whereas the SDXC can hold up to 2TB, however there are only cards up to 512GB, which is correct as of the time of the publication of this article.
The A7S III can use both SDHC and SDXC cards.
Maximum Read Speed
SD card manufacturers usually don't advertise the write speed so the top left/right number is usually the maximum achievable read speed. But the read speed is more relevant for photography rather than video.
What this means is the more frames you shoot per second is dependent on the read speed for how much buffering issues you run into.
For video the more important number is sustained speeds. This is because when the sustained speed drops below the video bit rate you get that stuttering feel where the video is dropping frames.
Memory Capacity
This is the most easy to understand number on the SD card face, and obviously identifies the size of data the particular SD card can store.
Speed Class Rating
The remaining numbers on the top right side of the SD card represent the speed class of that card.
The letter C with a number enclosed inside 2, 4, 6, 10, states the minimum write speed of 2MBps for a class 2, 4MBps for a class 4 and so on. Do remember that this is the minimum rate, not the actual rate.
Then there is the letter U with a 1 or 3 inside of it, this identifies the minimum sustained write speed, with U1 representing 10MBps and U3 writing no slower than 30MBps. A U3 SD card covers all the video recording modes that are available to that SD card.
So U1 and Class 10 are basically the same, with both representing the card certifying to never write data less than 10MBps. The difference though is that the U is designed for SD cards that use a USH-I or USH-II bus.
Non USH cards max out at 25MBps. Where USH-I cards max out at 104MBps and USH-II max out at 312MBps. You can identify USH-II by a second row of pins on the back of the USH-II card that allow it to achieve faster speeds.
Both USH-I and USH-II cards can be used with the Sony A7S III, but with the UHS-II you will be capable of more options.
The V speed is the same as the U number in that it represents the minimum sustained speed in MBps that an SD card can achieve.
CFExpress Type A Cards Explained
CFExpress is a new card format that comes currently in two varieties, Type A and Type B. Type B is used by the Canon R5 for example.
A Type C is still in development.
Type A is very close in size to an SD card, but just a bit thicker, with the first manufacturer to supply being Sony themselves with their Tough card series.
Lastly
Don't forget you will need a CFExpress Type A card reader. And again Sony has one available too.
Sony MRWG2 CFexpress Card Reader
Compatible with CFexpress Type A and SDXC/SDHC (UHS-I and UHS-II) memory cards
SuperSpeed USB 10Gbps (USB 3.2 Gen 2) transfer speed via USB Type-C connector
Last update on 2023-09-24 / Affiliate links / Images from Amazon Product Advertising API
Well hopefully this article and all the information will have saved your time and headaches from figuring out which card is right for you.
I don't think anyone likes getting the wrong memory card or figuring out after that you should've got a larger, or even only needed a smaller card.
Do comment down below if you are a Sony A7S III owner and you've found that is possibly better, or cheaper memory cards that work in your setup for video or photography.
Links
The A7S3 is probably the top dog for YouTube vloggers at the moment, but a new Sony camera has just been released designed specifically for YouTubers, check it out in this article on the Sony ZV-E10.
Check out what I have in my camera bag here! And don't forget to follow me on YouTube and Instagram.
Artist / Photographer / Videographer