We are an Affiliate!
We hope you love the products we recommend! As an Amazon Associate and affiliate of other programs we earn from qualifying purchases, and we may collect a share of sales or other compensation from the links on this page. Thank you if you use our links, we really appreciate it!
Memory cards are quite complicated to get right, Which card is fast enough to write 4K or 8K? How much video can I record from the R5? How many photos will this SD card write? This article will cut through the fog and show you which card is right for your R5.
The best SD card for photography on the Canon EOS R5 is the Lexar 128GB UHS-II V90 SD card, and the best CFExpress card for video on the R5 is the Sandisk Extreme Pro 512GB.
Last update on 2023-09-23 / Affiliate links / Images from Amazon Product Advertising API
But these are the all-around best memory cards for the Canon EOS R5 to buy and for all recording modes available on the Canon EOS R5. Everyone will have different uses for the Canon R5, so while these recommended cards will suit most, for some cases you may not need 256GB and in some other cases you may need more.
Last update on 2023-09-23 / Affiliate links / Images from Amazon Product Advertising API
Later in this article I break down the memory card lingo so you can figure out for yourself how much storage you really need for wedding photos, video, or combination etc.
What Memory Card Does the Canon R5 Use?
The Canon EOS R5 takes two types of storage, and while you can use both for different purposes, Canon had different use-cases in mind; which is using SD cards for photography and some video, and using CFExpress cards for down sampled 4K and 8K video.
You cannot record any of the following to the SD card:
8K and 4K RAW
8K ALL-I
4K 119.9/100.0 fps (High Frame Rate movies)
4K ALL-I HEVC (YUV422, 10-bit)
4K 59.94/50.00 fps ALL-I H.264 (YUV420, 8-bit)
8K Timelapse
For these options you will need a CFExpress Type B card.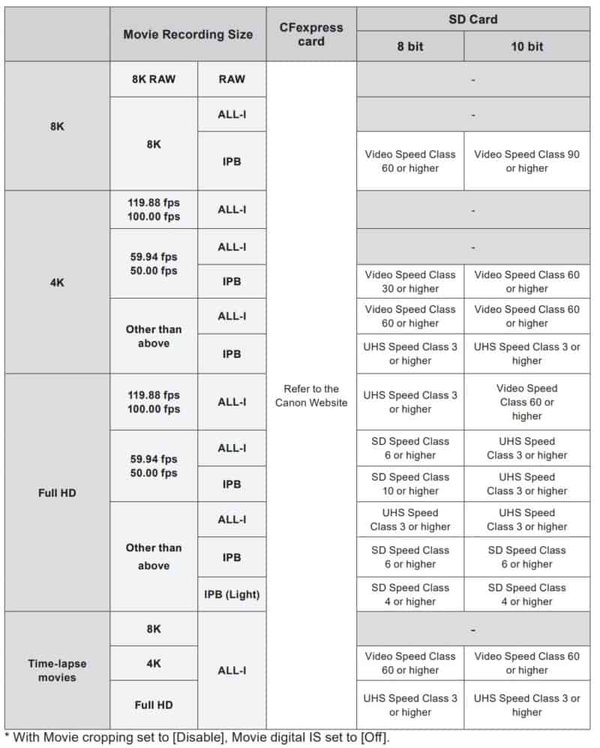 You can record 8K and 4K in various IPB modes to the SD card; but what's the difference between IPB and ALL-I? IPB files are compressed to be smaller files at a cost to the video quality.
Canon couldn't really go for two CFExpress card slots as it's a relatively new format and is still extremely expensive. And SD cards are not fast enough to write 8K RAW or ALL-I that the camera is capable of, so two SD cards would not be future proof.
Now let's work out how much you can actually fit onto the memory cards when you use the Canon EOS R5.
Best SD Card for Photos on the Canon R5
I will first assume you are writing only RAWs to the card, where the Canon R5 uses the .CR3 file format. You can also use the smaller C-Raw format so we will also calculate that.
How Many Photos Can You Store on a 64GB SD Card?
The Canon R5 RAW file size, is about ~35-42MB, will store up to 1547 files. CRAW files are 22.3MB so you can write about 2914 photos.
How Many Photos Can You Store on a 128GB SD Card?
You can write about 3047 RAW photos and 5739 CRAW files.
How Much Photos Can You Store on a 256GB SD Card?
This is my recommended SD card size as it will be able to write 8K IPB video and is a decent amount of storage for video. For RAW photos you can write about 6095 files and a staggering 11479 CRAW files.
Best SD Card for Recording 8K Raw on the Canon R5
To record 10bit 8K IPB (680Mbps Bitrate) you will need a UHS-II SD card with video speed class V90 or higher, which will cover the other non-RAW movie options too.
The Prograde 256GB UHS-II V90 SD card will more than suffice for 10bit 8K IPB .
If you only require 8bit 8K IPB and all the other non-RAW movie modes you will need a UHS-II SD card rated at V60.
A U3 rated SD card will cover all available movie options on the Canon R5 except 10/8bit 8K IPB and 10bit 4K IPB.
How Much 8K Can You Write to a 256GB SD Card?
The bitrate required to record the 10bit 8K IPB is 680MBps/8Mb which is 85MBps. The Sandisk 256GB UHS-II V90 means a sustained write speed of 90MBps. So this card will work for 8K IPB.
With the recommended Prograde card you can get 50 minutes of 8K IPB 30FPS (680MBps). You also get 1hr 40 minutes of 4K 60FPS (340MBps) and 1hr 12 minutes of 4K 24FPS ALL-I (470MBps).
Best CFExpress Card for Recording 8K Raw on the Canon R5
You can record all available 8K recording modes on the Canon R5 to a CFExpress card. The ProGrade CFExpress card has a minimum sustained write speed of 1400MBps which is faster than the R5's 325MBps, which means smooth recording.
The Sandisk 512GB card does not display the sustained write speed. But tests from R5 users suggest this card will still do a great job, and Canon Europe do have the card on their supported cards for 8K RAW 29.97p list.
These two cards are a good choice, but I would lean towards Sandisk with whom I have never had issues with.
These are currently the compatible CFExpress cards recommended by Canon US:
How Much 8K Can You Write to a 512GB CFExpress Card?
If you record 8K DCI RAW 23.98/29.97 fps, it will fill up a 512GB card in 26 minutes. However according to Canon you will only get 20 minutes of record time before you need to cool the camera.
You will need to have the camera in standby time for 10 minutes before you continue recording. So in total it should take 36 minutes to fill a card with 26 minutes of video.
How Much 4K Can You Write to a 512GB CFExpress Card?
Bear in mind unless you are using one of the many hacks that have been tested, like using a Ninja V, you will be running into heat issues filming 8K(RAW, DCI or UHD).
Canon advises that you will only get a maximum of 20 minutes record time before the camera needs to cool down.
If you get the Sandisk Extreme Pro CFExpress 512GB card, this will cover you for 4K 120FPS (1880MBps) for 36 minutes. However you will only get 15 minutes of shooting time before you need to stop.
You will get 68 minutes for 4K 60FPS (1000MBps), but again you will only get 35 minutes before you need to cool down.
I've just mentioned the higher quality bitrate 4K modes, but you can choose the unlimited recording 4K 30 or 24FPS modes.
The 512GB Sandisk card will give you 2 hours and 21 minutes of record time before it's full. Bear in the mind the infuriating 29 minute timer, but you can simply press record straight away and carry on.
CFExpress Card Reader
The Prograde CFExpress Type B card reader is a good choice if you are investing in CFEXpress cards as it also a dual-slot card reader for UHS-II SD cards.
SD Cards Explained
On the face of your SD card are a lot of numbers and symbols that help you understand if it will be able to record the photos or video at optimal speeds without errors.
SDHC or SDXC
The only difference between the two is the different filing systems which result in higher memory capacities. The SDHC can hold up to 32GB whereas the SDXC can hold up to 2TB, but there are only cards up to 512GB, as of the time of the publication of this article.
Maximum Read Speed
SD card manufacturers don't usually advertise the write speed so the top left/right number is most often the maximum achievable read speed. The read speed is more relevant for photography than video.
What this means is the more frames you shoot per second is dependent on the read speed for how much buffering issues you run into.
For video the more important number is sustained speeds. Because if the sustained speed drops below the video bit rate you get that jittery look where your video is dropping frames.
Memory Capacity
This is probably the most understood number on the SD card, and obviously represents the amount of data the particular SD card can hold.
Speed Class Rating
The rest of the numbers in the top right side of the SD card represent the speed class of that particular card.
The letter C with the number enclosed inside 2, 4, 6, 10, represents a minimum write speed of 2MBps for a class 2, 4MBps for a class 4 etc. Be aware this is the minimum rate and not the actual rate.
Then you have U with a 1 or 3 inside of it, which represents a minimum sustained write speed, with U1 representing 10MBps and U3 writing never slower than 30MBps. A U3 SD card will cover all the video recording modes that are available to the SD card.
So U1 and Class 10 are essentially the same, with both representing the card certifying to never write data lower than 10MBps. The difference though is that the U is designed for SD cards that use a USH-I or USH-II bus.
Non USH cards max out at 25MBps. Whereas USH-I cards max out at 104MBps and USH-II max out at 312MBps. You will also see a second row of pins on the back of the USH-II card that allow it to achieve faster speeds.
You can use both USH-I and USH-II cards with the R5, but with the UHS-II you will be capable of more options.
The V speed is similar to the U number in that it represents the minimum sustained speed in MBps that an SD card achieves.
CFExpress Cards Explained
Much of the numbers and symbols are replicated across the different storage formats, so I don't have to go over this again.
If you're thinking about video for the Canon EOS R5 you will be looking at CFExpress card Type B, and the write speed is the most important factor when choosing a card.
But it's hard to talk about specific write speeds for video as most manufacturers like SanDisk or Wise use peak write speeds when promoting how fast their cards are, which as I mentioned is fine for photographers.
But for video we need to know sustained write speeds for even speeds recorded throughout the entire duration of a video. You need to make sure the minimum sustained speed of the card is faster than the camera's highest recording speed so there are no dropped frames or errors.
Final Thoughts
I hope that was useful information that could save you money in the long run. Even though it's better to have too much storage than find yourself with too little, with a little thought and analysis I hope you're armed with the right info to pick the correct card and save money!
Let me know in the comments if you're an R5 owner and have discovered\ any new cards that work for whatever situation you are working in, photos, video or a combination.
You might also want to check out the best SD cards for the EOS R6 and EOS R too.
Links
Find more content from me on YouTube and Instagram
Artist / Photographer / Videographer