We are an Affiliate!
We hope you love the products we recommend! As an Amazon Associate and affiliate of other programs we earn from qualifying purchases, and we may collect a share of sales or other compensation from the links on this page. Thank you if you use our links, we really appreciate it!
I recently bought the MacBook Pro 16″ M1 Max after a lifetime of frustration with Windows, PC laptops and custom builds. As someone brand new to the Apple ecosystem I could see how easily overwhelmed new users can be, so I've compiled all the MacBook Pro setup tips for new users that I have used.
I recommend avoiding any tips that emulate Windows ergonomics/design. Instead eschew them and focus on adapting to the Mac workflow wholly.
I'll have another article for third party apps to download that further improve efficiency and ergonomics. So with that let's begin:
Track Pad Preferences
I hate the click and hold to drag default setting on laptops. Using three fingers to drag is a much more efficient drag gesture in my opinion.
Go to System Preferences > Accessibility > Pointer Control > Trackpad Options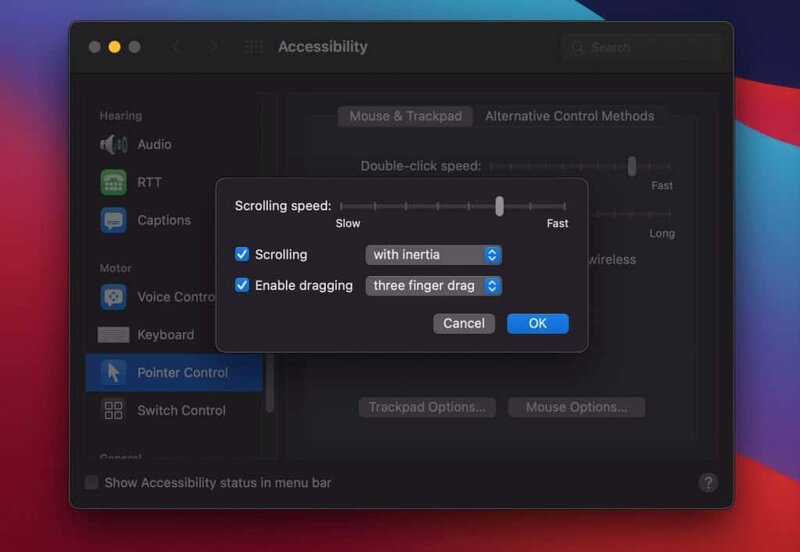 Select to enable Three Finger Drag.
While you are in Pointer Control, I would also suggest increasing the Scrolling Speed. I increase it to about two points from the fastest speed.
I also check Tap to Click so I don't have to force click on he trackpad to get that click.
I would also suggest using scroll with inertia. This feels much more natural to me as an iPhone user.
Dark Mode and Scrolling
In System Preferences select General and you can decide on whether you like dark or light mode. I prefer auto as I do still like light mode during the day.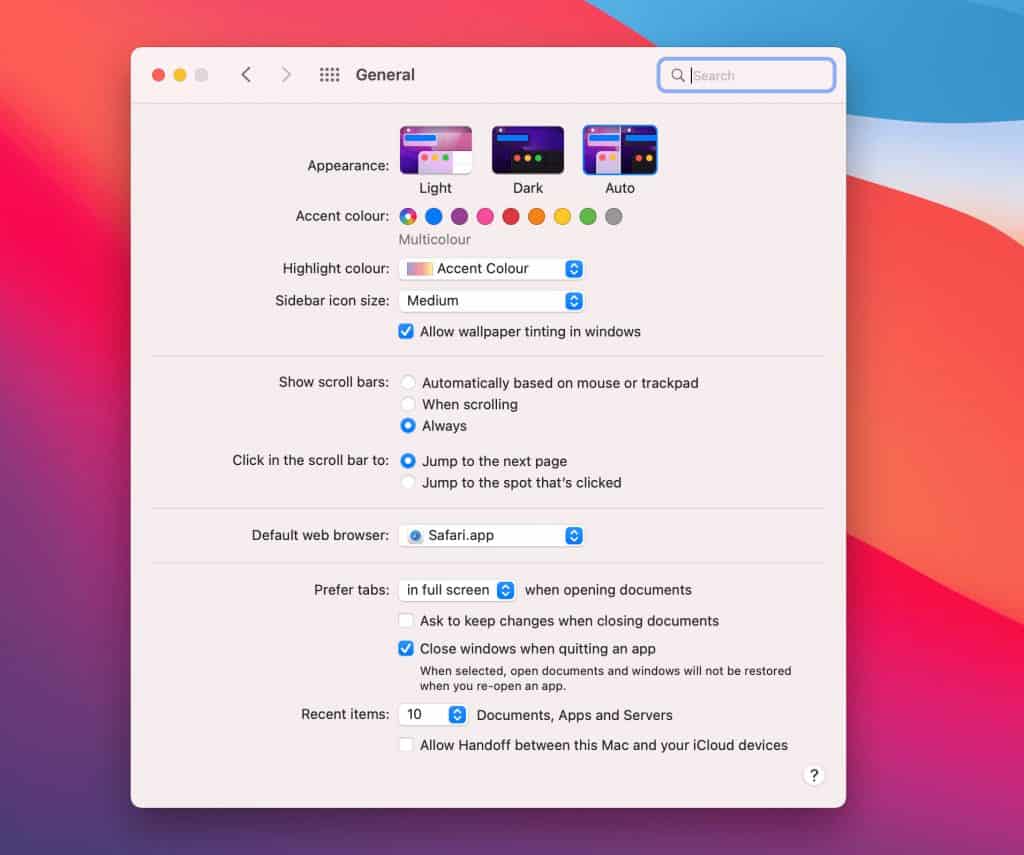 I also check always show scroll bars option. I don't like the millisecond it takes for the scroll bar to pop up, and also I don't like guessing where it could be.
Leave it up, it may take up space but it's quicker when you can see it.
Enable Hot Corners
By enabling Hot Corners you can swipe into corners of the screen to activate certain shortcuts.
To configure Hot Corners, in System Preferences > Desktop & Screen Saver > Hot Corners.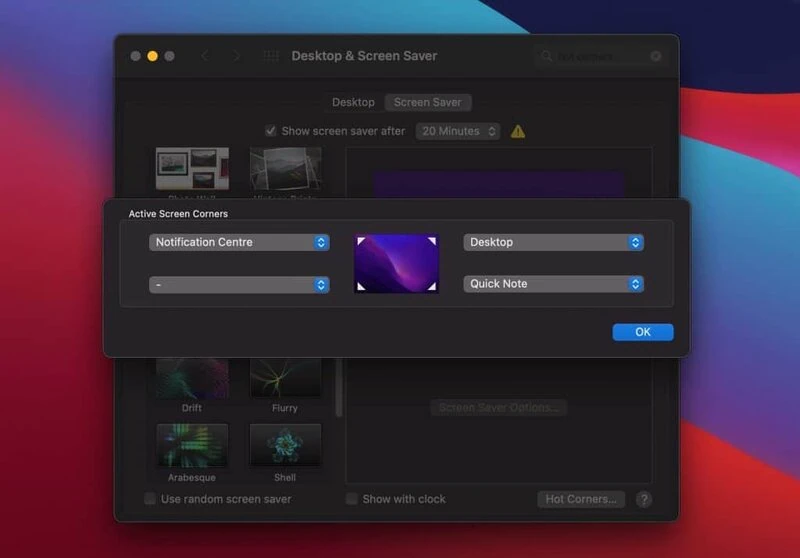 I sometimes accidentally enable Hot Corners when I'm resizing windows for example, so I sometimes reconfigure the Hot Corners to just one, Desktop.
Magic Mouse Options
While the trackpad is a great feature of the MacBook Pro, using it in conjunction with the Apple Magic Mouse is a great combo. But there are few tweaks that I wanted to make.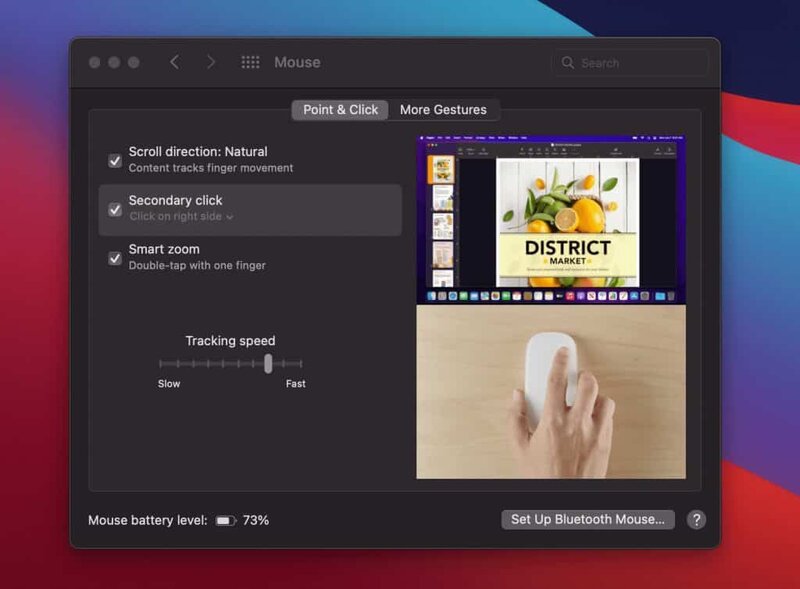 I also increased the tracking speed to a few notches from the fastest setting. I think this speed is just right.
The Magic Mouse seems to get a lot of detractors, however I have found it to be one the best MacBook accessories to use with my MacBook Pro.
Sale
Apple Magic Mouse 2, Wireless, Rechargeable - Silver (Renewed)
Magic Mouse 2 Is Completely Rechargeable, So You'Ll Eliminate The Use Of Traditional Batteries.
It'S Lighter, Has Fewer Moving Parts Thanks To Its Built-In Battery And Continuous Bottom Shell, And Has An Optimized Foot Design — All Helping Magic Mouse 2 Track Easier And Move With Less Resistance Across Your Desk.
Last update on 2023-11-30 / Affiliate links / Images from Amazon Product Advertising API
It feels like a mouse combined with a trackpad on top.
Being able to swipe pages or apps and scroll left and right feels much more intuitive to me than scroll wheels.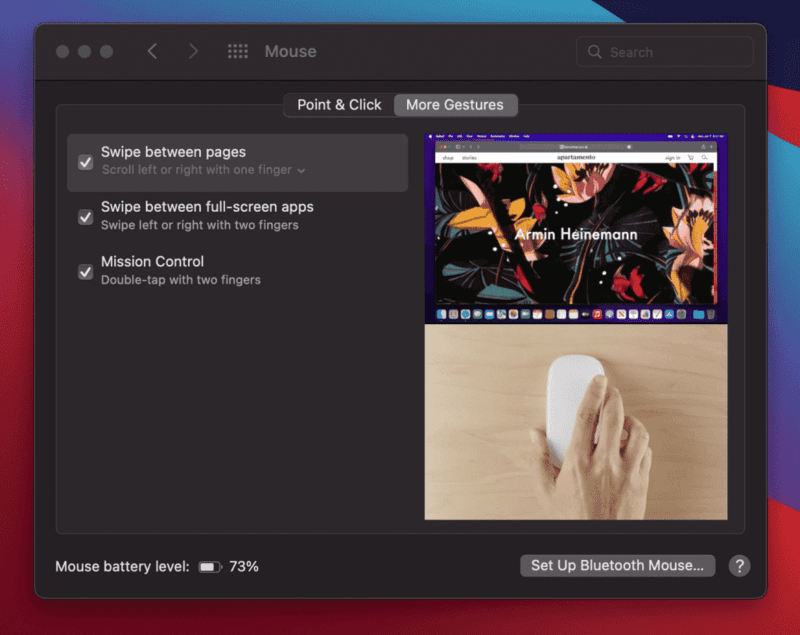 Keyboard Options for Adobe Users
The default option for the Function keys use the Fn key and the corresponding F number key.
For anyone using Photoshop hotkeys this slows down your speed working in the app considerably.
To make the Function keys work as standard navigate to System Preferences > Keyboard and check Use F1, F2 Keys as standard.
This does mean you will have to use the Fn key to change used often settings like volume and brightness. But I would much prefer this to losing the function keys.
Turn Off Brightness/True Tone When Editing Photos
When you are editing photos or video you do not want the MacBook Pro monitor shifting colors and brightness as your ambient light changes. This will obviously affect your judgement when it comes to adjusting all your settings.
Uncheck both auto brightness and True Tone.
Disable Downloaded Files Automatically Opening
In Safari Preferences there are a few options worth checking. One is that I do not need every file I download to open as soon as it is downloaded.
Uncheck that option in Safari Preferences: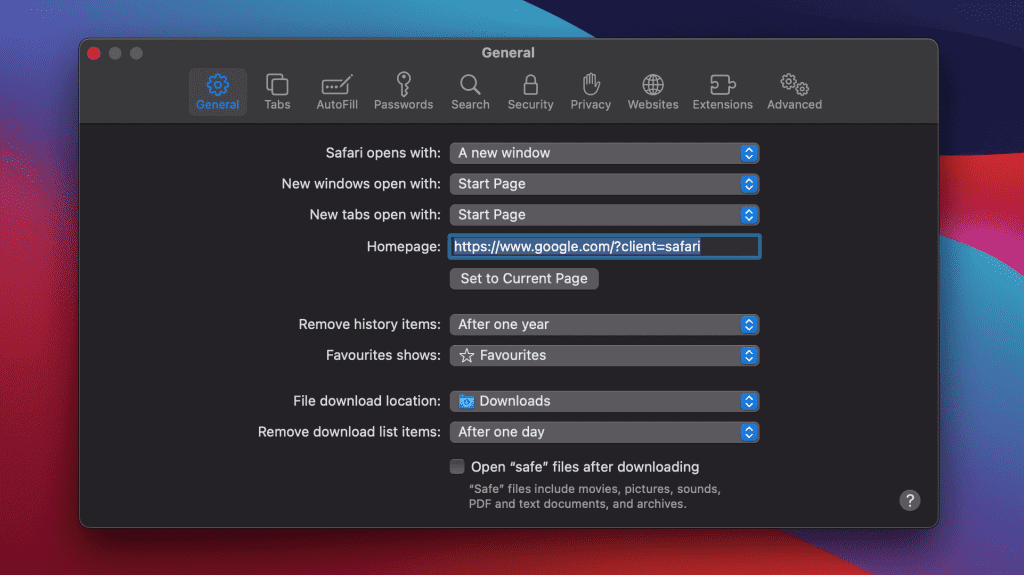 Finder Preferences
I like to have the Macintosh HD drive on the desktop. I like a clean desktop so it's the only icon on the desktop.
To do this go to Finder > Finder Preferences > General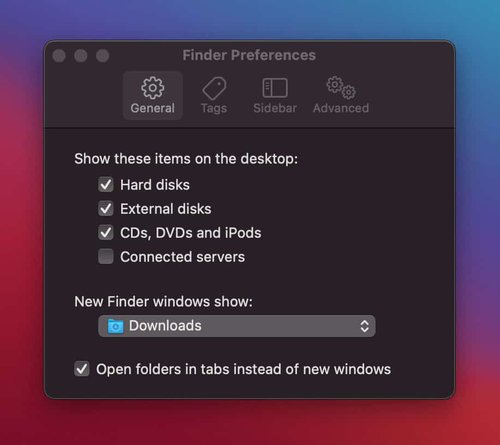 You can also select what folder you want the Finder to open with. I most often need to get to the downloads or documents folder.
Whilst you are in Finder Preferences, go to Sidebar, and in here you can check a few of your preferred folders. You can also uncheck Recent tags, unless you use that system.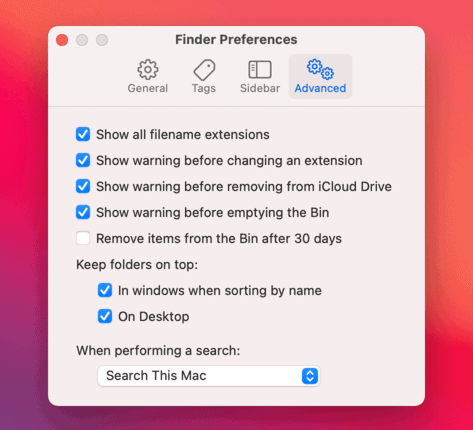 In the advanced tab check Keep folders on top, so when you open up a folder which has more folders inside, it will display the folders first instead of sorting everything by name.

Still in Finder, select view and check Show Path Bar, then go back and check Show Status Bar. I have already checked them in the image above.
Now whenever you open a Finder window it will show the path to get to a folder/file. And also you can now see the size of the folder and items selected.
Use Spotlight Search for Everything
Click CMD+Spacebar to bring up the spotlight search bar, and from here you can do much more than search for apps. You can use it to find specific files and folders.
You can even use it to search on google, which is so much quicker than opening safari and then clicking in the search bar to type.
Configure the Dock Bar
I like to change the dock bar size and animations to my preference. You can do this by going to System Preferences > Dock & Menu Bar.
Here configure the size. You can also check Magnification for that magnified effect when you hover over an app in the dock bar.
Speed up the Dock Bar
When you move the cursor to the bottom of the screen to bring up the dock bar, by default, there is an ever so small delay in the dock bar popping up. One remedy is to have the dock bar stay up permanently, but that just wastes screen real estate.
So I prefer to hide it away till I need it. But it's too slow, so I speed it up!
To do this is very simple, using a bit of copied code. It will not break the system so don't worry.
Step 1. Enable Autohide
Firstly if you haven't then enable autohide. Go to System Preferences > Dock & Menu Bar and then check Automatically hide and show the dock.
Step 2. Open The Terminal App
Press CMD+Spacebar to open the Spotlight Search, and type in Terminal.
Step 3. Instantly Open/Hide Dock
Paste this command and hit enter:
defaults write com.apple.Dock autohide-delay -float 0; killall Dock
If you are running MacOS Mojave or later, use this command instead:
defaults write com.apple.Dock autohide-delay -float 0.0001; killall Dock
Step 4. Undo Step 3
In the event you need to unravel the changes made in the previous step, then in the Terminal app paste the following command and hit enter:
defaults delete com.apple.Dock autohide-delay; killall Dock
Finally
This list could be quite long, and there are definitely more tips. However these are the best tips for the MacBook Pro that I personally implemented first.
Links
If you're building a business and one the tools is this laptop, then you need to check out my definitive article on business for creative content creators: How to Start a Creative Business. All the information from starting to building a business is there.
Also don't forget to check me out on YouTube for more video on content!
Artist / Photographer / Videographer