Don't spend all those hours planning, then filming and editing, at the last step, to use the wrong settings to export your final edit. You need to use the best Premiere Pro export settings for TikTok to maximise the quality of your video when you upload it.
Adobe Premiere Pro has changed the export window in their 2022 update, but the actual settings for the best quality video haven't. Everything you need to know is covered here. Or if you want the quickest way, download my preset here.
What Video Size Should You Upload to TikTok
Currently the minimum settings required to upload to TikTok are:
MP4 or WebM video format
Choose 1080 x 1920 (720×1280 minimum resolution)
Maximum of 3 minutes
Step 1: New Sequence
So now you have your horizontal or vertical footage, the first thing to do is create a new sequence, which you can do by pressing CTRL+N (or Command+N on the Mac).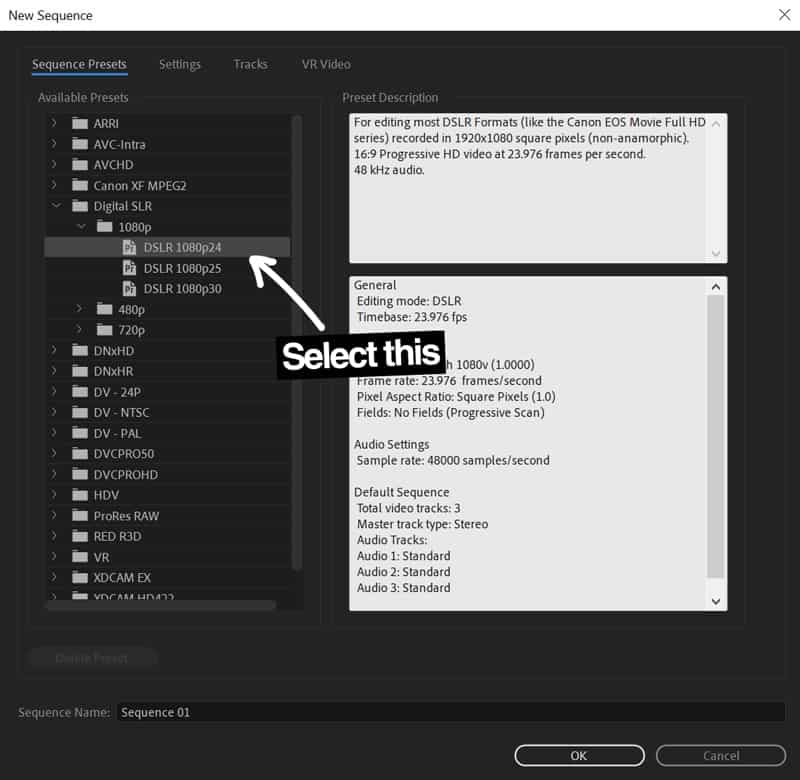 In the new sequence dialogue box select Digital DSLR, then 1080p, and then select DSLR 1080p24.
Select the settings tab, where we need to alter the frame size to a vertical frame size setting.
We are essentially swapping the numbers, so 1080 for horizontal and 1920 for vertical, going from a 16:9 to 9:16 aspect ratio.
You can now save this preset for future use, which I highly recommend.
Title it something like 'TikTok 9:16 1080×1920 23.976p' so you can differentiate if you make a preset with 60p etc.
Click ok and then enter the sequence name and click ok again.
Step 2: Add Footage
If you haven't, import your footage into Premiere Pro, and then drag the footage down onto the timeline.
If you receive a 'Clip Mismatch Warning' dialogue box don't worry. This happens if you import footage that is horizontal or maybe was filmed in a different frame rate.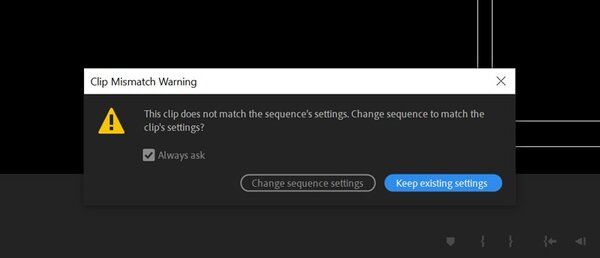 It's important to select 'Keep existing settings' so that the footage you import will conform to the sequence settings we have already created.
Again if you have footage that does not match the video aspect ratio 9:16, you may want to go to the effect controls tab and change the scale to fill the frame.
You can use the position settings to then move the video to the best positional placement. Again, if you can use footage filmed with vertical TikTok format in mind, you can avoid having to scale and clipping the video.
Sometimes it will be too hard to fit a horizontal video into a vertical format perfectly.
Step 3: Export Video
Now back to the timeline, select your in and out points by moving the timeline head to the beginning of where you want to start your video and pressing I and then moving to the end of the video and pressing O.
Premiere Pro Video Export Settings for TikTok
Press CTRL+M (Command+M on a Mac) to open up the export settings dialogue box.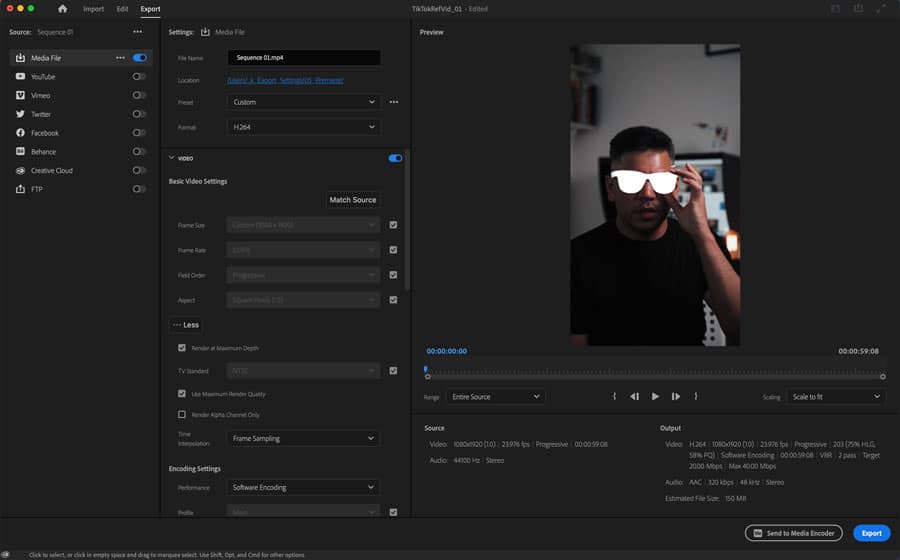 In the export settings dialogue box make sure H.264 is selected.
Click the File Name to change your video name and select which folder you want to save it to.
Further down, in the video tab, under Basic Video Settings, make sure that the width and height match the 9:16 settings we set earlier.
Make sure the same settings as earlier are set for Frame Rate too.
Check the Render at Maximum Depth box.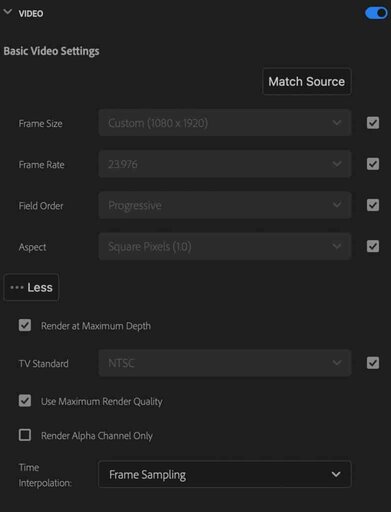 Scroll all the way down to the Bitrate Settings box and in the Bitrate Encoding select VBR 2 Pass.
By default it will be set to VBR, which is fine, but that means the bitrate will be determined by the computer for best quality. It may lower the bitrate quality for portions of the video which it believes requires less quality.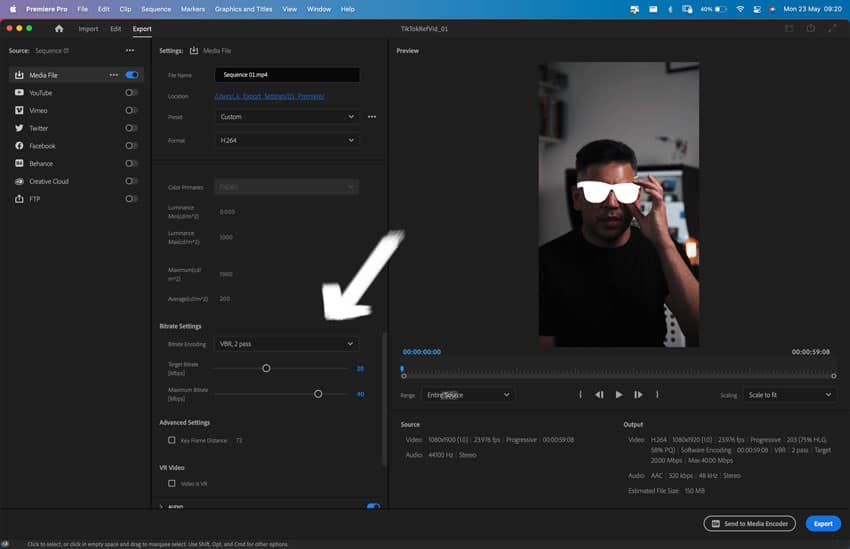 We want to make sure the high quality is consistent and that Premiere Pro chooses a high bitrate when there is scenes with high motion or effects, hence selecting a VBR Pass 2.
You can also choose CBR for peace of mind that the bitrate will be high throughout the video, but this is at the cost of longer render times and bigger rendered files.
For the VBR 2 we want to set the Target Bitrate to 15-20Mbps and Max of 30-40Mbps
Then make sure that the Use Maximum Render Quality box is checked.
Premiere Pro Audio Export Settings for TikTok
Back to the top now click on the Audio tab to change the video audio settings.
For Audio Format make sure AAC is checked.
Then make sure these default settings are the same and you're ready to render.
Save Export Preset
Back to the top you can now save the export settings you have just changed for future use instead of typing them all in again.
Go to preset and click the Save Preset icon.
I would suggest saving it in this format: 'TikTok 1080×1920 23.976p 15Mbps CBR AAC'. This will now be available again in the presets dropdown menu.
You can press Export to render the video.
How to Upload to TikTok
There are two ways you can upload to TikTok, exporting to your mobile device or uploading to TikTok desktop. I would recommend the former.
The reason you should upload from your mobile is to make sure the video has some captions and effects to make sure it's 'native' on TikTok.
Native videos, or videos made inside TikTok perform much better than videos created outside of TikTok. The workaround for this is to edit the video with a trending theme. If the video is deemed to be native it has a better chance to get on the 'For You' page.
How to Upload Video on Tiktok From Gallery (Recommended)
You can also transfer the video to your phone and upload the video to TikTok from your gallery.
This might seem like an odd way to upload if you're already on your computer and could use the desktop TikTok website. But taking it to your mobile phone means you can use the app to make captions or a different 3rd party app to add various emojis, stickers etc.
Depending on whether you use iOS or android this can be done in these ways:
For iOS airdrop the video to your phone. For Android I would recommend using an app like DropBox to upload your video to from your computer and then download it when you are on your mobile phone.
In the TikTok app press the '+' button to upload your video.
Select the video and click next.
Add a caption and then click 'Post'.
How to Upload to Tik Tok From PC
First go to TikTok.com and login, then in the top right click on the icon with an arrow in a cloud.
Click Upload Video.
Open the folder where you video is saved in and drag it into the Select video to upload box.
Best Camera Settings for TikTok
Before you even start editing it's helpful to try to get your settings and composition right for use on TikTok.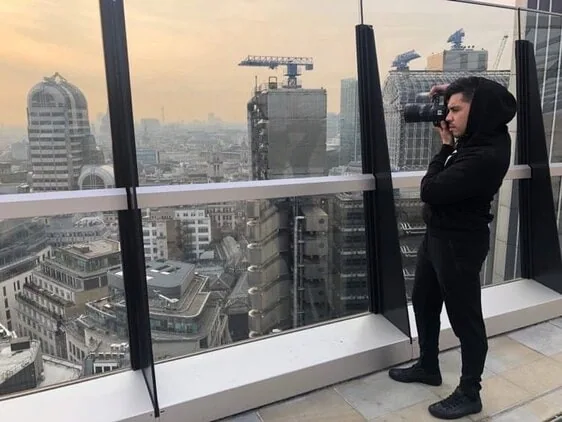 But don't worry even if you've already filmed your footage or want to use old footage you can still use them for TikTok.
Compositionally ideally you want to use a vertical format, so if you're using a phone this is easy enough, but as this article will have mainly camera users, using a tripod that can angle your camera vertically will be good.
I personally use a L shaped bracket for my cameras which makes swapping between landscape (horizontal) and portrait (vertical) really easy and quick.
For actual camera settings, I would suggest 24p (which means there's 24 frames in a second) to get that cinematic look. The higher up you go the crisper the motion will be, so 60p will have super sharp motion.
If you want to get some slow motion shooting in 60p means you can slow down your video in Premiere to get that look.
For shutter speed always follow the 180°rule, which is doubling your framerate, so if you film 24p, shoot at 1/50 of second shutter speed. For 60p shoot at 1/120 of second shutter speed and so on.
For all other settings, aperture, iso, white balance etc. these will all be dependent on the scene in which you are shooting, which I will have to explain in a future article.
Once you have filmed your footage and imported it into Premiere Pro you can now use the settings above to maximise your video quality.
Finally
You can download the preset and save yourself some time by clicking here.
These are the best premiere pro export settings for TikTok to get the best out of your videos that you upload to TikTok. But you still must try do a bit of work inside to TikTok to please the TikTok requirements, otherwise it could harm your video's reach.
I think the main takeaway when you're creating videos outside of the TitTok creative tools is to bring it into TikTok using the tools and settings that will make it as native as possible.
Links
Don't forget to follow me on TikTok! If you also use video for Instagram, check out my article on 'Best Export Settings for Instagram' for best settings for images, video and stories.
Artist / Photographer / Videographer