We are an Affiliate!
We hope you love the products we recommend! As an Amazon Associate and affiliate of other programs we earn from qualifying purchases, and we may collect a share of sales or other compensation from the links on this page. Thank you if you use our links, we really appreciate it!
Finding the best camera for teens that will convince them to swap their iPhone with can be quite difficult. It has to be the right balance of ease of use as well as challenging them to improve their craft all while being cool to use.
The best camera for teens is the Canon EOS 200D/SL3, it's a budget friendly camera that offers the user the opportunity to learn how to take a photo using aperture, shutter speed and ISO.
Last update on 2023-09-24 / Affiliate links / Images from Amazon Product Advertising API
But there are more options to consider, so below I've compiled a list of the best cameras for teens and kids so your decision is made easier!
Why Cameras are better than iPhones
The best camera is the one you have in your pocket. We don't always carry a camera around so when a great shot presents itself, taking a photo with your iPhone is better than no photo at all.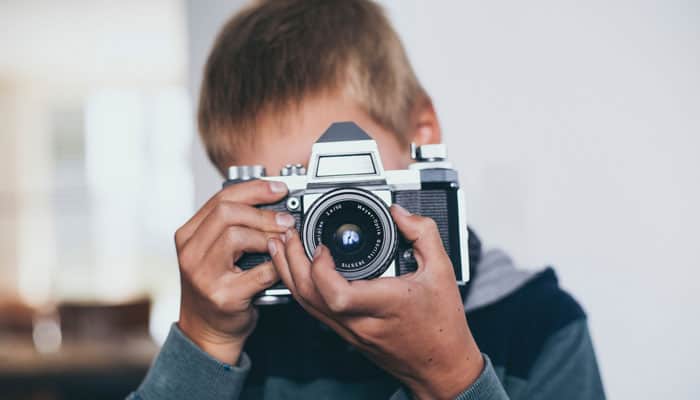 So why use a camera when you have one on your phone? Well there are plenty of reasons! The sensor in your iPhone is very small and that means limitations, the actual physical sensor in your iPhone can only be so big.
Do not be fooled by megapixels. Phones are getting more and more megapixels nowadays. But all those megapixels on a small sensor is actually not great. The bigger the sensor the better the quality of photos.
A second reason is the degree of control possible. With cameras, the ability to set it in manual, aperture priority or shutter priority mode, means you have greater control over how you take the photo, as well as other control features.
With third party apps you can get more access to more controls, but nothing beats having them on the camera body, in the shape of buttons and dials!
This also leads to more opportunity for creativity! Light painting, timelapses, hyperlapses, Day to Night shots etc. iPhones are designed for snapshots, instant photos to share with friends, not really anything more technical.
How to Choose the Best Camera for Teens
My teenage sister in-law is very passionate about photography, but is stuck to her iPhone, which isn't a bad thing. Even giving her a hand me down old bridge camera didn't compel her to switch from her phone.
Today a teen's first camera is their phone, so here is what you need to look for when you're looking for the best camera for teenager photographers:
Ease of use (Ergonomics) – Teens have little patience, and with most tech being designed to require no learning, if they can't pick up the camera and run with it then it's poorly designed.
What Are They Using It For – Is your teen a photographer? Video content creator. A phone can do so much; your camera must do more and better.
Features – iPhones are constantly updating their features with new filters, photo and video modes. Your camera has to match and exceed to compete.
Sharing Ability – Taking a photo or video and immediately sharing to Instagram and other social media is important. Including more steps inbetween to get your photo shared will mean the camera gets discarded.
Price – Cameras get expensive fast. With the wealth of lens, audio and lighting equipment your budget can get used up fast. So picking the right camera and sticking to your budget is key.
Size – This is user dependent, but the smaller the camera the easier it is to take with you. With an iPhone, it's an all-in-one, and fits in your pocket.
Self Improvement – A camera should push your teen to improve their craft, by being feature rich and offering the ability to take on new techniques, like timelapses and hyperlapses.
Look Good – Photography can also be fashion, a camera that looks good hanging off the arm will encourage your teen to incorporate it as part of their overall outfit. This is why I said size is user dependent. With a cool Leica rangefinder size isn't a consideration.
One big feature to look for is video, especially if your teen is looking to create photos and video. In my article on the Best Vlogging Cameras with a Flip Screen I go into more depth with regards to video features you need to know.
With those in mind, let's take a look at the the main categories of cameras you will be deciding between: compact, DSLR and mirrorless.
Best Compact Camera for Teens
For compacts, I'm recommending a camera model I have been using for over five years now, the Canon Powershot G7X. Specifically the new Canon G7X Mark III.
Last update on 2023-09-24 / Affiliate links / Images from Amazon Product Advertising API
Compacts with the tilty flip screen are great for teens who like to vlog or take selfies. They are also much smaller than mirrorless or DSLR cameras, so much better to take with you.
Some notable features are that the G7XIII has 4K video capabilities, which for a compact is amazing.
However my favorite new feature over its predecessor is the inclusion of a 3.5mm headjack. Which means now you can record audio with an external microphone, like the Rode Mic Go.
Audio is really important. Viewers on YouTube will accept a poor quality video with good audio, but will click off to another video if the audio is terrible, regardless of video quality.
For me pairing the Canon G7X Mark III with a Rode VideoMic is the perfect cheap vlogging camera with flip screen setup.
Battery Life
The G7X Mark III battery, the NB-13L, seems to get varied results amongst the reports from users. But on average I get maybe about 300 shots from a fully charged battery.
I know of some reports from users getting up to 400, though that depends on the battery luck of the draw I guess.
However with video I can get about an hour of continuous video recording.
Best DSLR Camera for Teens
Even though the DSLR format is slowly being replaced by mirrorless cameras, the format has plenty of life left in it. Canon is still releasing new DSLR models.
With interchangeable lens cameras it is actually the lenses you will end up spending the most money on, not the body.
Fortunately while DSLRs might be replaced one day, the lenses, and especially for Canon's EF and EF-S mount, can be used seamlessly for mirrorless with an adapter. So it's still worth investing in today.
DSLR also represents a much cheaper alternative to starting off in photography. There are many more options available with DSLRs. Whereas with mirrorless, the choices while still a fair few, are nowhere near the same.
My personal DSLR recommendation for the best camera for teens is the Canon 200D or as it's called in other market's, the Rebel SL3.
This is a super cheap budget DSLR that you can do so much with. It also has the 3.0" vari-angle touch screen for filming yourself and monitoring from other angles.
The 200D is really light and small in your hand, not like a compact, but you get much more features and capability.
Canon EOS 200D/SL3 Specifications
The 200D has a 24.2MP CMOS sensor, which is plenty, with Dual Pixel autofocus and can shoot up to 5 fps.
Last update on 2023-09-24 / Affiliate links / Images from Amazon Product Advertising API
For such a small camera it really does hold its weight. It is a really capable camera, which I have even shot a whole wedding (photos) with once.
Best Mirrorless Camera for Teens
While there is plenty of life left in DSLRs (don't believe anyone who says there isn't), the future is mirrorless.
Sale
Last update on 2023-09-24 / Affiliate links / Images from Amazon Product Advertising API
24MP is not too large that you need supercomputers to process the photos and not too small that you would not have enough pixel real estate for prints.
Other notable features are 4K recording, Wi-Fi and Bluetooth. The Canon M50 comes with Canon's vari-angle touch screen.
The Canon M50 uses Canons EOS M lens range. Canon have really filled out the range with great options. For this camera I would definitely pair it with the Canon EOS-M 18-45 IS STM, which covers a nice focal range and has Image Stabilization.
For me this camera hits the sweet sport as one of the best cameras for teens. The M50 can work as a powerful photography tool as well as a great video creation tool too. Many professional YouTube creators use this very camera as their video setup.
Best Full Frame Camera for Teens
While the Canon M50 is a great mid range camera that can cater to both amateur and professional, a full frame camera usually includes a price jump and bigger features for the slightly more advanced user.
Not that beginners shouldn't go full frame. But given the relative cheaper costs of smaller sensor cameras, full frame cameras are usually the next step for photographers, not the first.
So which are the best cameras for teens when it comes to the full frame format?
Canon EOS RP
Canon has a great entry level full frame camera in the R mirrorless range in the form of the 26.2MP Canon EOS RP.
Last update on 2023-09-24 / Affiliate links / Images from Amazon Product Advertising API
Rewind a year and I would have possibly not recommended the Canon EOS RP, not because of the camera itself, but because the lens lineup were all expensive lenses aimed at the working professional.
But then with the very good EF-RF adapter, you can adapt EF and EF-S lens of which there are an abundance of choice, at very good prices.
Fast forward to today and Canon have done well and continue to expand on their RF range, now having included a few decent lens within a smaller budget. The Canon RF 24-105 IS STM is under $500 and covers a huge focal range, perfect for many shooting situations.
Canon EOS RP Features
So why pick this over the previously recommended Canon EOS M50? Both have 4K, a vari-angle touch screen, similar megapixel count and autofocus.
Well for the same reason I gave for choosing cameras over phones. This is a full frame camera. That means a number of benefits:
Better quality overall for photos.
Better low light performance – this means being able to capture more light in dark situations.
Better "bokehlicious" depth of field – this means better quality blurriness in your photos. Your iPhone or Samsung will use computer generated bokeh as it doesn't have this ability. To me it always looks horrid!
Better dynamic range – this can be quite technical, but it basically means being able to capture a larger range of data in the light and dark areas of a photo. So being able to see detail in the shadows and highlights.
Better color depth – this refers to the range of colors the sensor can capture, creating better transitions between colors, which means less banding in certain areas.
The Canon EOS RP is the entry level full frame camera, so while it doesn't have all the bells and whistles of its bigger brothers, it is a more than capable camera.
Added to this, are the video features that are typical of Canon camera bodies. 4K and Full HD in 23.98FPS up to 59.94FPS depending on mode. Pair that with the Dual Pixel autofocus and an external mic and you have a very capable video setup.
Final Thoughts
In a familiar theme to some previous camera articles I have made, you may have noticed I have stuck to recommending Canon as the best camera for teenager photographers.
The reason for this is that it is a brand I have used for over 10 years, and I have come to believe that they are the most reliable cameras available. The build quality is second to none.
You'll find many reviewers knocking Canon for the lack of features at times, but fast forward some time, and they're suddenly using the Canon as their main body. Funny that…
All my Canon cameras, as old as 10 years now still work to this day and I can still use them in a professional setup. They are simply built to not fail. This is a quality that none of the other brands share, which is why Canon is the choice of many pros.
Anyway, I hope this short guide on the best cameras for teens is of use, please write a comment below if you have any questions!
Links
You can also find me on YouTube, Instagram and Twitter.
Artist / Photographer / Videographer