We are an Affiliate!
We hope you love the products we recommend! As an Amazon Associate and affiliate of other programs we earn from qualifying purchases, and we may collect a share of sales or other compensation from the links on this page. Thank you if you use our links, we really appreciate it!
The holy grail of tech for the digital artist used to be the Wacom Cintiq line. I used to have the Cintiq 24HD, but it was just too big for me and years later I downsized to a tablet. But what about considering a smaller pen display instead?
The XP-PEN Artist 13.3 Pro is the perfect size for digital artists who prefer a minimalist setup, with some features better than Wacom's alternatives, and all at an affordable price.
Last update on 2023-09-23 / Affiliate links / Images from Amazon Product Advertising API
Disclaimer
XP-Pen kindly sent me this review unit for review. However all thoughts and conclusions are my own, with no restrictions put in place by XP-PEN.
There's a lot to discuss in more detail, but if you prefer the video format check out my YouTube review.
XP-Pen Artist 13.3 Pro Specs
Let's start off with the specs for this pen display, which are quite impressive for the price point:
Product dimensions: 39 x 25 x 1.29cm
Active area: 29.3 x 16.5cm
Fully laminated screen (with nearly no parallax)
Screen: 13.3 inches with 1920 x 1080 resolution
Panel type: IPS
Colors: 16.7 million
Input: USB-C
Graphic ports supported: HDMI, miniDisplay
Pen does not require battery
Pressure sensitivity: 8,192 levels
Up to 60° Tilt function support (in Photoshop, Painter, Krita and Gimp)
What's in the Box
The XP-PEN Artist 13.3 Pro packaging feels premium. I was given the 'Holiday edition' which I believe is just a different design for the packaging as opposed to new product features.
But you do get some extra promotional merchandise, a poster and jig saw puzzle.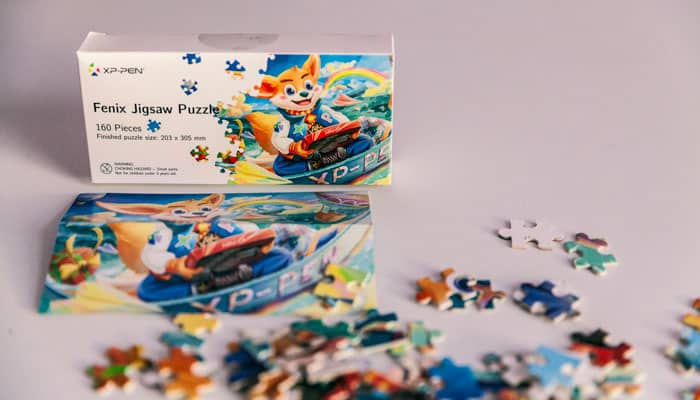 The box is wrapped in cellophane which means no issues with dust, which as a personal preference I like, as I know it won't have been tampered with during transit.
The box packaging is made of a thicker card that feels solid and would definitely protect it from damage if it fell.
Overall, even without the nice addition of the included art piece and puzzle, I would give the packaging a score of 8, with the standards of say Apple being a 10.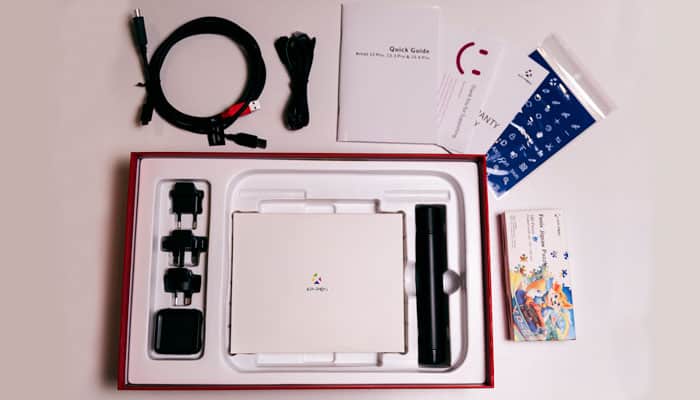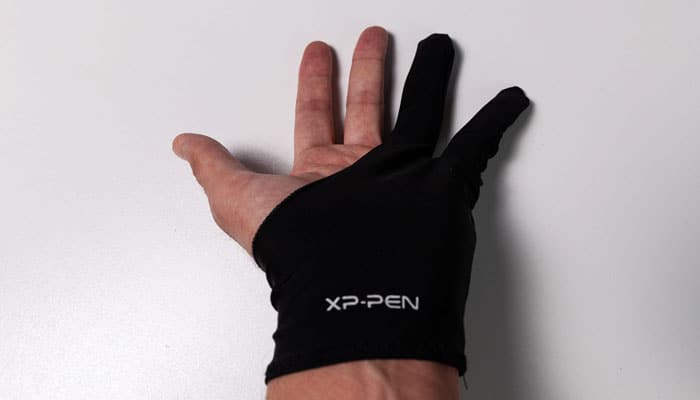 Included in the box are:
Pen display
Pen and case (with 8 replacement nibs)
3-to-1 data/power cable
USB extension cable
Mini-Display to full-size HDMI adapter
Power plug (with international adapters)
Manual
Warranty
Pen display stand
Drawing glove
Cloth
Promotional art and Puzzle (with the Holiday Edition)
XP-PEN Artist 13.3 Pro Display
First off, it's not a 4K display, it's 1080p, but don't let that dissuade you, as I don't think it's possible at the moment to have 4K at this price point. But I could see no lacking in the display quality, because it is a smaller display. The details and colors on a screen of this size is more than satisfactory for most user needs.
Brightness
Brightness is good, the brightness levels on the display are just under 200 nits, which is around what the average laptop screen brightness levels are.
In comparison, XP-PEN's own 22" display has been measured at 250 nits. But I think any need for higher brightness levels would depend on whether you plan to take the display for outdoor use.
Color
I use the Datacolor Spyder X color calibration device to calibrate all my monitors and this is how I will calibrate my colors. XP-PEN rate the display at 88% NTSC , Adobe® RGB≧91%,sRGB≧123%.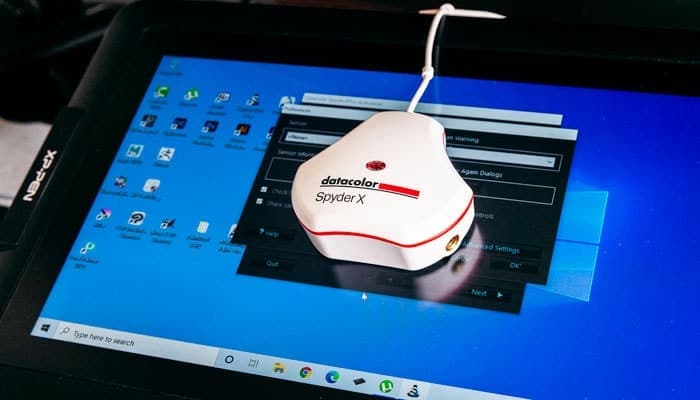 Straight out of the box the colors look great, and you only really need to calibrate it straight away if you need to match colors to your second monitor.
Otherwise it's still wise to calibrate every few months, as monitor quality does slowly diminish over time.
The screen is pretty color accurate so I would definitely recommend this screen for personal and professional photo editing that does not require high color fidelity. But for high fidelity professional grade color accuracy, like photo studio work, I would pair this with a reference display.
I personally use my BenQ SW271 which is a high benchmark for color accuracy, and I was glad to see the color consistency between the two was quite consistent.
Laminated Display and Screen Parallax
The XP-PEN Artist 13.3 Pro has almost no parallax at all (zero parallax until you look extra closeup), which is most impressive indeed, and what has really convinced me to return to considering pen displays again.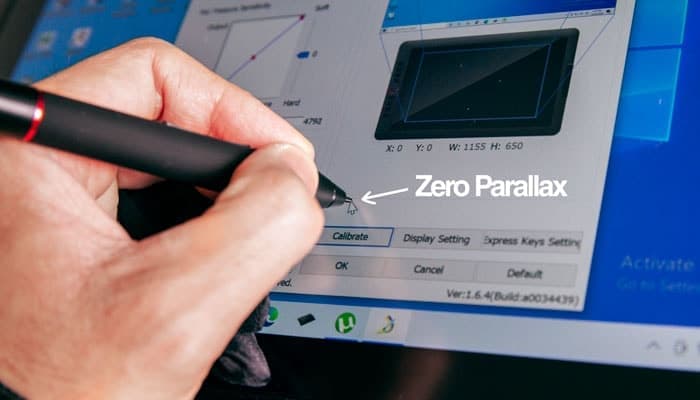 This is due to the design of the display being made of fully-laminated glass.
I think one of the biggest cons of using the older generation of Cintiqs was the very noticeable parallax. For me it absolutely took me out of the zone when I was drawing with it, but it was something I became used to.
With almost no parallax it is now similar to the iPad Pro 12.9"; the feeling of ink flowing from the pen is really a lovely feeling for an artist, and helps create a distraction free experience when drawing. That is actually XP-PEN's own words from their promotional material, but it's really true!
Interestingly, the Wacom One 13.3″, which is the direct competitor to this display, still has noticeable parallax.
The XP-PEN screen also has a matte non-glare finish which adds a bit more texture and feels more traditional. Matte finishes usually dull the screen, but I don't see that and it's a trade-off I am happy with.
Screen Protector
Get one! Nibs wear down to a sharp edge and can scratch screens, no matter how tough the manufacturer will claim it to be.
I had this issue with my old Cintiq and I can tell you, nothing is more grating than making a stroke and mid stride going over a scratch.
This is probably why I love the Apple Pen so much, the tip is a soft rubber and I think superior to the nib alternative.
Does the XP-PEN Artist 13.3 Pro's Screen Heat Up?
I have noted that the screen does not heat up very much at all when the display has been on for a few hours.
My Cintiq 24HD would get fairly warm to the touch, and I would give it a break by switching it off so it would never get to a heat that would be uncomfortable to work on.
So the cool factor of this particular pen display was a welcome feature to see.
Design
From my personal preference, as someone who is trying to minimize my workspace and tool set, the 13.3" display is quite refreshing. I don't feel too claustrophobic when I'm drawing, the screen real estate is more than plenty.
I have the iPad Pro 12.9" model so I am now used to this size and form factor, so if you find the iPad adequate, the XP-PEN which is actually slightly bigger in the active area, will be too.
There is a school of thought that the bigger the display the better, and I fell into this line of thought purchasing the huge Cintiq 24HD. I think in many use cases this still holds true, but I really love the benefits of a pen display I can use anywhere.
Not being chained to one desk is incredibly liberating, because I don't always feel in the mood to digitally create in the same place. Sometimes I'll prefer to create on the couch with Netflix on in the background!
Pen Design and Nibs
Wacom uses a puck with the nibs stored inside, much like a traditional dip pen inkwell, so on the desk this looks and functions better, because I just grab it and go.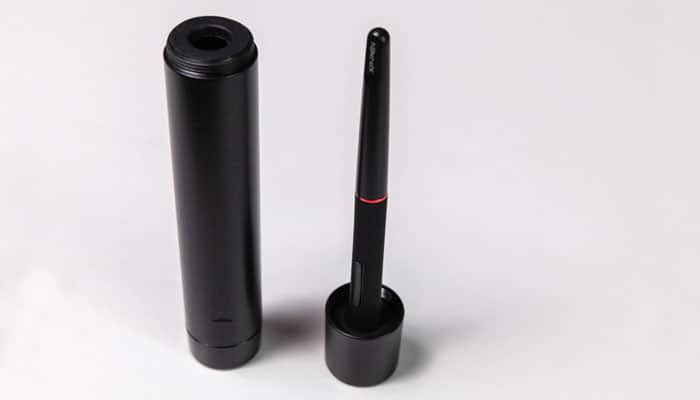 The XP-PEN pen holder is in a black cylinder with the nibs at the opposite end. You can just use the end cap to hold it on the table but it isn't as stable as the Wacom alternative, and then you have to put the pen cylinder away.
But if you travel with your display then this is much better than the Wacom for portability.
Is the XP-PEN Artist 13.3 Pro Portable?
The XP-PEN Artist 13.3 Pro is a great size display for traveling. The physical dimensions are 39 x 25 x 1.29cm. An accompanying MacBook Pro which is 35.79 x 24.59cm x 1.62 is almost a match in size.
So size wise both should fit in bags which have sleeves designed into them for laptops. I should note the combined weight for the XP-PEN and MacBook Pro is 4kg with both devices at 2kg each.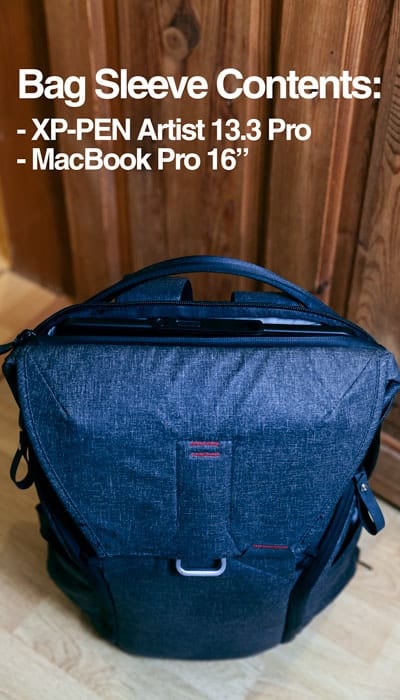 This is my Peak Design Everyday bag 20L, and it has more than enough room to carry the XP-PEN Artist 13.3 Pro and an old MacBook Pro 16″.
However for comparison the iPad Pro 12.9" which is a more than perfect size pen tablet is 641g for a combined weight of 3.6kg if you packed it with a MacBook Pro 16".
I should point out that the XP-PEN Artist 13.3 Pro needs to have an accompanying laptop to function, so you are taking the 2kg plus whatever weight your laptop is.
Whereas with an iPad Pro 12.9" you wouldn't need the MacBook for it to work. But then you are working with iOS only in that case. I work in Mac OS or Windows as I use the Adobe Suite, so for me I would need the MacBook Pro and iPad as a second screen.
So if weight is a paramount concern to you, you would have to weigh up whether your entire workflow could work in iOS only, which would mean a huge weight saving.
For me I can't do that, iOS is just not there yet. Once iOS is on par with the desktop OS with apps and ergonomics then maybe. But for now, the XP-PEN with a MacBook Pro is the superior combination.
There's also the option of the XP-PEN 12" pen display to consider too, which is obviously smaller. I do not have that display at hand, but my intuition feels I would prefer the screen real estate of the 13.3" pen display over the 12".
XP-PEN Artist 13.3 Pro Express Keys
Similar to Wacom, the XP-PEN 13.3 Pro has physical buttons. To be precise, eight fully customizable buttons. However where the XP-PEN excels is with the circle dial button.
Red Dial
I cannot emphasize how much better a physical red dial is compared to the tactile one on the Wacom. On my Cintiq and Intuos Pro I mapped the circle button to brush size and zoom, but it's finicky or never precise, I always overshoot by a few percent.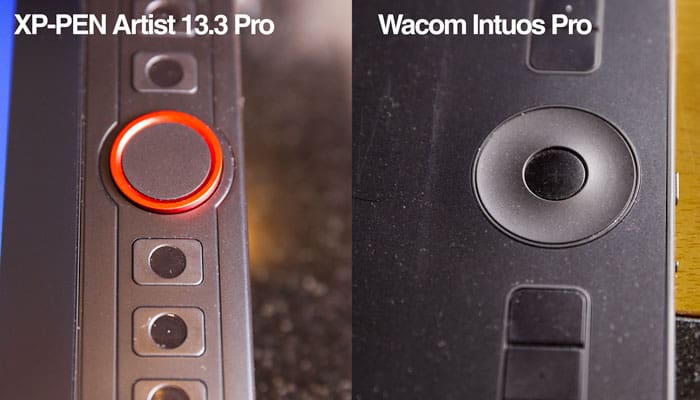 Sometimes the Wacom doesn't even register my finger, so I've ended up not using it.
Instead I've just gone back to the keyboard shortcuts with the super precise [ and ] for brush size and Ctrl + or – for zooming in and out.
The XP-PEN dial is much much more precise! While the Wacom dial and buttons look slick, the XP-PEN buttons are much more functional for me, I can dial in the brush size perfectly, and faster than the keyboard shortcuts. This is a huge advantage over the Wacom which I cannot emphasize more on.
One advantage the Wacom dial does have over XP-PEN's is that you can quickly change the dial to different options, like zoom and brush size, but this is only available on the Cintiq controls.
XP-PEN Artist 13.3 Pro Pen
The XP-PEN Artist 13.3 Pro pen is really nice to use because it has a very familiar feel and look to it.
The Wacom Pro Pen 2 is a good pen if a little bulky for me, and being very similar to the Wacom pen isn't going to be a bad thing.
Although Wacom have actually introduced a slimmer pen now, the Wacom Pro Pen Slim, which is very very expensive. But it still isn't as slim as the Apple Pen.
Comparing it to the Apple Pencil, I would have to give the win to Apple. The Apple Pencil 2 is slim and round with a bevelled edge which feels great in the hand. The absence of buttons makes it feel more traditional.
The Apple Pen 2 actually just requires taps to change function (eraser) which I feel is far better than buttons.
However one good thing that the XP-PEN pen has over the Apple Pen 2 is that it is battery free.
This is a big advantage. Because both the iPad Pro and the Apple Pen require battery charging and few times now I have gone to use the iPad Pro and one of them is out of battery.
The XP-PEN, though, is always ready to go to work.
Adobe Photoshop Pen Test
This is my most used Adobe software application, and for me this is the most important app. I will perform five tests and do the same for all the apps in this list:
1. Stroke Flow and Pressure Test
Using the standard round brush with pen pressure I will check the general pen pressure, does it flow well? Does it feel natural? I do this by going from thin to thick and then back to thin. As you can see it looks smooth and natural to me which is good. I also did one stroke with the pen pressure only brush.
2. Fast Strokes Test
Another test is to paint fast strokes in hatched lines. This is to see if there are any odd blobs in the stroke at the tapered ends.
I can report that even when I paint fast the XP-PEN pen with Photoshop manages to keep up.
3. Slow Angled Stroke Test
Conversely let's now try a stroke drawn slowly at an angle to see if there are any noticeable wobbles, jitter or blobs that aren't the result of my natural hand wobble.
Because I'm human and not a robot I will naturally have a little bit of a wobble in my hand.
The good news is the stroke looks pretty good to me. We can actually take this further and use a ruler. The line made with a ruler should be perfectly straight, so any blobs or wobbles would be an issue unrelated to my hand.
I know you don't need a ruler to make a straight line, but it's a test to see if there are any software glitches like blobs when there should be a perfect line. I've indicated this with the red stroke.
And there are no issues. That is a pretty straight as an arrow line right there!
4. Holding Pressure Test
The XP-PEN Artist 13.3 Pro pen has over 8000 levels of pressure sensitivity, and to be honest I don't really take advantage of this as much as I should, but you can vary the weight of the line well with a bit of pressure.
I test this by drawing circles so you can see if the stroke looks uniform when I try to maintain a consistent stroke pressure.
Doing a thick circle, then a normal pressure circle and then holding down lighter for a thinner circle there are no noticeable blobs anywhere or blow outs.
I think part of the reason I don't use pressure sensitivity as much is my worry that I'll scratch my screen like I did with my old Cintiq!
Tilt Test
The pen supports up to 60° of tilt support, but honestly I don't really use tilt when I draw. I can report it does work, albeit not as fluid as with my Wacom Intuos Pro.
Adobe Illustrator Pen Test
Illustrator is another 2D software I regularly use, but it's not a drawing program, it's a vector based program. However I still use plug-ins that have a drawing element.
This is just a simple freehand drawing test. Using DynamicSketch from Astute Graphics I found drawing a pen path was free flowing and accurate.
Clip Studio Paint Ex Pen Test
I only use Clip Studio Paint for it's 3D model posing tool which I feel is such a helpful tool. So I don't draw in it often, I much prefer Adobe Photoshop.

However since I do own it I have an opportunity to see if the issue that Teoh Yi Chi noticed in his YouTube video found was still there. Teoh had an issue of stray blobs when he drew circles.
I couldn't repliate this issue, so I am going to put that down to an issue that has been rectified with newer drivers.
All the tests were positive. Strokes have no issues and are exactly how I expected them to be.
Corel Painter Pen Test
Another successful test. I used a few standard brushes to better show size pressure and opacity pressure.

The line strokes were really nice. Again I've added red stroke made by a ruler. The tilt is better than in Clip Studio Pro, but it may just be brush settings.
MediaBang Paint Pro Pen Test

Not a big fan of this app, I don't particularly like the brushes and I had a bit of a headache with the driver not working with this program, but after some Googling I restored the pen pressure. It then performed adequately. No issues.
zBrush Pen Test
zBrush is a 3D sculpting program. It's probably the most used and popular one in film VFX and Game design.
It's also a 3D program that takes full advantage of pen pressure by adjusting the Z intensity in the options panel. I can perform the same tests with a flat plane.
The pen worked like a charm in zBrush. It feels even more like sculpting with layers of clay when you use pen pressure.
How to Install the XP-PEN Artist 13.3 Pro Driver (Windows)
Unfortunately like most tablets and pen displays, the XP-PEN Artist 13.3 Pro is not a plug and play device. Well it almost is, it actually worked before I installed the driver.
However once I installed an up to date driver the performance was much more solid. With the settings app there are lots of options to tailor the display and buttons to your drawing style.
Pre-installed Wacom Drivers
Wait Wacom users! If you already have a Wacom device installed, you will in some cases need to uninstall the driver first before installing the XP-PEN driver to avoid any conflicts. I use a Wacom Intuos Pro Medium and needed to do this. I cannot use a Wacom tablet again without removing the XP-PEN driver and vice versa.
Installing the driver for the XP-PEN 13.3 Pro requires a few steps, so here outlined are the steps for installing the driver:
Step 1
Once everything is unpacked and the films peeled and removed, connect the USB cable into the pen display.
Step 2
On the other end, connect the HDMI cable and USB cable to the correct ports on your computer.
The red USB port can be connected to the extra USB wire and power adapter and then plugged into a wall socket, but you can also plug it into the computer and power it that way.
Step 3
Go to the official XP-PEN website to download the latest driver for Artist Pro 13.3. Unpack and install.
Step 4
You'll now have access to the Pen Tablet app where you can make all sorts of changes to tailor the pen display and pen to your drawing preference.
The main change I like to do is to the pen pressure sensitivity. I tend to prefer not to have to press hard to get stronger strokes so I set the curve to look like this:
Step 5
You can also click on calibrate to fine tune the cursor and pen tip calibration. Mine was perfect straight out of box.
Step 6
Next I customise the express keys. Every artist will have a different set of commands. But I would suggest some staple commands: Undo (Ctrl+Z), Save (Ctrl+S), Brush (b), Hand (h).
I then customize the red wheel to brush size: [ and ].
Wacom User Issues (Windows)
Every tablet brand will at some point have driver issues. I can't list all the solutions in this article, but I can highlight some things I did.
With Wacom I have always had an issue with Windows Ink, and deselected it to get 'pen and flicks' to work properly but then lost pen pressure. I had to change the PSUserConfig to solve this.
With XP-PEN I had to remove the PSUserConfig and make sure Windows Ink is selected to get pen pressure to work.
Should You Buy the XP-PEN Artist 13.3 Pro?
Firstly are there any cons? I have to say there is very little to complain about considering the value for money.
You could argue the 1080p is a con, but I don't think that's feasible to have 4K at this price point. Also at this size it's really not a big deal.
It's worth noting the iPad Pro 12.9" which I have looked at as another alternative to this display is not a 4K display either. It is in actual fact a little more than 1080p but still enough to see the difference between it and a 4K display.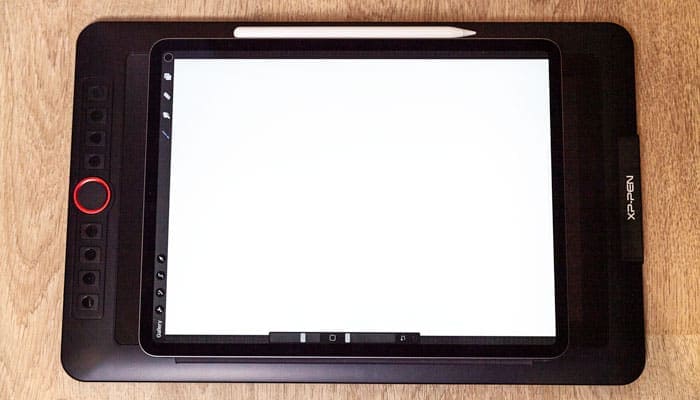 Is the XP-Pen Artist 13.3 Pro better than using an iPad though? Well I'll do a further article on a comparison between these two to find out.
I do miss the touch features from the iPad and my Wacom Intuos Pro tablet. Being able to use my other hand to scroll and pinch does make for a more productive and faster workflow.
So I would say considering the value for money this is a great display for drawing. You are actually getting more value with features and specs for your money.
Especially when you compare this against the 13.3″ Wacom One which has half the pen pressure levels, screen parallax and is more expensive.
Wacom have for too long been the only player in the pen display market and because of this their prices have always been sky high. Credit to them though, they have always put out quality displays.
But the emergence of brands like XP-PEN offering displays that are just as good if not better is a win for all digital artists. The increased competition will push everyone to create better displays and drive the price down.
And with this monitor from XP-PEN we are now really seeing the results of market competition – the best budget drawing tablet with screen. So there's a con for me, I wish this display came out when I was younger!
Links
You can purchase the display tablet using these links. The official XP-PEN store occasionally has amazing promotional deals so it's worth checking out:
NA: https://bit.ly/3oQDcTc
UK: https://bit.ly/3ap7N6z
EU: https://bit.ly/3qZ1xIb
AUS: https://bit.ly/3oROdnd
SEA: https://bit.ly/34a3FDi
Artist / Photographer / Videographer