We are an Affiliate!
We hope you love the products we recommend! As an Amazon Associate and affiliate of other programs we earn from qualifying purchases, and we may collect a share of sales or other compensation from the links on this page. Thank you if you use our links, we really appreciate it!
As a digital content creator producing photos, I am also creating design and video content too. The monitor I work with needs to have the best color accuracy, with enough screen real estate at an affordable price point.
My search led me to the BenQ SW271, which I think may be the best monitor for photo video editing for its price point for my business.
Last update on 2022-09-22 / Affiliate links / Images from Amazon Product Advertising API
In this review I'll tell you why this is great budget alternative to expensive reference displays.
Reference Display Alternative
The dream monitor for most content creators would be a professional reference display with built in scopes or LUT control. Like an Eizo, Flanders Scientific, Atmos or Sony, but even then, it's more than necessary for your requirements.
For a fraction of the price BenQ offer some truly great color accurate monitors. BenQ's SW PhotoVue line is targeted specifically at photographers looking for the best color accuracy at this price point.
BenQ SW271 Specifications
The BenQ SW271 is a 27' 4K IPS monitor, which has been primarily marketed to photographers.
It's a 4K UHD display (3840 x 2160 resolution), with BenQ's AQCOLOR technology.
AQCOLOR was designed to meet industry color standards. The technology allows users to have better control over the color reproduction, with the aid of hardware calibration tools like the DataColor Spyder Pro or BenQ's own Palette Master Elements software, which I never got working correctly.

The 10bit display covers 99% of the Adobe RGB color space to offer a larger range of colors.
Design
The BenQ SW271 is very well designed with thin bezels on the top and sides.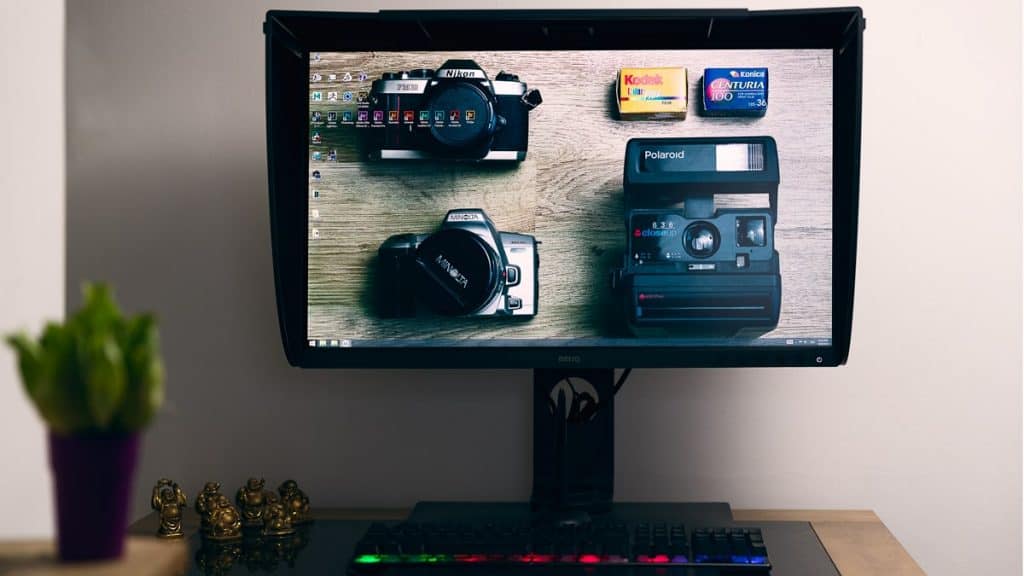 It's pretty standard, but it feels well made and after a few months has had no issues. The display can be tilted into portrait view from standard landscape.

Ergonomically the BenQ SW271 features a circular cutout in the stand where the power, puck and monitor cables can go through so you don't have a mess of cables spraying out.

The screen has an anti-glare layer on the matte screen to minimise glare when looking from different angles. In fact you can notice a red cast as opposed to a green cast from other IPS screens.
BenQ SW271 Ports
On the side rear is an SD card reader and 2x USB 3.0 ports. Because they are not on the side of the monitor but in a recessed area, I found that they are a little tricky to find and requires a bit of reaching. But this is necessary if you want to use the supplied hood.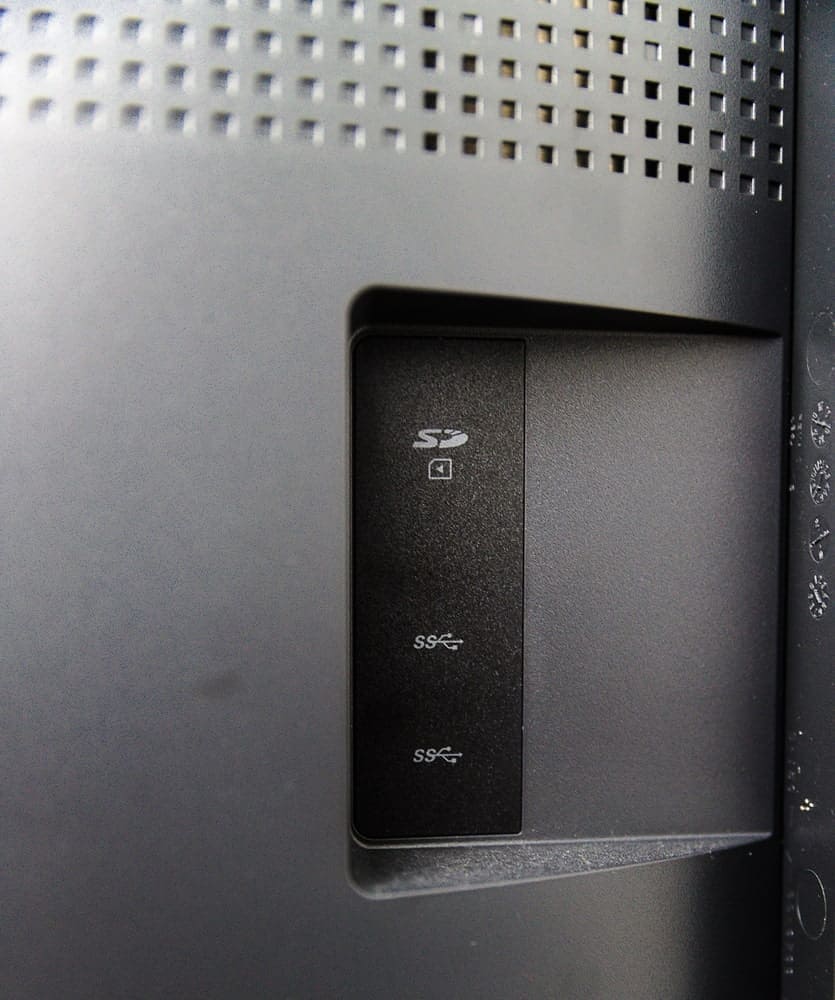 At the bottom underneath there is a:
Micro USB port
Video ports: 2x HDMI 2.0, 1x DisplayPort 1.4
USB-C with 10w of power delivery
USB upstream port
3.5mm Audio Jack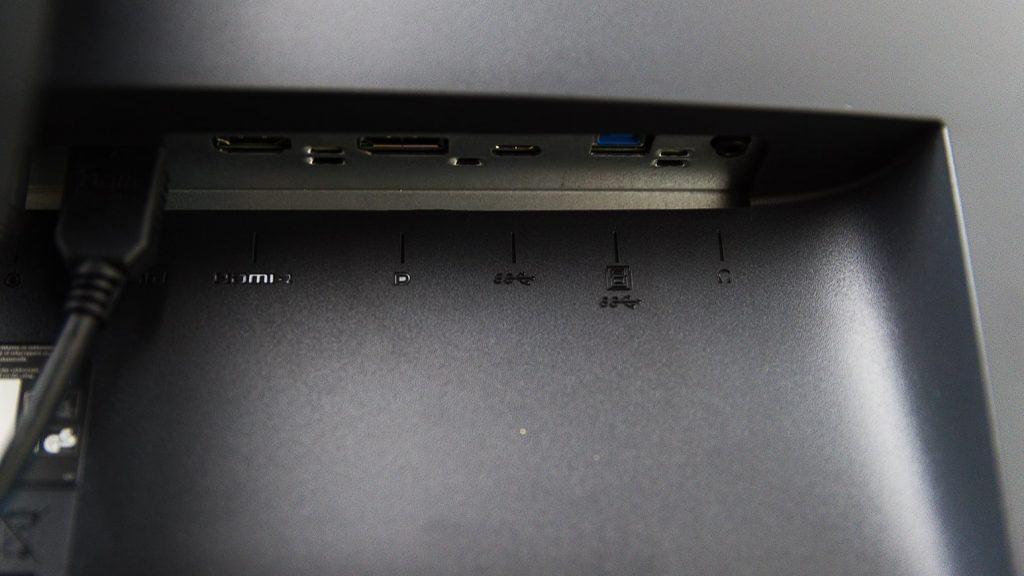 Hotkey Puck Controller
Using the MicroUSB port is the Hotkey Puck Controller which you can use to change the color space from Adobe RGB to black and white to SRG color to Rec. 709. to DCI-3.

Or you can use it to access the monitor controls which are on the bottom right of the monitor.

It's useful for those needing to switch between color spaces but for myself I hardly use it.
BenQ SW271 User Experience
This was my first 4K monitor and also the largest monitor I've ever used, having come from a 24" and 21" monitors set up. I feel like it is the perfect size. If I did need to go wider, I think a second monitor would be more suitable than replacing it with a wider one.

One issue or adapting I had to make was UI sizing for certain programs. I would have to scale the UI from 100 to 200% to be able to see the UI clearly. This can be corrected easily in Display settings if you're running Windows.

Color reproduction is excellent. Images are clearer and accurate. You see colors in a photo or video as close to exactly how you saw them when captured or filmed.

While the BenQ SW271 is calibrated correctly at the factory, after a few weeks all monitors shift their colors.

To make sure I have accurate colors I recalibrate the monitor every fortnight using the DataColor Spyder Pro.
Finally
For what you are getting for the price it is really quite a bargain. While this is not a reference monitor, you are getting as close as possible to reference monitor quality, it really is the best monitor for photo video editing I have used.

The BenQ Palette Master Elements software was unusable. I had to use my Datacolor Spyder Pro software and measuring. The results showed the monitor displayed slightly cooler colors before being calibrated. You will need to calibrate often to keep the colors accurate.

I've also experienced no technical issues at all in my 3 months of usage. It worked straight out of the box. It should be noted it was also very easy to set up.

I would definitely recommend this monitor. The closest rivals would be a Dell or BenQ's other monitor offerings.
Links
If this review has helped you decide to purchase the BenQ SW271 check out my affiliate link below:
Check out my YouTube channel for the video review and the gear I use with my monitor. Also check out how this monitor can help you with your photography business here.

Artist / Photographer / Videographer