We are an Affiliate!
We hope you love the products we recommend! As an Amazon Associate and affiliate of other programs we earn from qualifying purchases, and we may collect a share of sales or other compensation from the links on this page. Thank you if you use our links, we really appreciate it!
The best designed templates or themes aren't just reserved for Squarespace. With a little digging and research you can find some very deliciously designed WordPress themes like Squarespace, some are even better!
With a little further tinkering you can achieve some beautiful looking websites, with all the functionality of WordPress.
Some of the five that I've listed do require you to pay for a licence. If you're after the best free wordpress themes for your photography business, click here.
But remember with 'paid for' themes you will get a little extra functionality and features. You will also get better support.
Cost: $59 USD

Uncode has a five star rating from over two thousand reviews. Some select comments highlight the great support and the themes versatility.
The theme does advertise that it is a multiuse theme, but I do think its strong suit is as a Portfolio website. And it's definitely one of the best WordPress themes like Squarespace.
Design
I picked Uncode as my first suggestion, because it has to be one the best portfolio designed themes on WordPress.
Features
Uncode is bundled with Visual Composer and a few other plugins required if you want to install any of their demo sites:
Uncode Core (mandatory)
Uncode Visual Composer (mandatory)
Visual Composer Clipboard
VC Particles Background
Category Order and Taxonomy Terms Order
Contact Form 7
Envato WordPress Toolkit
I Recommend This
Layer Slider
Revolution Slider
Uncode Dave's WordPress Live Search
Uncode Related Posts for WordPress
WooCommerce
As with a few themes highlighted in this post, Visual Composer is a good page builder, which I have found to be user friendly.
The theme is highly customisable while still featuring lots of predesigned templates to tinker with.
2. Hitchcock
Cost: Free
WordPress Rating: 4.5/5

Hitchcock as of January 2019 has over 270,000 downloads. It's a definitely a popular theme aimed at photographers and creatives.
Design
It features a minimalistic portfolio theme with a tile design that supports a gallery post format that can also be used by bloggers.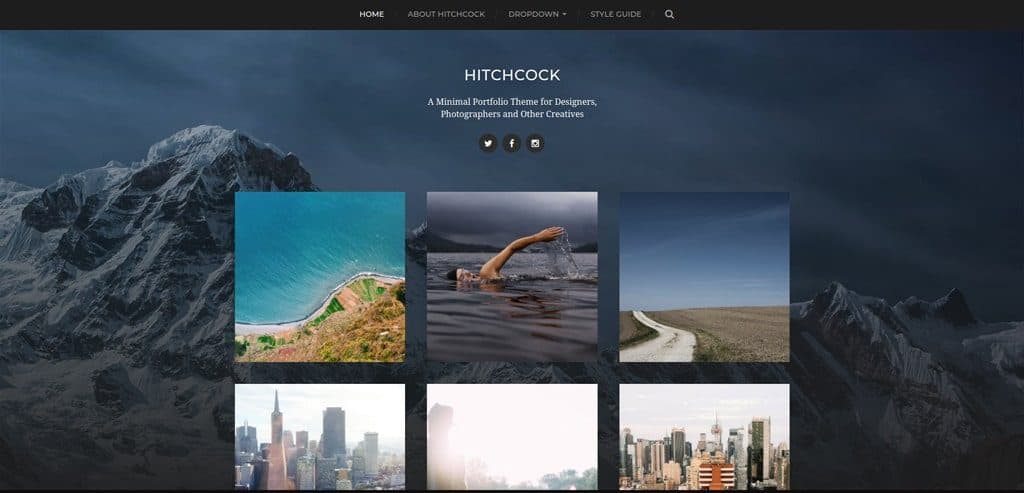 The background is a static image, which of course, can be customised.

If you want a WordPress theme like Squarespace portfolio style, this is one the themes that can get you there.
Features
Hitchcock has quite a few features:

Gutenberg Support
Social Icon Menu
Jetpack Infinite Scroll
Custom Accent Colour
Custom Header Image
The theme layout can be easily customised. It is optimised for all your devices, mobile, tablet and desktop.

It also comes with a search bar, mobile menu and translation ready code.

The jetpack infinite scroll means it will load more posts as the viewer reaches the bottom of the page, lazy load like.

For a free theme, you get a lot of the essential features, without the bells and whistles you get from paid for themes.
Cost: $59 USD

Oshine is one of ThemeForest's most popular themes with over 22,000 purchases. Created by BrandExponents, a development team from India.
This theme is one of the best WordPress themes like Squarespace on the market today.
Oshine is multi layered, multi purpose theme aimed at photographers, bloggers, creatives and businesses.
Design
What's great about Oshine is the abundance of demos you can install. And there are some very tasty ones.
Poorly named 'V17 – Photography' demo version is probably my personal favorite amongst the available demos.

Everything is very smooth, the transitions, the menu dropdown, the slider; this theme would give a few Squarespace templates a run for its money.

Features
Oshine requires a few mandatory plugins to run it:

BE Page Builder
BE Portfolio Post Type
BE one click import
Meta Box Conditional Logic
Meta Box Show Hide
Meta Box Tabs
Master Slider (Bundled with theme)
Slider Revolution (Bundled with theme)
Oshine uses a very easy to use page builder. Much like in Squarespace, you get to see the results of customisations straight away.

This is as opposed to usual WordPress themes where you need to go to the backend to change settings, and then revert back to the front end to see the results.

Oshine is also Retina and Responsive ready, so it is optimised to be displayed on any type of device of varying screen sizes.

For bloggers there are 8 blog layouts to choose from, supporting masonry, medium and large thumbnail layouts.

Oshine is definitely one of my favourite WordPress theme designs available today.

With decent priced hosting and the initial upfront cost to buy the theme, it works out significantly cheaper than Squarespace.
Cost $59
Photosy is a minimalist theme focused on Photography and features over 30 demo sites to choose from.
Design
There are several landing page designs which really caught my eye. The endless scrolling landing page it perfect for showcasing photo collections.
Intro project carousel is a nice feature which is usually a paid for extra plugin.
You can integrate your Instagram feed into the theme which is important.
Features
Photosy uses the Visual Composer like Newspaper 9. Having used this page builder for my own personal website on a daily basis I can attest to its easy of use.
You get a choice of five default header styles, all minimalist in design. Google fonts are available which is a large collection to choose from.
Cost: $59
Ok so ostensibly this might be an odd choice, but hear me out. I have argued why a Photographer might need more than a portfolio website.
And if you want more than a portfolio website then you are probably going to blog or create a resource website which also showcases your portfolio, as I have done.

If that's the case, in my research I have found that Newspaper 11 is the best option. And if you haven't guessed, this is the theme I chose.
Of all the WordPress themes like Squarespace I have suggested, this one will take the most work.
Design
Newspaper 9 won't win the top awards for design. But it's still well designed aesthetically. Out of the box, with a little tweaking, the right font, the right colour scheme, will do wonders.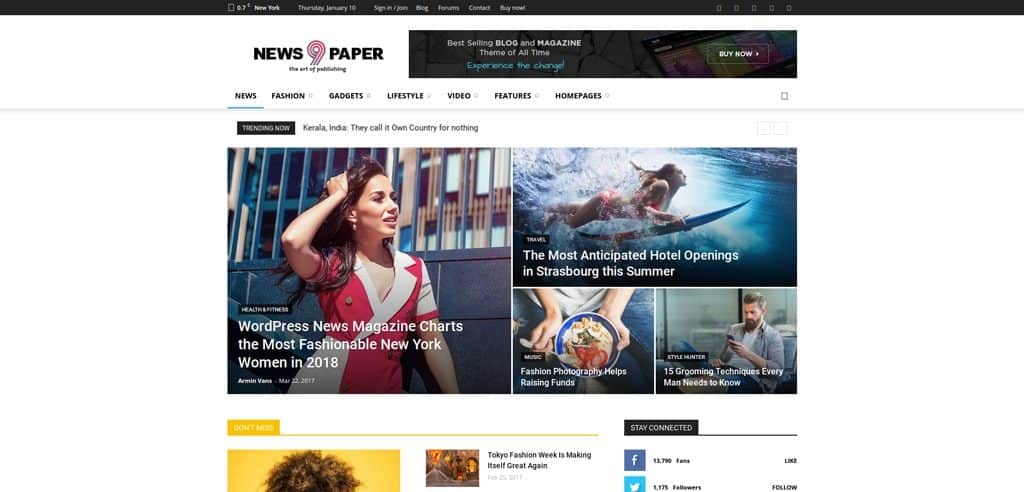 So once you've changed a few settings I think it looks good; a statement this website can hopefully justify.
Features
Newspaper 11 comes bundled with really only one required Plugin, tagDiv composer. You need to a few other tagDiv Plugins if you want to use one of the demo sites.

I would also suggest WP Bakery. This in conjunction with tagDiv composer allows you to build some really great looking professional pages.

Final Thoughts
With the unlimited functionality coupled with one of these great WordPress themes like Squarespace, you can easily create a website to rival and better Squarespace for your business.

If any of these themes take your fancy, and you are about to start your WordPress journey, use my comprehensive 'Step by Step guide to creating a WordPress website'. I'll take you through everything you need to know from start to finish..
Don't forget to check out my YouTube!
Artist / Photographer / Videographer