We are an Affiliate!
We hope you love the products we recommend! As an Amazon Associate and affiliate of other programs we earn from qualifying purchases, and we may collect a share of sales or other compensation from the links on this page. Thank you if you use our links, we really appreciate it!
In all my years working in professional photography I have never given much thought to the need of a universal L bracket, until I found out about the 3 Legged Thing Ellie from the British tripod maker.
Changing from landscape to portrait using the tripod ball head has always been simple enough for me with my Sirui tripod. The Canon EOS 5D mark II and then my Canon EOS 80D were both light enough to be held at a 90° angle.
No products found.
My Canon EOS 1DX Mark II is a different matter altogether. While it can be held at that angle, it's only for so long before it starts to slide due to its weight.
Adjusting it to be precisely 90° takes a few seconds longer than is needed. That is extra time that could be the difference between getting the shot, or missing it. The L bracket frees you from this, allowing you to interchange framing easily and swiftly, while always maintaining stability.
In this review I'll show you why this universal L bracket is worth purchasing and how I've got on with it.
Why This Universal L Bracket?
3 Legged Thing is an innovative British company who have been building tripods and camera accessories since 2010.
Their great tripod L Bracket, Ellie, is made of aerospace magnesium grade alloy; it is the culmination of years of development, built on the foundations of their QR11 bracket released in 2017.

I initially looked to purchasing the QR11-FBC/G, which is the QR11 variation for taller camera bodies like the Canon EOS 1DX Mark II or a 5D body with extended battery grip.

However since I own a few different size camera bodies the innovative extending arms means I will be able to use this universal L Bracket on any camera.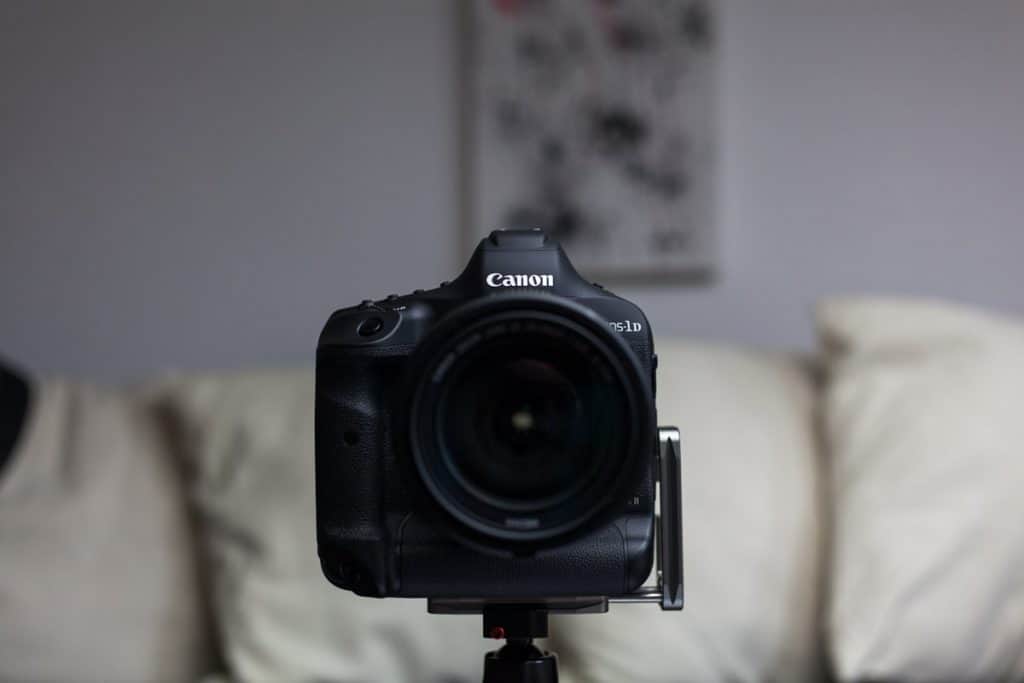 Ellie has two screw mounts at the base for extra adjustment for different camera body widths.

The innovation with the 3 Legged Thing Ellie is that you can adjust the two rigid stainless steel sliding bars for optimal positioning.

The rear of the base plate is sloped to allow you to access vari-tilt screens (although I have not tested how good this is as I do not have a tilt screen).

The vertical part of the bracket has an opening on one side which allows camera accessories with L shaped cable pins (like the Rode Video Mic Pro Plus) to be attached without obstruction.

The vertical part of the bracket can be rotated around to suit user preference using the supplied dual-ended mini tool which has the two allen key sizes for the L Bracket's screws. You have a possible 8 side configurations for the vertical aspect.
With the base, in total there are 9 possible configurations to suit your camera set up.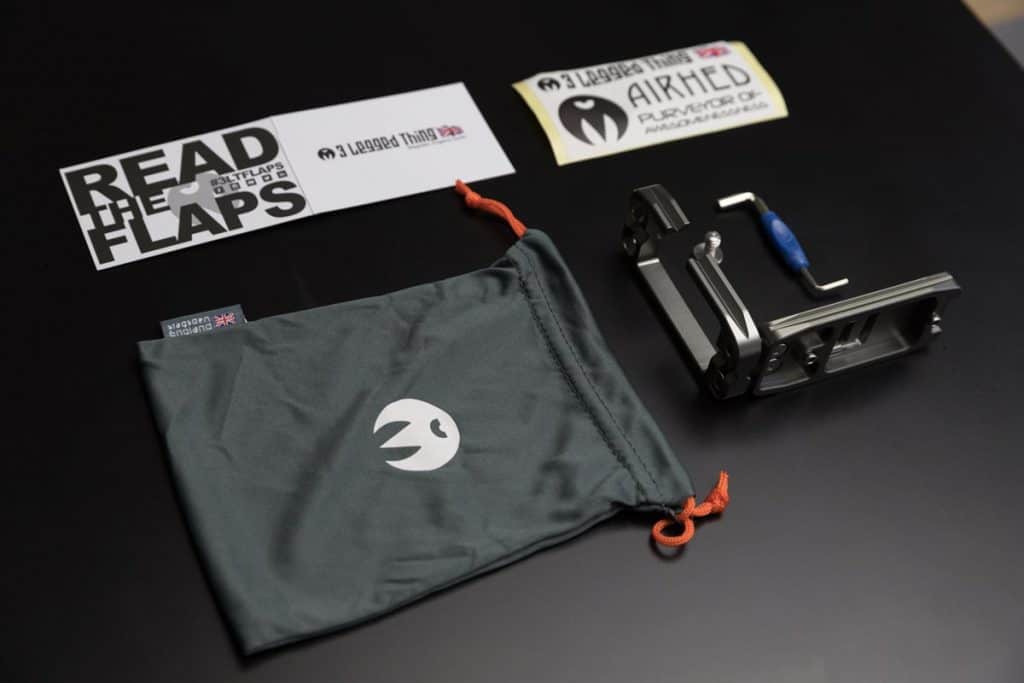 The vertical part also has ¼"-20 screw mounts allowing you to attach extra camera accessories like microphones, monitors and flashes.
Arca Swiss Quick Release System
The 3 Legged Thing Ellie supports Arca Swiss plates which was a condition I had for purchasing. I was not keen on buying new ball heads for all my tripods.
So for instance I could not not use a Manfrotto L bracket, but if I ever want to use a Arca Swiss L bracket or a brand compatible with Arca Swiss, the option is there.
I have been able to use the Ellie with my Sirui tripod:
and Joby gorilla tripod with Ball-X head: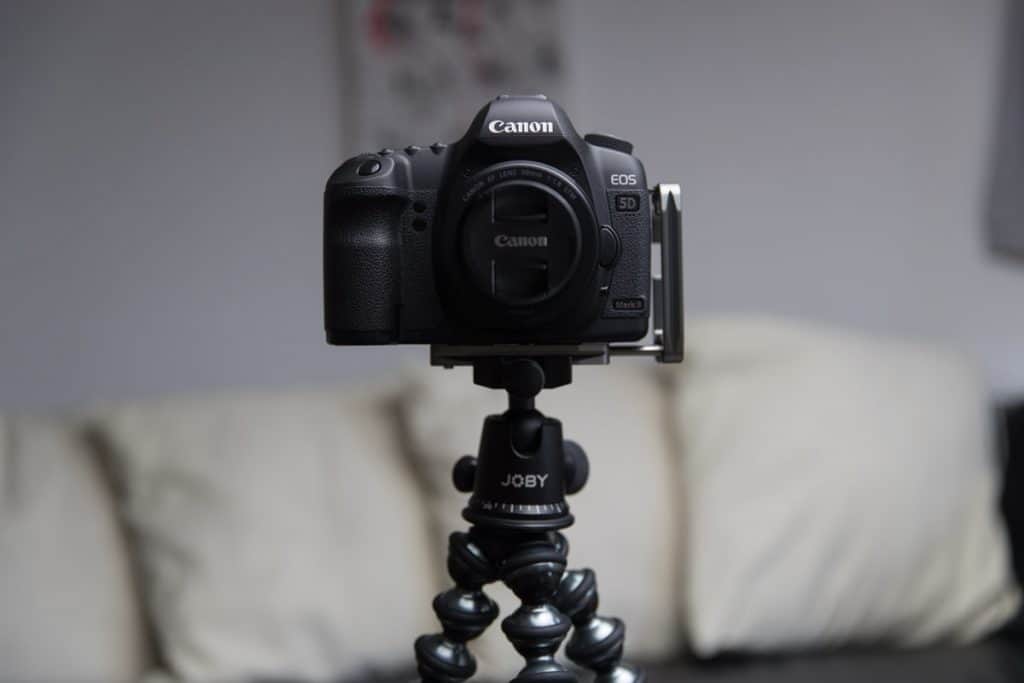 So no need to spend extra money changing ball heads. I have been looking at ReallyRightStuff tripods and ballheads as future gear updates.

One reason, is for ReallyRightStuff's clamp design ball head. ReallyRightStuff ballheads support the Arca Swiss system. Both the BH-55 (clamp) and BH-40 (Lever) can be used with Arca Swiss plates.
Manfrotto tripods can be converted to the Arca Swiss quick release system. Other notable brands that support the Arca Swiss quick release system are Giottos, MeFoto, Acratech and Arca Swiss' own tripod range.

Price
Ellie retails at the same price for both colors, Copper and Slate Metallic Grey. I purchased mine through WexPhotoVideo who are a reputable seller whom I have used many times. But it is now available on Amazon, which is usually my first choice for gear purchases. Check the links for up-to-date pricing.
Once I decided on getting an L Bracket designed specifically for the Canon EOS 1DX Mark 2, I was immediately put off by the prices of other brands.

As I said, I am looking to get ReallyRightStuff gear and their Canon EOS 1DX L Bracket was the best option when I searched, until I found Ellie.

But the ReallyRightStuff L-Bracket is $250. It is albeit designed specifically for the Canon EOS 1DX body, but it is 3x the price of Ellie and does the same job with the same quality design. And Ellie can be modified to work on my other camera bodies.

It was an easy decision.
Final Thoughts on Ellie
I have been using 3 Legged Thing's Ellie for a few weeks now and I have had no issues so far. The Ellie has been holding my Canon EOS 1DX Mark II in both landscape and portrait position with no problems

As it not designed for the 1DX's tall frame I have rotated the vertical part from the factory position. I also would have to give some space for the upper ports which are too tall for Ellie.
I did know this before buying, so I was relying on Ellie being strong enough to hold my 1DX's weight. Otherwise I would have had to exchange it for the QR11.

But it holds it fine, and I don't use any of those ports in portrait mode, so there is no weight bearing on the L Bracket.

I would definitely recommend this universal L Bracket. It is a well designed and strong L plate camera bracket at an affordable price. It is also future proofed as you can modify it to nearly any camera body, which only adds to its appeal.
Links
If you have found value in this review and it has helped convince you to purchase it, please use the affiliate links below. There is no difference in price, the cost to you is exactly the same. And I get a small percentage, which I contribute towards the costs of running this website.
3 Legged Thing Ellie (Copper and Grey) – Amazon US
3 Legged Thing Ellie (Copper and Grey) – Amazon UK

For links to to the gear I use alongside Ellie check out my gear page.

Artist / Photographer / Videographer